There are various types of fabrics for outdoor use. This includes the Olefin and Sunbrella brands. Since many people put a lot of money into their outdoor furniture, it's ideal to protect these fixtures with a covering that is durable and long-lasting. Avoid selecting fabric that will get moldy or fade easily. Opt for material that is more sustainable and you won't have to deal with the process of buying new fabric all over again for a long time.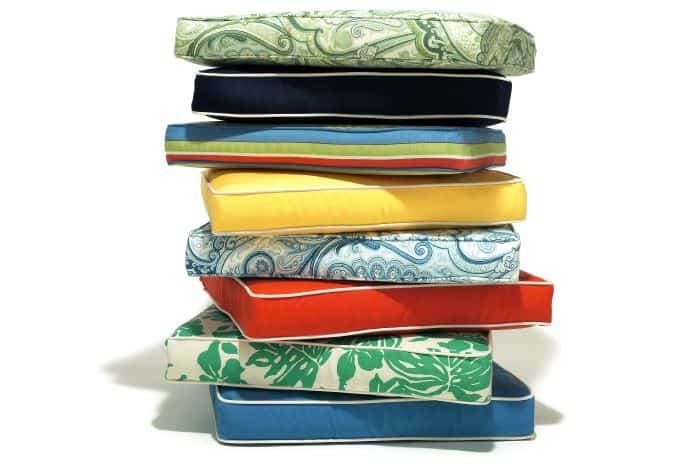 Though Olefin and Sunbrella are similar to one another and both are great choices for outdoor furniture, Olefin slightly edges out the competition for its durability, resistance to moisture and wear, comfort, and ability to remain colorfast. It has a greater overall functionality that is evident in the rave reviews online. This makes for a good fabric to use for patio umbrellas, lounge chairs, regular patio chairs, and outdoor pillows for your furniture.
Comparison of Olefin and Sunbrella
Olefin is a fabric that is found at Home Depot and Lowes, among other home and yard stores. It's a part of Phifer's GeoBella line of designer fabrics and there are a variety of choices that are great for nearly any outdoor setup.
You likely have noticed Sunbrella if you've already been searching for a quality outdoor fabric for your yard furniture. This is more of a popular option and it's developed a strong reputation within the industry. You can purchase it from Pottery Barn or directly from the company.
How does Olefin stack up against the ratings that customers give for Sunbrella products? There are a few factors that are crucial when it comes to comparing these two top-notch brands.
The following are factors you'll want to consider when deciding which of these outdoor furniture fabrics is best suited to your unique needs.
Functionality
When you're looking for a fabric for outdoor use, you want something that will stand up against the elements in the climate in which you live. You'll want it to perform well regardless of wear and tear from the weather, frequent use, and many other situations.
Whether you plan to get fabric to make your own cushions, pillows, and more, or you want to buy these items pre-made, you'd do well to do your research by reading reviews and seeing a side by side comparison.
Great Performance When It Comes to Moisture
One of the benefits of using Olefin is that it doesn't absorb moisture. It dries quickly, which is a big plus if you live somewhere that gets a large amount of rain. It also wicks away sweat and moisture so you don't have to worry that you'll stick to your chair when it's a hot day.
Sunbrella is resistant to water, mildew, and mold. This makes it an ideal choice for your hot tub covers, boat canvas, and awnings, as well as your outside furniture. Since this is made out of plastic, it's less likely to absorb water and leave stains. You should clean Sunbrella fabric before storing it, though you also can leave it outdoors for a long time. 
Avoid Fading
When you have outdoor fabric, it's important you know it won't fade easily in sunlight. The colorfast olefin fabrics from Phifer are designed to remain bright for many years, no matter the weather where you live.
Sunbrella is a solution dyed acrylic fabric which means that its color will stay for many years. Each of its strings are colored all throughout, not just on the surface like you'll find with many other fabrics. This means they won't fade over time from extreme temperature, rain, or UV rays.
No Static Charge
Doesn't it annoy you when you get static from moving on your furniture? With Olefin, you can avoid this since it isn't prone to transmitting static charges like acrylic does.
Since Sunbrella is made from acrylic material, it does have a static charge which can make it an unfavorable option if you plan to nap on it or use it for the whole day.
Heat Sensitive
One major downside to Olefin is that it is heat sensitive. You can't put it into a dryer so you have to air-dry it. Also, if you plan to iron the fabric, you'll need to have the iron on the lowest temperature setting possible.
Acrylic fabric such as Sunbrella should only be placed in the washing machine on a cold cycle. Many times, a simple surface cleaning will be enough. Make sure that you air-dry it.
Wear Resistance
Olefin is a material that is more resistant to wear than acrylic, especially when it comes to abrasion. This makes it the better choice in this category than Sunbrella.
Though this is the case, the materials in Sunbrella fabric are high quality and tend to last for years. The Tenara sewing threads are resistant to UV sunlight, salt water, chemicals, and extreme weather.
Olefin vs Sunbrella Maintenance
It's easy to maintain olefin. If you want to clean it off, just use soapy water for a simple wipe-down. There are ways to remove more tricky stains as well. As mentioned above, you'll have to be careful if you decide to clean it using a washing machine since it's not meant to be placed in the dryer.
Eco-Friendly Fabrics
Olefin production is environmentally friendly. The process creates relatively little waste and its fiber is 100 percent recyclable. New yarn can be made up to ten times from it.
Sunbrella fabric is made from acrylic, which is not so environmentally friendly. However, the company has found a way to reduce the environmental impact of this fabric's lifespan. Energy and water waste are minimal throughout the manufacturing process. Sunbrella even has a recycling program where you can bring in used fabrics so that manufacturers can turn into other industrial materials.
Variety of Textures
Olefin comes in a wider variety of textures than acrylic brands. It also has more types of weaves and styles. You'll find that there are more possibilities for your design when you use Olefin vs Sunbrella.
Cost
Olefin is made using a process that's more widely available than Sunbrella. It costs less to produce Olefin, making it more affordable in general. This may vary depending on where you live and the places you shop so be sure to check prices beforehand.
Final Thoughts
Sunbrella may be the brand you're likely to see at stores more often, but Olefin is definitely worth searching out. They're both reputable brands that would do well for your backyard furniture, umbrellas, and other outdoor uses as well as for indoors. We also compare Sunbrella to other brands such as Outdura and Crypton. So be sure to check out those are article to learn the difference and choose to best brand for your needs!