One of the best ways to spruce up your outdoor space is with an outdoor rug. It can define your deck, patio or even around furniture on grass. While most people think you can't put an outdoor rug on grass, it happens all the time in many different situations. The key is using the right type of outdoor rug so it doesn't kill the grass.
Outdoor rugs for grass spaces come in various designs and sizes and made of recycled plastic materials. They should be taken up every so often so the grass underneath doesn't yellow or die. These versatile products can be used for a wide range of purposes such as camp sites, beach, picnics or entertaining in your backyard.
The article will tell you everything you need to know about outdoor rugs for grass, including what they're made of, how to use them creatively, and if they pose any risk of damaging your lawn grass.
Will Outdoor Rugs Damage Grass?
Arguably the most significant reason people hesitate to purchase an outdoor rug for their lawn or other grassy spaces is that they are concerned it will damage the grass underneath. But is this true? Whether your outdoor rug will damage the grass underneath depends on three factors: how the rug is designed, what the rug is made of, how long it is used over the grass.
Typically, outdoor rugs do not cause damage to grass, as they are made of breathable materials and explicitly designed to allow oxygen to the grass underneath. However, large objects covering the rug for long periods could block the airflow and damage or kill the underlying grass.
Therefore, when you purchase an outdoor rug for your grass space, make sure you buy one made of breathable materials and specifically labeled as an outdoor rug. This will also help the grass when conditions are extreme, such as high temperatures or heavy showers.
If you decide to use an ordinary indoor rug for your grass space, you'll quickly realize that not only is it damaging the grass underneath, but outdoor conditions are damaging the rug as well.
Can the Grass Ruin the Rug?
While we understand the concern that your outdoor rug could ruin your grass, many owners overlook the fact that it could actually be your grass the does the damage here. Read our other article if you need to clean your outdoor rug.
Using an indoor rug on grass will certainly damage the rug like getting grass stains, mud and other hard to clean materials off the rug.
Some things you could do include mowing the grass underneath your outdoor rug consistently, if not more than the grass surrounding it. Keeping this grass short and maintained will limit its risk of overgrowing through your rug.
Alternatively, you could place a rug pad underneath your outdoor rug to add an extra barrier between it and the grass. This might increase your risk of damaging the grass underneath, as it could inhibit its airflow, but it will almost certainly protect your rug from grass-related damage.
What Are the Best Materials for Outdoor Rugs?
As we alluded to previously, the most critical factor when it comes to an outdoor rug that looks fabulous and won't cause damage is picking one made of suitable materials. The trick, of course, is knowing what materials to look for. While some other sites might suggest polyester, polypropylene or nylon, we have had great success with recycled plastic outdoor rugs.
The recycled plastic rugs are made from recycled plastic bags or bottles but you would never know if by looking at the vibrant color rugs. Not only are these rugs good for the environment but they will look good in your backyard. They are mold and mildew resistant, stain resistant and most importantly fade resistant.
This is one of the rare occasions where you'll want to steer clear from natural materials like wool or cotton, as they will quickly deteriorate in outdoor conditions. Ultimately, it's not so much the material that's important as what it can do. These materials listed above have vital features that will guarantee your outdoor rug's longevity.
Features you want in your outdoor rug's material include:
Breathability
UV protection
Waterproof
Weather-resistant
Durability
Stain-resistant
Mildew- and mold-resistant
Fade-resistant
This might seem like an excessively long list, but there are materials that can fulfill the requirements, giving you a stunning outdoor rug that was built to last and withstand any weather or use-related wear and tear. Two companies that we highly recommend are Mad Mats and FabHabitat, both sold on amazon and other local retail stores.
Different Ways to Use an Outdoor Rug
If you're having trouble picturing an appropriate situation where you would want or even need an outdoor rug, let us give you some popular suggestions.
Outdoor rugs are commonly used as lawn accessories for social spaces, particularly underneath lawn furniture. Still, they can also be used in other outdoor situations where you want an object that will provide comfort and style.
When people see outdoor rugs, it is almost exclusively underneath a dining set or other furniture on a deck, porch, or patio. However, we're here to convince you that you can place these rugs directly on the grass for the same wow factor and even comfort and convenience in certain scenarios.
Décor for Social Spaces in the Lawn
Many people don't have nice patios or decks where they can keep outdoor furniture and dining space, but does that mean they shouldn't have them? Of course not!
Rather than resigning yourself to not having the social spaces outside your home, consider placing them around or on top of a nice outdoor rug.
Outdoor rugs can come in a wide range of sizes, so you can find one that covers an entire seating area and still provide a nice amount of covered walking space.
This will help create a zone with an aesthetic around your outdoor furniture to make it feel comforting and purposeful rather than some chairs and a sofa you randomly placed on your lawn. You can even pair it with a nice walkway from your door to the rug if you want to stay completely off the grass.
Alternative to the Classic Picnic Blanket
If you and your loved ones enjoy going to the park every weekend and lying around in the grass, we highly recommend you trade in your worn-out blanket for a simple outdoor rug.
Picnic blankets get easily worn out with use, and most don't allow much protection or stability when laid out. It isn't uncommon for you to go to the park a day after it rained and find your blanket damp or soaked mere minutes after laying it down.
Also, if you enjoy bringing snacks and other picnic foods, forget about standing them upright on the picnic blanket since they'll fall over nearly instantly.
With an outdoor rug, neither of these issues is a concern. You can find a relatively lightweight one to pack on occasion, and it will instantly increase your comfort and expand your possibilities.
Campsite Décor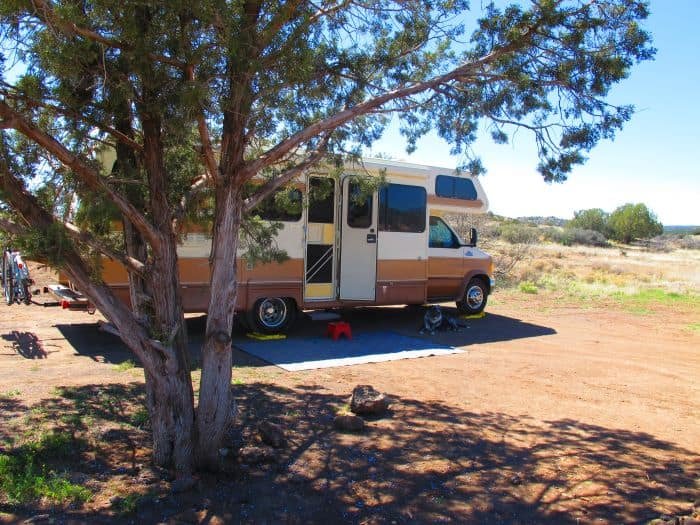 Arguably the most common use of an outdoor rug is actually at campsites, more frequently outside an RV or camper. When we went on our cross country RV trip, our outdoor rug was the first thing we put outside our campsite. We bought that rug in 2012 and it finally started falling apart in 2020.
Apart from adding a touch of personality to your wilderness settings, many people enjoy outdoor rugs at their campsite because they cut down on the dirt and sand tracked into the camper.
Our outdoor rug made from recycled plastic let the dirt fall right through which made it easy to clean and store away when back on the road. A friend used a regular rug outside their campsite and that thing weighed a ton, half of it was trapped sand.
Key to using an outdoor rug in your campsite is to place camping chairs or picnic table on top to keep it from blowing away. We always put stakes in the corner to help keep it down.
Final Thoughts
Outdoor rugs to place on your lawn or grass might not be the most commonly used outdoor accessories, but they definitely have their uses. Here's some other choices for outdoor flooring to lay over grass or even cheapest ways to cover dirt in the backyard.
Consider getting your own outdoor rug if you're looking to add a personal touch to your lawn, campsite, or even resting spot in the park. Just make sure it's made of breathable and resilient materials so you can use again and again.