Adding a waterfall to your backyard is a beautiful way to completely transform the area, and there are so many ways to do it. Some ideas for your backyard waterfall include recycling old material, finding a way to utilize small space, making a statement, and using what nature already has to offer.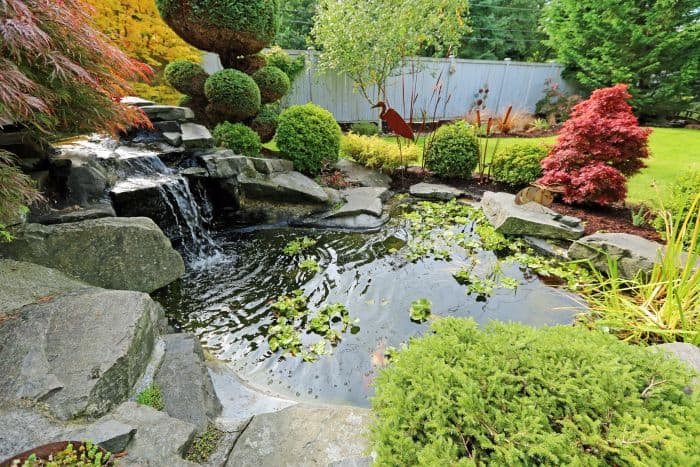 There are plenty of backyard landscaping ideas to choose from and some examples of how to enact these ideas, so read on to learn what you need to consider before committing to an idea and explore a variety of suggestions to get you started.
What to Know About Backyard Waterfalls
When deciding to put a waterfall in your backyard, you need to make sure your yard can handle your dream waterfall. You should keep your waterfall ideas within the realm of possibility based on the space you have. Additionally, you need to make sure you are going to still like it a week from now.
There are a few things to consider before you even start looking at ideas.
Consider the space you have available.
Decide on the amount of work you are willing to put in.
Choose your preferred style of a waterfall. 
Having these things handled ahead of time can save you the hassle of renovating in a few months your backyard waterfall after only a few months.
Working with Your Space
You should think about how much space you will need to be able to function in your backyard, and how much space a waterfall can take up without causing conflict. It would only take a few inches to transform your waterfall from a spectacle to a nuisance.
Outline the area you are considering and do a test run to see how you can work around it. You may find that you need to pick a different location or scale down the size of your waterfall.
The Effort Required
When it comes to backyard waterfalls, the more elaborate ones require more care and maintenance.
On top of the installation process, you should consider things like cleaning and repairs. If you are working with a professional, you can have them walk you through this, but if you are on a DIY course, you will have to do more research.
Generally speaking, a bigger waterfall with more pieces and complexities will require more time and effort than a smaller, simpler one.
Backyard Waterfall Style Considerations
You should always consider trends when making a permanent addition to your yard. Ensure that the style connects with you beyond its temporary trendiness.
Some other things you should think about are:
Existing furniture, decor, and plants
Personal taste
Homeowners Association restrictions
Your waterfall should also fit your lifestyle and be safe for any children, pets, or companions.
Choosing Your Waterfall
There are hundreds of ideas on the internet for how you can install a waterfall in your backyard, but not every single one will meet your specific needs and interests.
Sifting through general ideas as well as specific pictures of other people's waterfalls can give you a chance to take note of what resonates with you.
Recycled Backyard Waterfall Ideas
A great option if your priorities include keeping costs low or trying to be more eco-friendly is to utilize recycled items when creating your backyard waterfall.
These can be items from your own household or things you pick up from thrift stores (or even the side of the road). You can even search for used pumps to use in any of these ideas.
Display Your Interests
Using old material is a fantastic way to showcase what matters the most to you. A lot of items that may no longer be useful can be upcycled into parts for your waterfall.
Just make sure if you are using something like musical instruments or vehicles you waterproof them properly.
Garden Materials
Garden materials already fit in well with your landscape, and they are designed to collect and pour.
Shovels
Gutters
Pots
Watering cans
Items like these can create a unique waterfall design for your backyard.
Tires
Tires have become a staple in the upcycling community. They make for fantastic pond frames, regardless of whether you want them in-ground or above it.
Tires also come in a variety of sizes. Use different sizes to create multiple ponds in your backyard for waterfalls to pool into, or create a tiered effect.
Old Water Pumps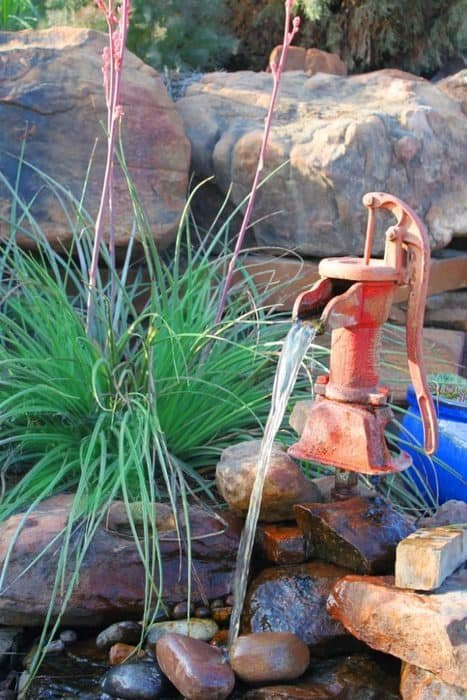 Antique water pumps can easily fit a vintage appeal, and they are already designed for water to pass through them.
Old water pumps do not take up much space, and they are a simple way to add a small-scale waterfall to your backyard while still making a statement.
Glass Bottles
While wine bottles fit the ideal size and shape for this idea, you can use any bottle that can hold up to being outside and passing water through it continuously.
Save up a few glass bottles, and you can create a waterfall using the bottles to pour into your water receptacle.
Backyard Waterfall Ideas for Small Spaces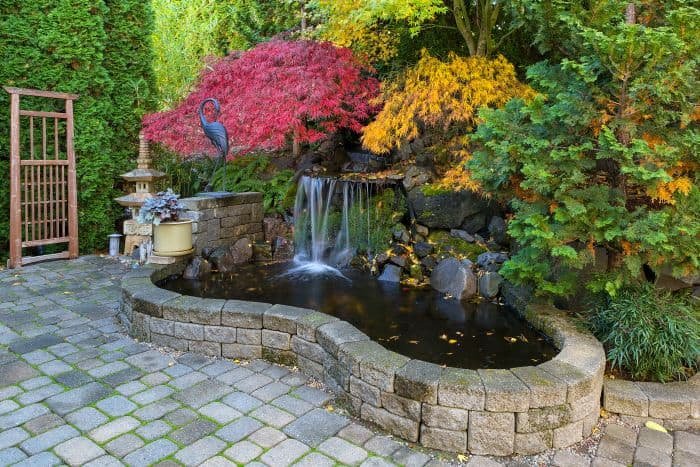 Having a small backyard or limited area does not mean you need to dash your dreams of having a waterfall. There are waterfall options for backyards of all sizes.
You just need to get a bit creative with your space to make your space work for you.
Water Wall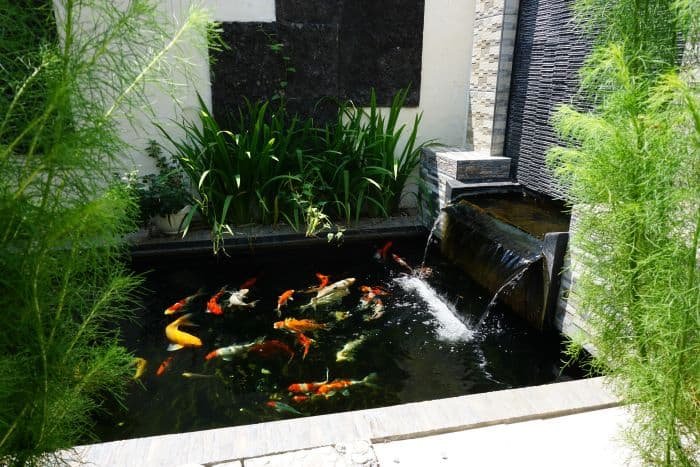 Using an upright structure is great when your available area is narrow. Water walls stand right over the area the water falls into, so you only need to plan on using vertical space. These go great along walkways and fence lines.
Towers or Stacks
Instead of having the waterfall down a slope like a traditional waterfall, water that gently fountains from a tower or stack of objects can take up much less space. Some items that stack nicely:
Rocks
Slabs of concrete
Pots
Keep the flow low, and water should fall over the side of whatever you stack.
Corner
The corners of a yard are not often used, so they make a great space to add a waterfall. It is also easier to build upwards when you have something solid behind your waterfall, and corners provide vertical buildability on two sides.
Add Onto Fencing or Existing Features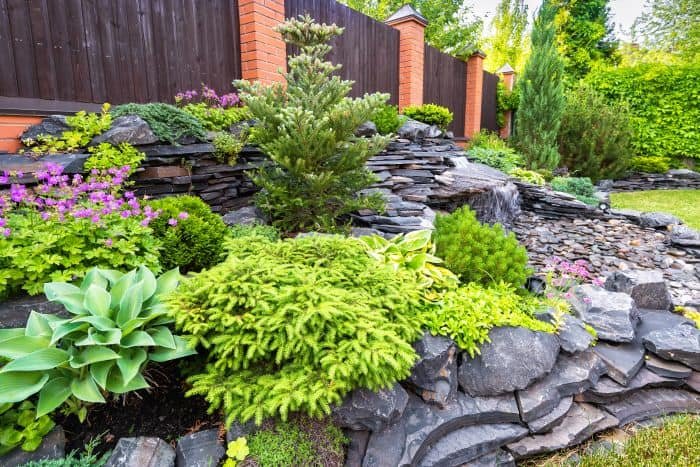 If you plan on working off fencing you should definitely check with your neighbors, but this is another great option for working with vertical space. Using a feature you already have, like a fence or a deck, can help minimize any new area you take up.
Backyard Waterfall Ideas that Make a Statement
A waterfall is a statement on its own, but it can either be subdued and understated or flashy and over the top. If you want your waterfall to make a statement, there is no reason to avoid going the extra mile.
Use these ideas to ensure your waterfall stands out and elevates your backyard to the next level.
Aquarium
Adding fish to your waterfall can put a smile on anyone's face, especially if the fish boast bright colors.
Just ensure that any fish you include have adequate care and that they will not be taken out by any of your companions or visiting birds.
Metals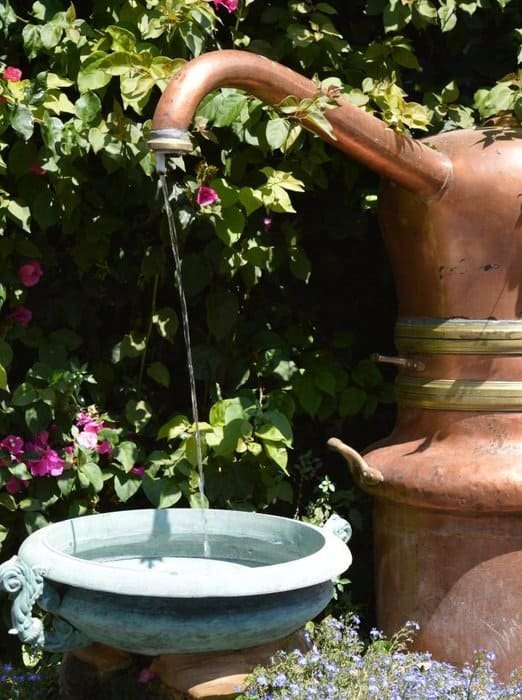 Shiny metal can brighten up any space, but it does especially well in shady areas or dark corners.
Copper is a favorite because of its bold color and malleability. You can even use copper piping to create elements that spray water.
Bold Features
Use bold colors or designs to draw attention to your backyard waterfall.
Large upright stones
Statues
Mosaics
These items are bound to get people talking.
Fire Pit
Adding water around a fire feature in your backyard is the perfect way to add balance to your landscape. It also happens to provide additional safety measures, but that is only a bonus to the initial spectacle.
Natural Backyard Waterfall Ideas
Keeping things natural can be an effortless way to add a waterfall to your backyard. A seemingly natural flowing waterfall in your backyard will give you and your guests a beautiful escape.
When things are basic and down to their roots they create a seamless appeal. It can create the illusion that your backyard is part of a mystical land.
Add onto an Existing Body of Water
If you already have water in your backyard you should consider adding your waterfall there.
This can be as simple as adding onto a pool or a pond, but it creates a cohesive image. Water-loving critters like dragonflies and amphibians will enjoy this space as well.
Add Greenery
Consider adding additional plants and flowers to your waterfall area, or add your waterfall into an area of your yard that is already rich with flora. An abundance of life and vitality can create a refreshing escape in your backyard.
Conclusion
Adding a waterfall to your backyard, regardless how big or small will increase your enjoyment of your backyard. It will give you a peaceful and relaxing place to unwind after a hectic day.
During the winter, water can be dangerous, be sure to know how to properly drain your outdoor water pipes when it comes to the colder season. For more ideas of what you can do to your backyard, check out our list that is sure to provide you with some inspiration! We also have some fall lighting ideas that you may love