There is something about fall weather that really makes us enjoy our backyards. What better way to get us in the autumn mood than to add the right kind of fall lighting.
In this article, I'll showcase some of my favorite fall light ideas for you.
The great news is you don't have to wait until Halloween or Thanksgiving to start decorating your outdoor space for fall. A lot of the styles will work well in other seasons as well.
Lighted Centerpieces
You can do so much with centerpieces on your outdoor tables, outdoor kitchen counters, or anywhere else outside with a horizontal surface.
The easiest thing to do is to just gather your favorite items that feel like fall and carefully place string lights in and around the centerpiece.
You can probably get away with the small fairy lights that are battery powered so you don't have to worry about outlets. The lower voltage lights won't require much power anyway.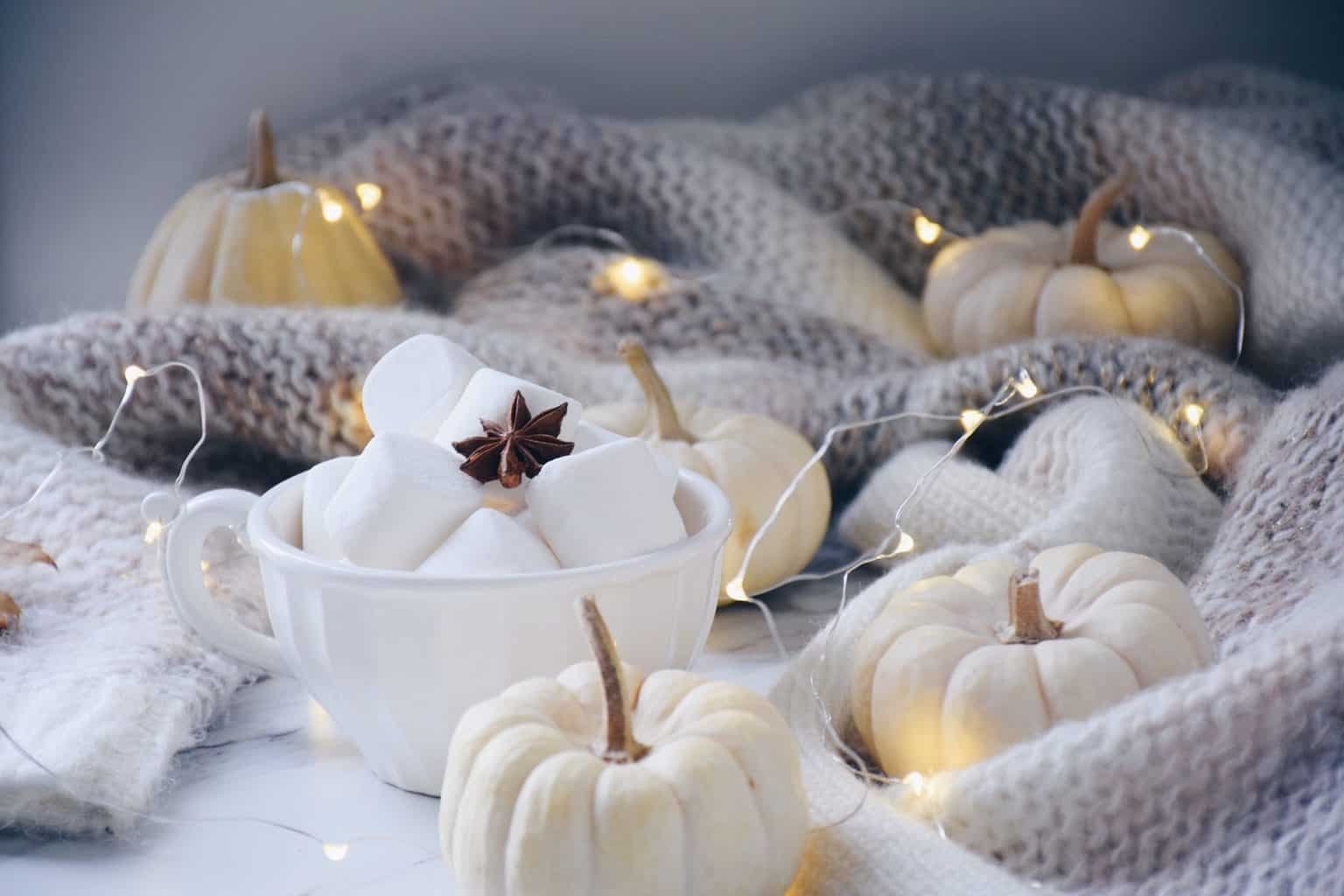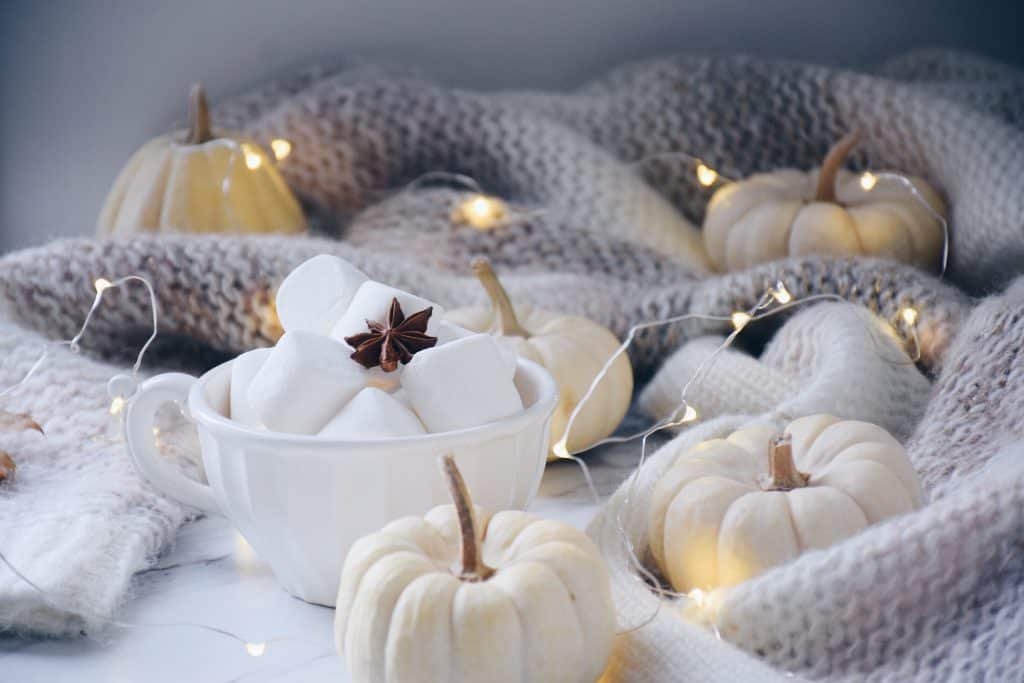 Lighted Doorway or Entryway
Add some decorated lighting where people come and go in your backyard. This is great to help them see and it gets them in the festive mood for fall.
Some of the most popular styles would be to arrange gourd and pumpkins with lights in or around them.
You can also set up bales of hay for height and depth around the area. Maybe you can incorporate some deck lighting ideas as well. Make sure to use the lower voltage LEDs lights if you're using them around hay since they give off less heat.
Lighted Walkway
In certain areas in the southwest, people will place luminaries along their walkway. Luminaries are so beautiful for their simplicity. I love seeing them as a sign of autumn coming.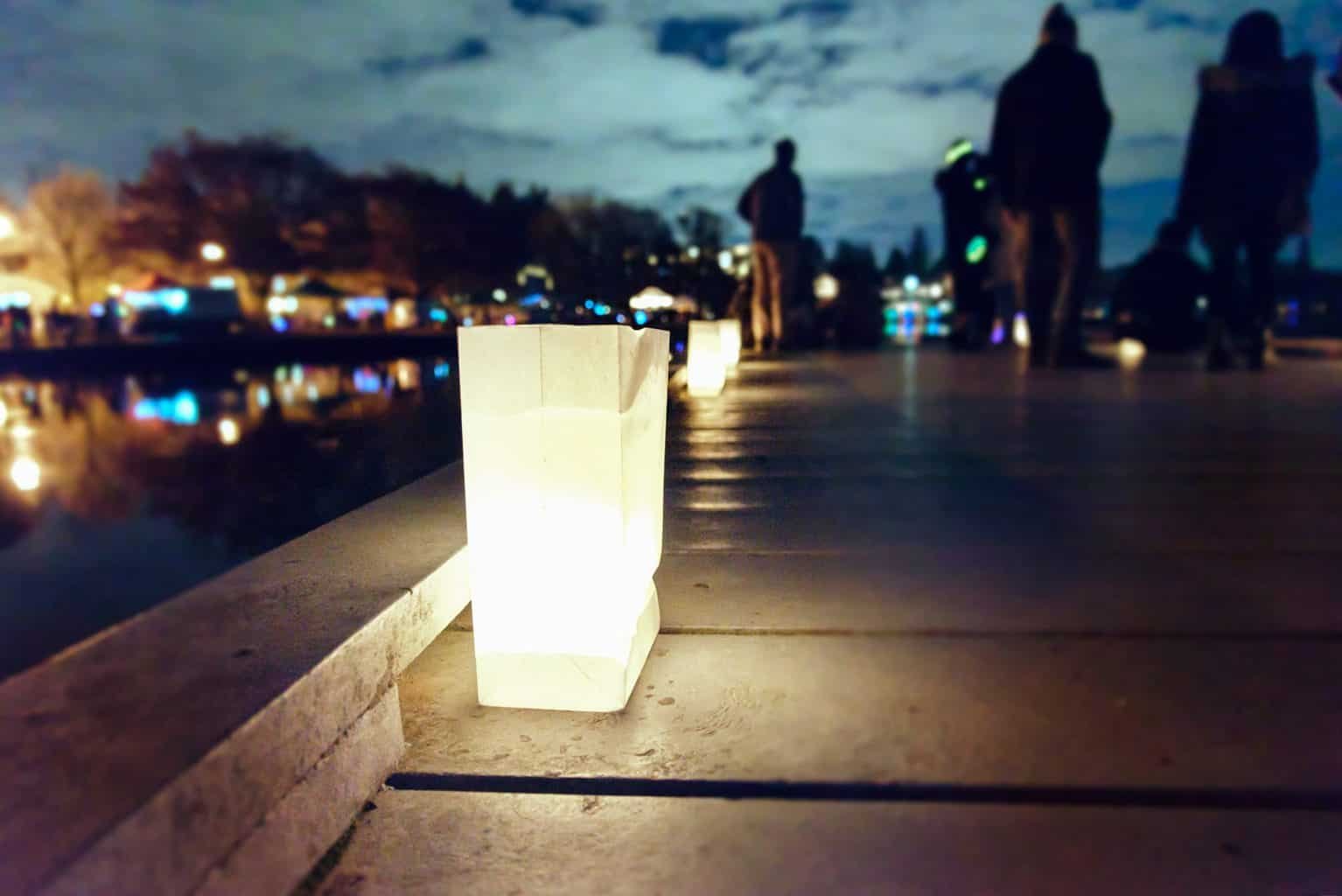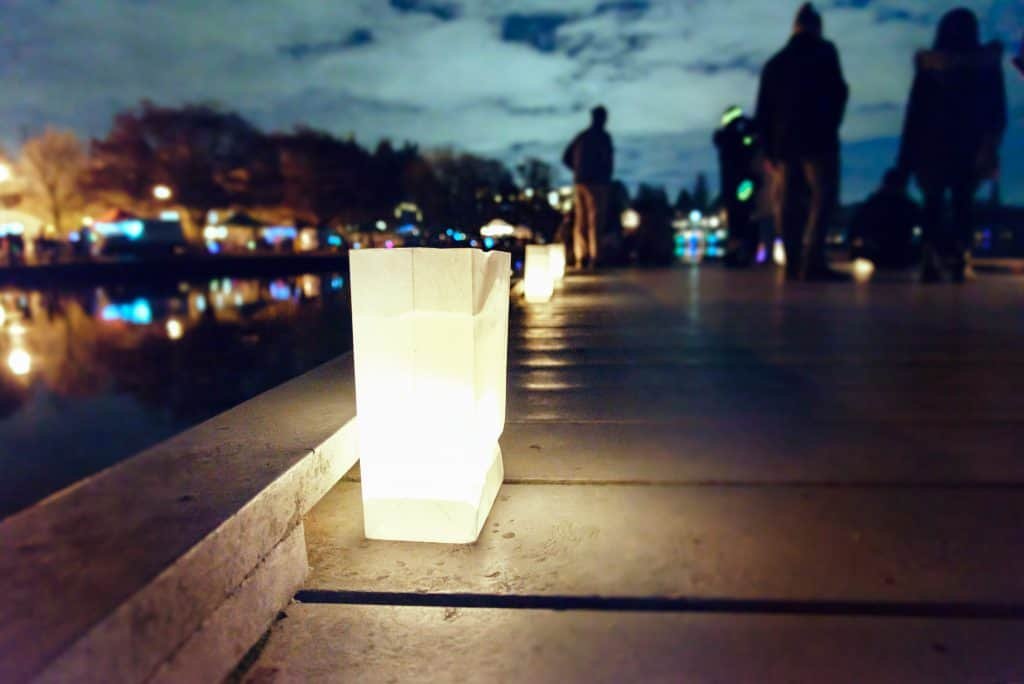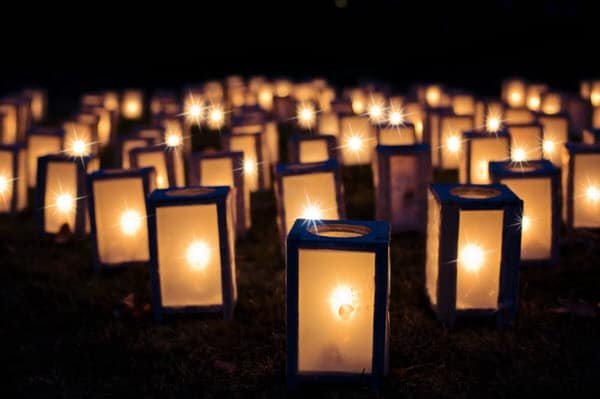 You can do traditional luminaries to light your pathway or do something creative like lighted gourds or pumpkins for the occasion.
String Lights Around Trees
Lighted trees are a great decoration for any season, but especially in the fall. Most of the leaves have fallen away, so you have more branches and trunks to give off different shadows.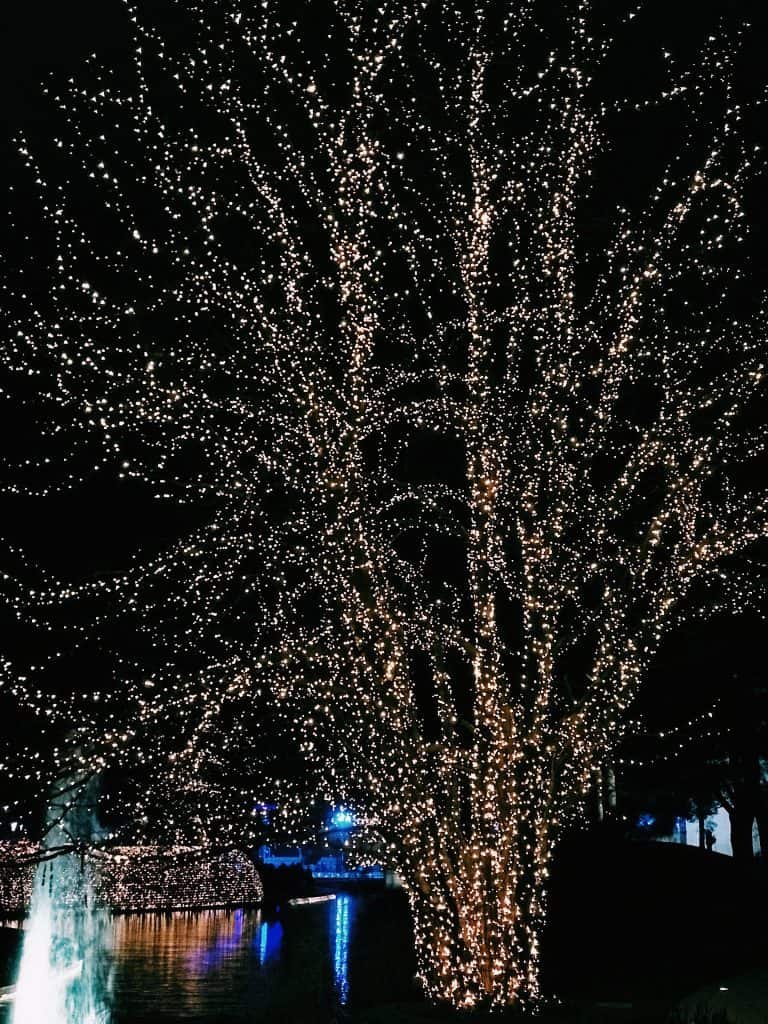 You can easily wrap the trees in your backyard with string lights or rope lights will work too. You could do solar, but with having less sunlight in the fall, your best bet is to find an outlet source and to use electric string lights.
String Lights without Trees
Not everyone has trees that they can string lights to in their backyard.
That's ok,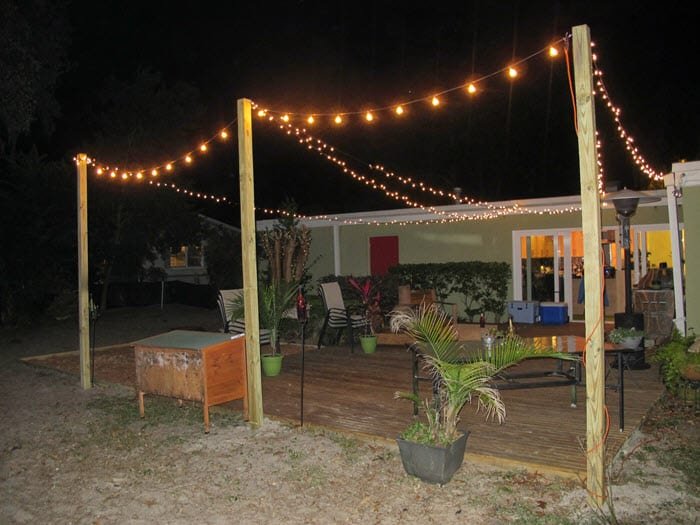 With some poles and an afternoon, you can strategically place string lights around your backyard area. We cover how we put up string lights in our backyard without trees here.
String lights are great to have up year round. But you can switch out your typical string lights with decorated string lights if you want. We're talking about the lights that are in different autumn shapes. Like maple leaves or pumpkins.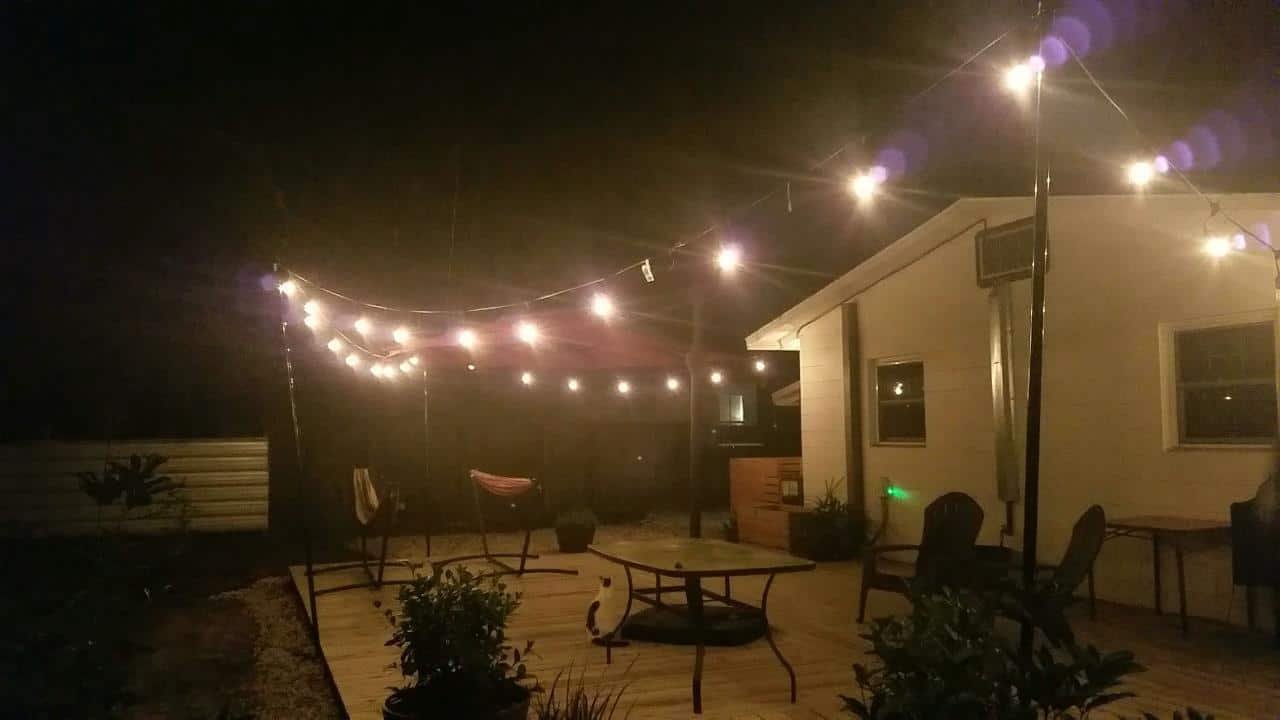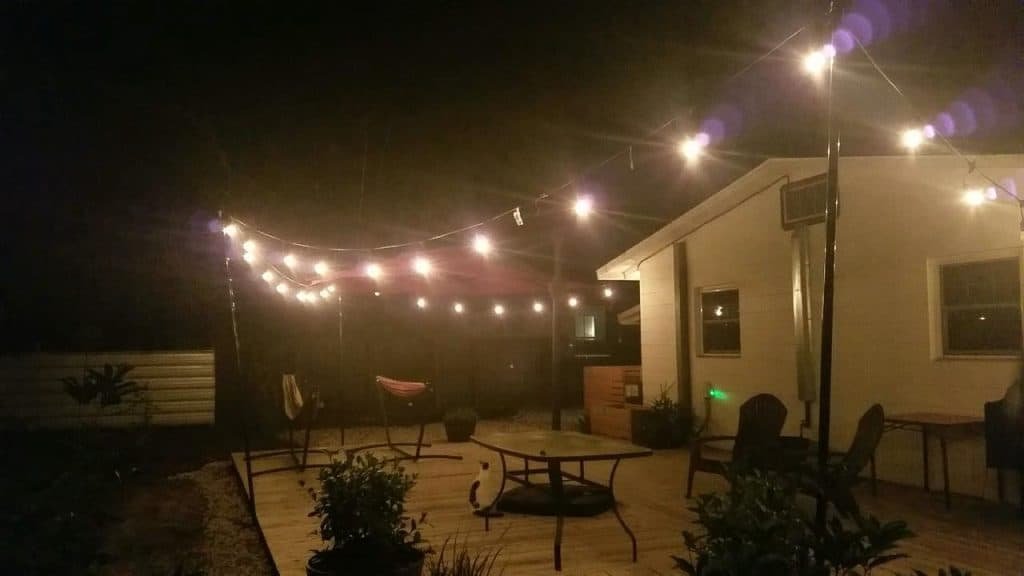 Lighted Mason Jars
Put pines cones and lights in mason jars and you have a great fall feel. Set them up around your backyard where it brings you the most joy and you're good to go.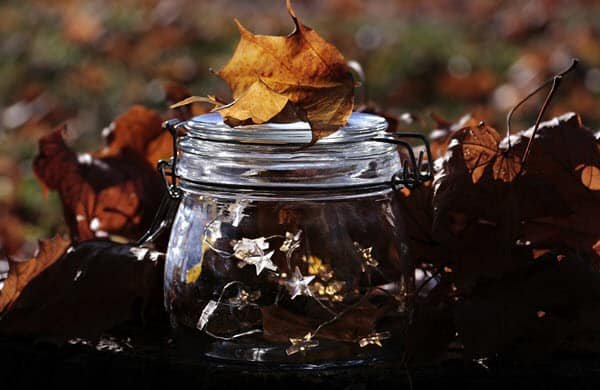 And the great thing about mason jars is you can swap out what you put inside them for any occasion.
You can even add some paper around the jar to showcase your favorite fall scenes. Or even just add ghosts for Halloween.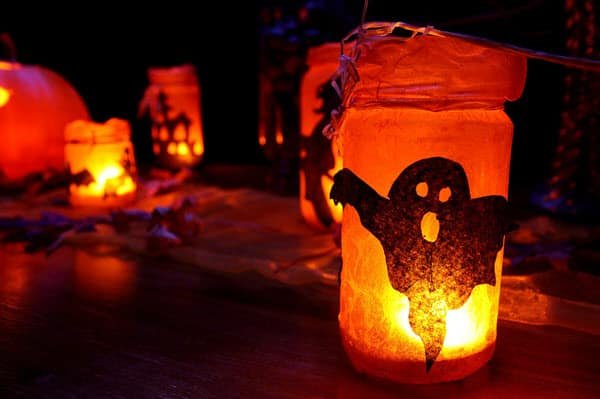 Fence Lighting
Just like with most of the other lighting ideas, the fence lighting can be great all year round. You can just change out the lights with anything that is more fall feel than usual.
Fences are a great way to add light for depth to your backyard and to give extra light if your kids are playing a little longer after the sun goes down.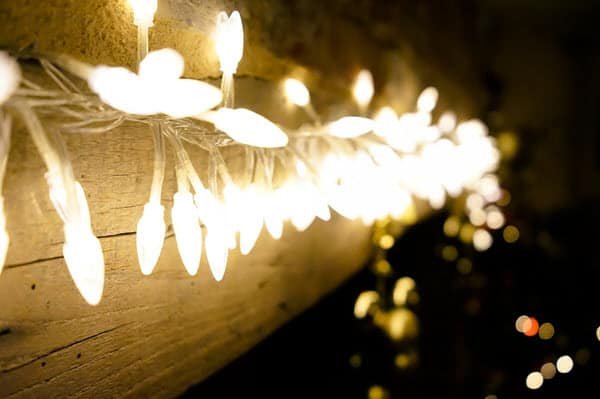 Hanging Lights
One of my favorite scenes in any of the Harry Potter movies are when they are in the main hall and they are eating under different kinds of lighting. These lights are simply floating in mid air. You can do something similar with different hanging lights.
These Luci Mpowered solar lights can be put together to look like their floating above your outdoor gathering and they give out a lovely glow.
Or simply add tea lights to globes and you can have a more classical feel for your guests.
DIY Lights
You can fashion some twine into a globe and make it look like a pumpkin, or anything else you want it to look like. Add some lights to let it shine and hang or place it somewhere to show off your crafting skills.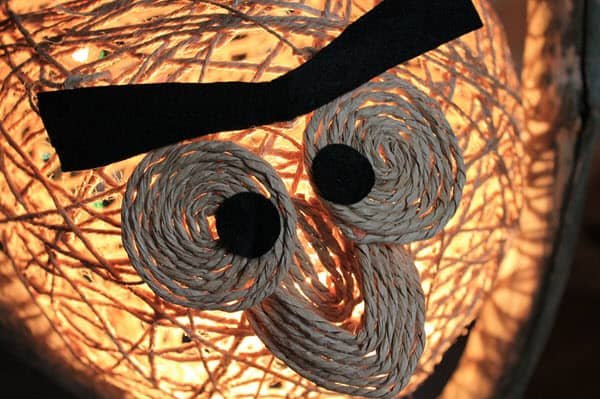 You can also add simple willow branch lighting anywhere. These are great because they look like little shrubs or trees with no leaves and the ends are usually led lights. Place some gall leaves and settings around it and it's the perfect fall light look.
Here are some other great ideas for fall décor with lights for you to check out.
Where to Buy
There are a lot of places where you can get the materials to put together your fall masterpieces. Below are some of our favorites
Over to You
What is your favorite fall lighting idea to get into the autumn mood? Will you be decorating your backyard with scarecrows and hay bales or simple lighted orbs with pumpkins and gourds?