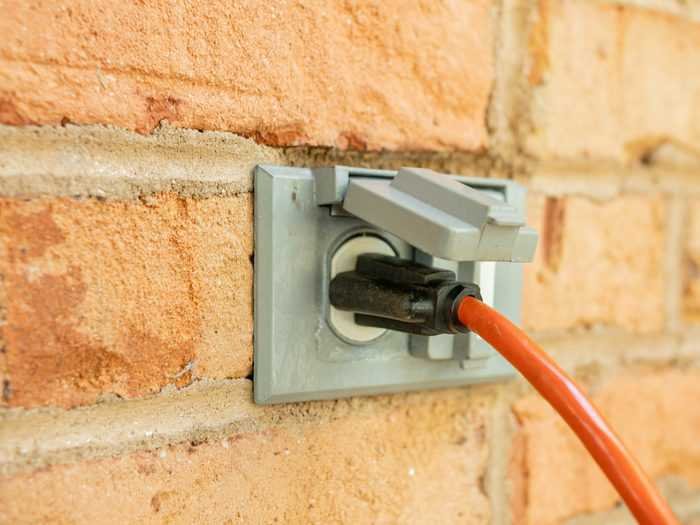 Most standard outlets only have two sockets, and many homes are limited to only two exterior outlets, which means you have a total of four sockets to work with when plugging in electronics outdoor.
Outdoor power strips allow you to power multiple gardening tools or decorative garden features into one source that can have anywhere between 4-16 sockets.
Our Pick
Outdoor Power Strip 9FT, ESHLDTY Waterproof Surge...
Outdoor Smart Plug, Surge Protector, POWRUI Smart...
CRST 10-Outlets Heavy Duty Power Strip Metal Surge...
Our Pick
Outdoor Power Strip 9FT, ESHLDTY Waterproof Surge...
Outdoor Smart Plug, Surge Protector, POWRUI Smart...
CRST 10-Outlets Heavy Duty Power Strip Metal Surge...
The best outdoor power strip you can purchase is the ESHLDTY Outdoor Power Strip. It is waterproof and designed with a built-in surge protector. When using a power strip outdoors, ensure it is waterproof and built to withstand the elements while supporting your electronics.
Outdoor power strips can increase your convenience and possibilities for gardening, maintenance, and outdoor activities insurmountably. Read on to learn more about these electric appliances in terms of their design, differentiating outdoor power strips from indoor power strips, and some tips to ensure user safety.
When to Use an Outdoor Power Strip
Not to be confused with a surge protector, power strips are electrical tools that you can plug into any standard socket and provide multiple sockets that can support typically three or more electrical devices.
In terms of design, a power strip is built with multiple sockets (6 is the most common number), a circuit breaker, and an on/off or on/reset button. Some power strips are also built with a surge protector, which protects your electronics from voltage surges, particularly when you have multiple devices plugged into the power strip at once.
Power strips are extremely convenient and affordable tools. They are exceptionally helpful in indoor areas where multiple electronic devices need to be powered, but there is only a standard two-socket outlet nearby.
A common example would be near your television or computer, where many homeowners will place other electronics for services such as Wi-Fi, Internet, Cable, etc.
If you're looking for a cost-efficient way to increase the number of sockets available to you outdoors, invest in a quality outdoor power strip before you consider installing more outlets. Most power strips can be acquired for $10-$20 and function just as efficiently as a standard outlet socket.
Difference Between Outdoor and Indoor Power Strips
To be honest, there isn't really any outdoor power strip that is completely suitable for the outdoors. Yes, some companies will create power strips and label them as sufficient for outdoor use, but none of them are particularly designed to withstand the elements for extended periods of time.
If you need a power strip to attach to an exterior home outlet, you can opt for an outdoor strip, but know that these tools should not be left plugged in and unattended indefinitely.
That being said, in terms of design, the main element that truly sets an outdoor power strip from an indoor is that the former is designed to be waterproof.
When using electronics outdoors, the key factor for concern is precipitation, either from water or snow. This element can pose a significant problem in terms of damaging a power strip, but it also poses a significant risk to users and their electronics since the device is power electricity.
If outdoor power strips couldn't withstand water, they'd likely cause shortages, which could destroy the strip and anything plugged in.
In addition to being waterproof, most outdoor power strips will include a weatherproof surge protector for safety and a built-in circuit breaker that will shut-off the device when it detects a potential overload. This feature prevents overheating and potentially fires.
Many indoor power strips will be designed with some of these features, but most get away without being waterproof, and some will choose not to include a surge protector for cost purposes.
Tips for Using Outdoor Power Strips
There is always an element of risk when working with electronic devices, and so it is crucial to follow certain precautions and safe handling of these tools for maximum safety. Here are some tips for using outdoor power strips to reduce an element of risk for you and your electronics.
Never Daisy Chain
When you're trying to supply power to multiple electronics, sometimes the initial mindset is to get crafty and start plugging in extension cords to your power strip, or even better, plug a second power strip into the first for even more sockets.
Although this might sound brilliant in theory, this tactic is referred to as "daisy-chaining," and not only is it incredibly unsafe, but it is also the most efficient way to overload your host outlet, your power strip, and anything plugged into it.
Most people probably don't know that electronic tools like power strips, outlets, and extension cords come with electric and fire codes. Daisy-chaining is one of the easiest ways to violate fire safety codes and could have severe consequences for your personal safety as well as your system.
Therefore, we strongly advise that you only plug one power strip into a host outlet at a time, and this power strip is used to only support standard, low-voltage electronic devices or appliances.
Limit Their Time Outdoors
As we mentioned previously, outdoor power strips are somewhat of a myth. Although your power strip might be labeled as waterproof and weather-resistant, no power strip is designed to remain outdoors and subjected to the elements for extended periods of time.
Water isn't the only thing power strips need to be protected against. While outdoors, power strips can be subjected to all sorts of issues, including but not limited to:
Insects
Dirt and debris
Animals
Extreme temperature fluctuations
Sunlight
Each one of these factors could damage a power strip just as easily as dowsing it in water. In order to ensure the longevity of your power strip and the safety of your electric system and devices, limit the amount of time the strip is in use. If you need it for quick yard maintenance or an outdoor activity, plug it in while you're outside, then unplug and store it indoors when you're finished.
If you need a power source for outdoor features that require constant power for multiple devices, consider installing a power stake rather than using power strips and extension cords. Power strips are fantastic for withstanding outdoor elements and supplying consistent power.
Many users will opt for this tool around Christmas time when snow is prevalent, but they want to power countless strings of Christmas lights. Another common use for power stakes is in a garden with electric aesthetic features, such as lights or fountains, that need power but are located far from the exterior house outlets.
An exceptional feature of power stakes, in addition to suitably withstanding outdoor extremes, is that many are designed with a built-in timer. This allows owners to time how long they want their electronics to be powered without unplugging or shutting off devices themselves.
Although they are not as common, you can find some power strips with built-in timers. However, most do not have this feature and will sit in your outlet and supply endless energy to whatever is plugged into the device, which could become extremely costly over time depending on what appliances are plugged in.
With a power stake, you can be certain that your devices will be safe and have reliable power for as long as you want.
Don't Push the Limits
Just because your power strip says it's waterproof doesn't mean you should plug it in next to your hot tub. Having a resilient electrical tool for outdoor use is nice, but you never want to push the limits of a power strip or anything connected to your electric system.
Although most outdoor power strips are waterproof, please refrain from using them in locations where they are likely to be wet frequently. Waterproof or not, water and electricity don't mix well, and you shouldn't test this.
Additionally, refrain from pushing your power strip to its limits regarding how much power you are asking it to supply. You might buy a strip that has six sockets, but we don't recommend filling this socket with six devices and leaving the strip to power them for hours on end.
Even if this doesn't cause an overload, it is likely to reduce your power strip's longevity and increase the risk of overheating.
You should also refrain from plugging in heavy-duty tools such as leaf blowers. Power strips are best used to support low-voltage appliances such as lamps and toasters, or in the case of the outdoors, you're likely to use them for lights or small water pumps.
Heavy-duty tools used for yard maintenance often require mass amounts of power that should be supplied directly from an outlet that can support their needs. Plugging these tools into a power strip could easily damage it, cause an overload or shortage, and could even damage your pricy outdoor maintenance tool as well.
Top 3 Outdoor Power Strips
If you're looking for a quick purchase of a high-quality outdoor power strip, here are our top three recommendations easily acquired on Amazon at affordable prices.
| | |
| --- | --- |
| Power Strip Name | Best Features |
| ESHLDTY | IPX6 Waterproof Tech- to prevent short-circuit, electric shock caused by incoming water. 3 socketsFit for ALL Types of Plugs (2 and 3 prong plugs).Overload Protection. A built-in circuit breaker will shut off the device if it exceeds 1500W.Quality design materials: 100% Pure copper with 16AWG heavy-duty extension cord, 360° rotatable cable interface, 1382°F flame retardant PC casing. 12-month warranty |
| POWRUI Smart Power Strip | 4 AC individually controlled outlets. 15A/1875W max for each.1080 Joules surge protector.Voice Control & Schedule and Timer. Compatible with Amazon Alexa, Amazon Echo dot/tap/show, and Google Assistant.Wireless, quick and easy setup.Compatible with 2.4G network No hub required.IP44 Weatherproof with PC fireproof material and splash-proof designPOWRUI 3-level complementary Surge Protection Circuit with 1080 Joules12-month replacement warranty. |
| CRST 10-Outlets Heavy Duty Power Strip | Sturdy, extruded aluminum housing stands.Surge protection constructed. 10 sockets.AC 15A 125V 60Hz 2800 Joules 1875W.15-foot heavy-duty grounded power cord.Cord holder design can wrap the 15-foot cord easily around the power strip.Hanging hole suitable for storage.Reset On/Off power switch.15A circuit breaker switch. |
Final Thoughts
Acquiring an outdoor power strip can greatly increase your abilities to power various electronic features and tools without using multiple extensions cord connected to interior outlets. Although these are extremely helpful tools, be sure to use them safely to reduce any risk of shortages, overloads, or fires.
Be sure to check out our article where we give some helpful tips on how you can hide your outdoor power cables, if you're wanting to keep your backyard looking organized. Only buy waterproof and weather-resistant power strips and plug them in for limited amounts of time.
When they are not necessary for power, be sure to remove them for your exterior outlet and store them safely. One thing they'll be useful to power, is pedestal fans! Be sure to checkout our list of the best outdoor pedestal fans we could find!