There are tons of options available for outdoor fabrics, including Cusionguard and Sunbrella. When you invest hundreds of dollars into quality outdoor furniture, you want to make sure your investment is protected by converting it into a durable, long-lasting fabric. Of course, you don't want to choose any old fabric that will fade or mold over time. You'll want something sustainable.
Sunbrella is the most reputable and efficient choice out of Cushionguard vs. Sunbrella. Not only is Sunbrella more easily accessible at more locations, but it also provides a wider range of products and has been avidly reviewed by countless customers, resulting in a glowing reputation as the best fabric for outdoor furniture.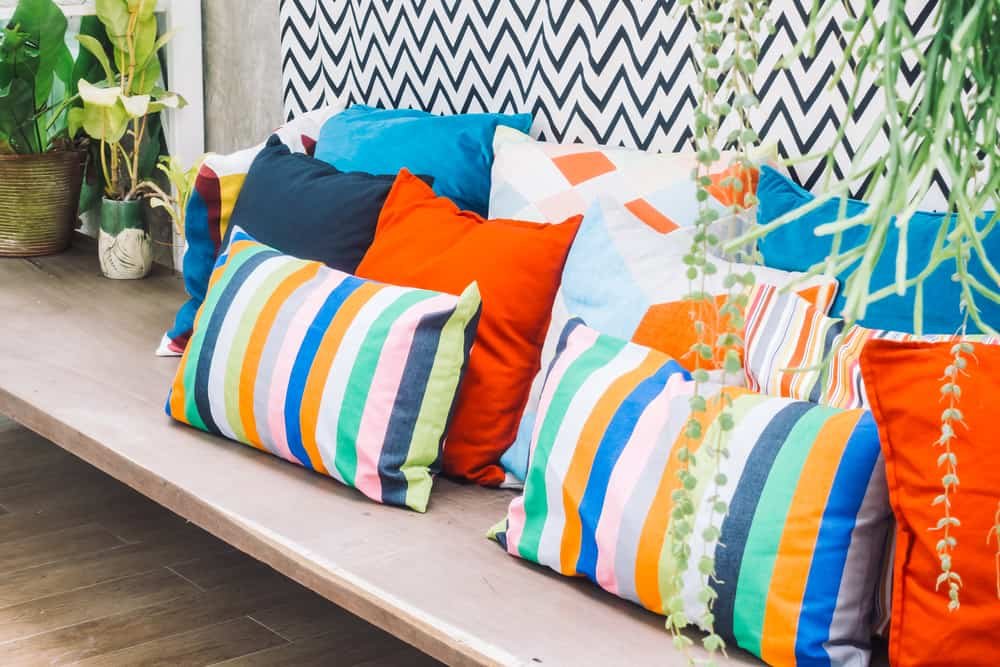 Read on to learn more about what sets Cushionguard and Sunbrella apart as fabric brands. We'll discuss elements such as functionality, reputation, and accessibility to provide the most comprehensive comparison.
Comparison of Sunbrella and Cushionguard
If you are searching for a high-quality fabric for your outdoor furniture, no doubt you've probably come across Sunbrella at some point in addition to a handful of other prominent brands. This brand has quite a reputation within the industry and is a beloved favorite of many consumers.
However, if you frequently walk the aisles of Home Depot, you might have noticed Cushionguard on the shelves. You recognize the pricing is fairly reasonable, and the fabrics come in a wide range of styles, but how does this underdog brand stack up against the overwhelming ratings and functionality of Sunbrella?
To answer this, here are the most important points of comparison between the two brands so you can make the best choice for your outdoor furnishings.
Functionality
When searching for outdoor fabric, you want something highly functional, durable, and long-lasting to ensure maximum protection of your furniture against the elements.
Of course, purchasing outdoor fabrics can be expensive since these materials are often modified to be waterproof, mold-resistant, and fade-resistant, so you want to be sure that your investment is worthwhile whichever brand you choose.
When it comes to functionality, you'll be hard-pressed to find an outdoor fabric brand that can rival Sunbrella.
Durable Materials for Longevity
Made from 100% solution-dyed acrylic yarns, Sunbrella products are some of the most fade-resistant, water-resistant, and mold/mildew-resistant on the market. These are all optimal features for outdoor furniture since they are frequently exposed to the elements.
Although it is impossible to fully prevent the color in any fabric from fading, Sunbrella products are known to be more UV resistant than competitor products.
You can rest assured that whatever vibrant pattern you choose for your outdoor upholstery will remain bright and colorful for years. This is largely due to their solution dyeing technology, where color is directly added to the polyacrylonitrile chemical solution before it is drawn through the spinneret.
It is typically advised that products be stored when they aren't in use, but with Sunbrella, you can have peace of mind that the colors on your fabrics won't fade even if they're left in the sun for long periods of time.
Cushions Made to Handle the Heat
In addition to being fade-resistant, Sunbrella products also stay exceptionally cool even in direct sunlight, making them an optimal choice for cushion fabrics to ensure user comfort on a hot summer's day. 
Unfortunately, if there's any downside to Sunbrella, it's other elements of comfort. Compared to other brand products, Sunbrella fabrics aren't as soft or smooth. They tend to be on the scratchier side, but most customers don't mind this in exchange for their stylish appearance and reliability.
In addition to a scratchy texture, it is not uncommon for Sunbrella fabrics to transmit static electricity and shock a user's bare skin, particularly on hot days.
Otherwise, Sunbrella fabrics are arguably the best choice on the market. They're resilient, easy to clean, and relatively comfortable, depending on the user's textural preference. 
Cushionguard
When glancing at the product description for a Cushionguard fabric, it details many similar features and assets to Sunbrella. However, the most significant issue here is that very little of it can actually be verified through reviews and ratings.
Exclusively at The Home Depot
If you're looking at a Cushionguard product, your either in a Home Depot store or on the Home Depot website since it's a Hampton Bay product found exclusively in this store. As a result, it is difficult to ascertain this brand's overall quality because there is far less information on it than Sunbrella.
Weather-Resistant Fabric
Home Depot states that Cushionguard is a weather-resistant fabric that effectively repels water and stains in its online description. Since this is an outdoor fabric, these features are a good start for its functionality rating.
Cushionguard's resistance claims are supported by the fact that they are made entirely out of acrylic fibers, which means it is made from the same polymer materials as Sunbrella products. However, it is important to note here that not all acrylic fabrics are made the same.
Every brand has its own unique blend and manufacturing process for its products. Therefore, even though Cushionguard and Sunbrella have the same basic materials, they could be miles apart in functionality.
For instance, we know that they are both 100% acrylic, but Cushionguard isn't labeled as 100% solution-dyed acrylic like Sunbrella. Therefore, we can conclude that even though Cushionguard's fabric is labeled as fade-resistant, it isn't as UV resistant as Sunbrella, and so, the fabric's colors are likely to fade faster.
There is little other information on Cushionguard products apart from being easily cleaned with soap and warm water.
Easy to Clean
Frankly, the majority of Cushionguard's promotional video on the product focuses on how easy they are to clean. So, if you enjoy entertaining and find your outdoor furniture cushions are frequently stained or dirty, Cushionguard might be a quality option for you. 
Ultimately, there is potential for Cushionguard products to be somewhere near the level of Sunbrella in functionality, but there is no real way to determine this without more information on the product.
Therefore, one can conclude that Sunbrella is the superior choice here, if not by its reviews and ratings, then by the sheer amount of available information on the product.
Reputation
Now that we've discussed the main point of comparison for these products, we can get into some more minute details.
It is rare for any individual to buy a product in the modern age without verifying its qualities with a separate source. Without a solid reputation, it is rare for any consumer to want to jump into the unknown and test their luck with a new product. This point is clearly demonstrated when comparing Sunbrella and Cushionguard.
As a result of its exceptional functionality, Sunbrella has quite the reputation in the fabrics industry to the point that many consumers and review experts crown it as the #1 outdoor fabric option. Many consumers, new and old, have a sense of security and relief when purchasing Sunbrella products because the company's reputation precedes it, and they can verify this at multiple locations.
Cushionguard, on the other hand, has little to no reputation whatsoever. There are minimal ratings on their products online and even fewer written reviews from consumers. As a result, Home Depot shoppers are reluctant to invest in their products because they know so little about them and the lack of information severely inhibits any efforts to research the brand.
Products
Another point of enticement for consumers is the array of products offered by a brand. When shopping for fabrics or even entire outdoor cushions or chairs, consumers like to have options so they can choose the aesthetic that best suits them.
In terms of fabrics, designs, and products, Sunbrella far outshines Cushionguard. Not only is it devilishly tricky to search Cushionguard products on Home Depot's website, but the products that come up are far and few between.
Cushionguard offers fabrics in various designs and colors in addition to some chair and sofa cushions and a few outdoor umbrellas.
Sunbrella, on the other hand, is a far more expansive brand that offers a wide range of indoor and outdoor products, including:
Umbrellas
Outdoor chair cushions
Accent cushions
Ottomans and benches
Indoor accent chairs
Indoor sofas and chairs 
Sunbrella also has several fabric lines, including commercial fabrics, Elbertex fabrics, Sunbrella marine fabric, and many more.
Accessibility
This is arguably the crux of why Sunbrella is much more reputable and favored over Cushionguard. There is more information on Sunbrella because it is a firmly established brand that sells products in a myriad of renowned retail stores, such as:
Ballard Designs
Potterybarn
Crate & Barrel
Room & Board
Rooms To Go
Cushionguard, on the other hand, is exclusively accessible at Home Depot. Therefore, its consumer influence is significantly limited since it is only offered at one store versus competitors that sell products in some of the most popular retail stores in the nation.
Cost
If there was ever a reason to buy Cushionguard fabrics over Sunbrella, it's this one. Cushionguard might be a relatively unknown brand with limited information and reviews, but it's typically much cheaper than Sunbrella.
With a profound reputation and exceptional products comes the economic benefits of increased prices, and Sunbrella is undoubtedly one of the priciest outdoor fabrics on the market. A 9-ft outdoor umbrella from Sunbrella could cost over $200 versus Cushionguard that offers the same product for around $150.
This difference is largely because Sunbrella makes premium outdoor furniture with a high-end designer flare. They have some of the most top-notch designs and products on the market, but each one comes at a top-dollar cost.
Final Thoughts
So, there you have it. If the choice is between Sunbrella and Cushiongurad, then, unless you want something cheaper and are willing to roll the dice on quality, you'll want to opt for a Sunbrella product. However, if you're looking for a closer match between Sunbrella and a competitor, some great alternatives that will provide the same experience at a reduced cost are Olefin and Outdura.