One of the most important things that you should consider when you get a patio is the type of patio cover you use. The patio cover helps keep your patio free of debris and helps keep the sun out of your eyes when sitting on the patio. The patio cover is, without a doubt, one of the most important parts of your patio.
Keep reading on to learn about five different types of patio covers and how you can tell whether or not they are the right type of patio cover for you.
Wooden Patio Covers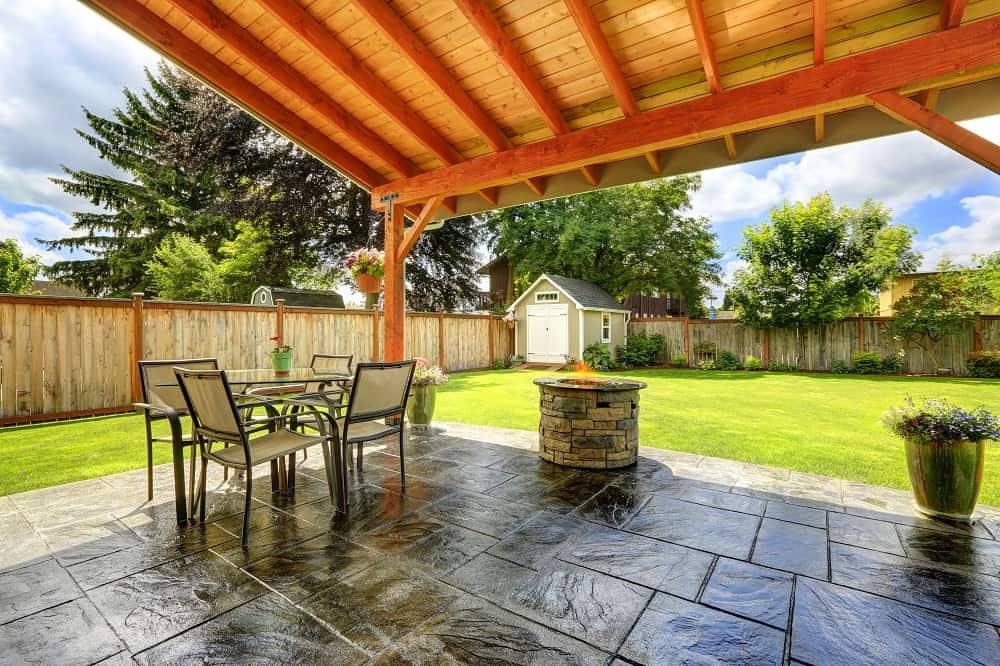 Wooden patio covers can make for great patio covers if you are looking for more rustic-looking patio covers. These patio covers tend to be a great option when looking for a patio cover for a ranch or other country-themed home. Wooden patio covers do not make a good option for modern-day patios.
If you own a home that is primarily created out of wood, then a wooden patio cover is an excellent idea to go with. This will help the entire structure have a unified look to it that way; you do not have to worry about your patio cover clashing with the rest of your home and patio.
Wooden patio covers remain one of the most popular patio covers around the world, mostly because of their simple and easily customizable designs. You never have to worry about not being able to make your patio cover unique to just you when there is an endless supply of designs to use for your patio cover.
However, wooden patio covers tend to require a lot of maintenance to keep them looking at peak quality. Not only do you need to perform regular maintenance, but you will also need to perform cleanings, polishing, and weather treatments regularly to ensure that your wooden patio cover stays at a high level of quality.
Aluminum Patio Covers
Aluminum patio covers are another common type of patio cover that you can find across the world. They tend to be much more common than wooden patio covers for several reasons. If you can go with aluminum patio covers without clashing with the rest of your home, it can be a good idea to go with them.
The reasons to go with aluminum patio covers are:
Easier to maintain. They do not require a large amount of work to keep them looking nice, and so if you do not want to spend much time taking care of your patio covers. Not only that but aluminum patio covers are also highly durable, allowing them to last for a long while.
Come in a large selection of varieties and different styles. You can easily customize your aluminum patio cover to match your personality or your home at no actual extra cost to yourself. They are not as customizable as wooden patio covers.
Are created to withstand many various weather forms. This means that it does not matter whether you are in a rainy, snowy, or high heat environment; your aluminum patio cover will hold up well. Not only that, but aluminum patio covers are also good at resisting water.
Acrylic Patio Covers
Acrylic patio covers are another excellent patio cover if you want a long-lasting and easy to take care of patio cover. They are not the greatest type of patio covers, but they do have their fair share of benefits. If you do not have a large budget for patio covers, acrylic patio covers can be an excellent option for you.
Acrylic patio covers are created from plastic, which is why it is one of the more durable types of patio covers. Plastic patio covers are rarely a good idea on their own, but acrylic patio covers are created in a certain way. If you are looking for a patio cover that can handle your local weather, acrylic patio covers may be an excellent option for you.
This type of patio cover is resistant to most weather conditions like aluminum patio covers, making them a great patio cover option when you live in an environment with bad weather. However, if you do not take the time to perform the proper patio cover care on your acrylic patio cover, it will become sun bleached before too long.
Another great benefit of using acrylic patio covers is that it can lower your car insurance premiums without any trouble. It can be challenging to lower car premiums in an easy way, but if you can put up an acrylic patio cover, there is a good chance that your car premiums will decrease after a bit of time.
Latticed Patio Cover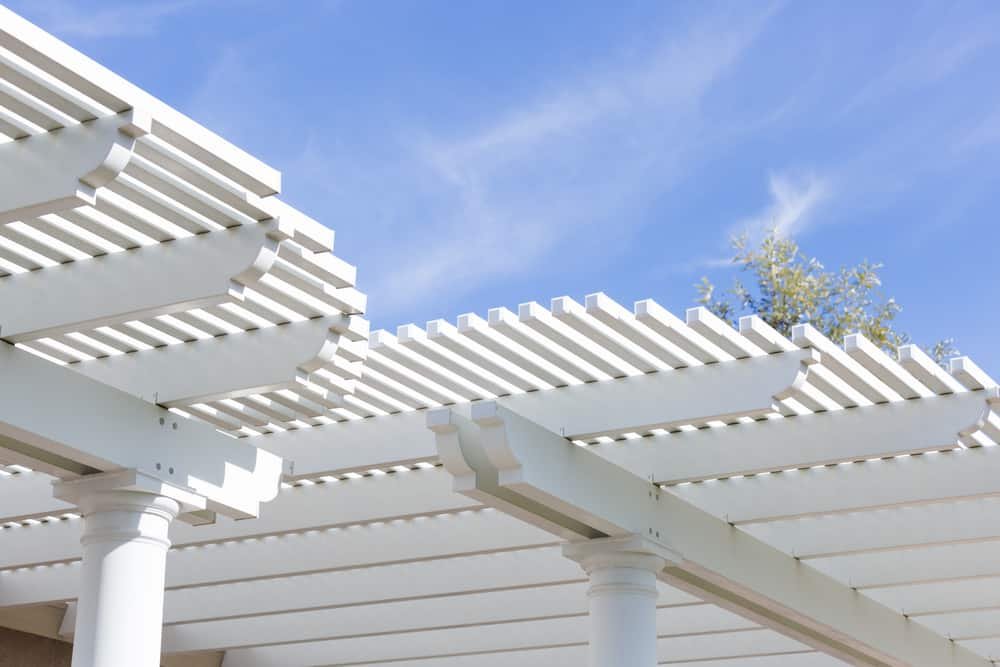 Another great type of patio cover to go with is a latticed patio cover. These patio covers are great when you want a modern feeling to your patio, but you do not want to spend a lot of money on a more stylish cover. Latticed patio covers tend to be created out of wood, so make sure to keep that in mind.
Latticed patio covers are elegant and tend to be appealing to most people around the world. They have been around for many years now, and they have yet to go out of style if you are the type of person to care about staying up to date with the latest trends.
Latticed patio covers require a fair amount of maintenance. Since they are designed out of wood, they will not require as much as wooden patio covers. If you want the styling options that come with wooden patio covers but do not want to spend as much time on maintenance, then latticed patio covers will be perfect for you.
Another important thing to remember is that latticed patio covers will not do a complete job of keeping water off your porch. This is because latticed patio covers have holes throughout the cover, so if you are looking for a patio cover that will keep out the rain, then do not go with latticed patio covers.
Solid Patio Covers Tend To Be Best
If the previous types of patio covers are not your style, then solid patio covers may work best for you. These tend to be one of the best types of patio covers to go with for several different reasons. If you want a patio cover with great functionality and will not cost you an and a leg, then a solid patio cover may be the one for you.
Solid Patio Covers:
Solid patio covers are the best type of patio cover to go with if you live in a portion of the world that sees a lot of rain and snow. Since the solid patio cover is free of holes, it will help keep you safe from the weather if you want to go outside during poor weather.
Solid patio covers tend to be more expensive than latticed patio covers, but they tend to be well worth the money. If you can spend the money on a solid patio cover, they tend to be the better option for many patios due to them being weather resistant.
Depending on the material you get for your solid patio cover, this will decide just how much maintenance you will need to perform regularly. Try to get a solid patio cover that is crafted out of metal, as these are the easiest to take care of.
Conclusion:
Finding the perfect type of patio cover for you can be difficult, but remember that much of it is just your personal preferences. You now know five different types of patio cover that you can consider when you are looking for your next patio cover. Also if you're committing to building a patio cover you need to make sure you have a permit to do so.
If you're looking for a new project you can always look into our article were we teach you how to attach a ledger board to your house for a patio cover. Also be sure to checkout our cleaning tips for cleaning your patio to get it looking brand new again.