Are you wondering how to paint your tired, bland gray concrete patio? Or has your patio been previously painted and now it's half worn away and looking really bad? We just completed this project for a friend's Airbnb whose outdoor concrete patio had previously been painted but was showing it's age.
You may think you can just slap any type of paint over the concrete and call it a day but that is not the case and we'll show you the best way to prep and which paint product to use for a long lasting finish.
Painting a concrete patio requires a thorough cleaning which includes pressure washing. Use a long pole and paint roller to apply a coat of durable acrylic floor paint like Sherwin Williams Armorseal Tread-Plex
Is Painting A Concrete Patio A Good Idea?
The short answer is yes, it's a good idea. The long answer is yes, but only if it's done properly. Painting concrete is a great inexpensive way to add color to your outdoor area. It's also a very easy DIY weekend project that anyone can tackle.
Your concrete should be in good condition but many times you may have some small cracks. If your concrete is cracked, you might want to look into how to fix a cracked concrete patio. A painted concrete patio will help hide some imperfections after repairing the cracks.
What Kind of Paint Do You Use On Outdoor Concrete Patio Floor?
We used Sherwin Williams Armorseal Tread-Plex. It is an acrylic water based paint with the following features.
One component – unlike epoxy which requires two part mixing
Water cleanup – easier to clean off other surfaces and tools unlike oil based paints.
Fast dry – Great when painting weather exposed areas that could potentially get rain
Slip resistant properties – no need for additional step to add flakes to not be slippery
Abrasion resistance – no need to worry about it wearing away fast with frequent cleaning
Outstanding application properties – very easy to roll and brush on a floor surface.
Technically this is a commercial floor paint but it was recommended to me by the Sherwin Williams personnel when I explained that I was painting an outdoor concrete patio floor that was previously painted and will have a lot of foot traffic.
They recommended this over their other residential concrete paint products stating that it should last longer and will bond better to the previous paint as well as any exposed concrete. As you can see from the above pic, you can get this paint in pretty much any color. We went with a beachy aqua blue.
How To Prep to Paint Concrete Patio
No matter what you're painting and if you paint project is inside or outside, there are two main factors that will determine it's success.
First is how well you prep the area before painting and second is the paint product you choose. The correct prep procedures will allow the paint to properly seal to the concrete.
If you have residual grease or dirt on your floor the paint won't be able to adhere to the concrete and bubble up anywhere that is still dirty. This article goes in depth on how to clean grease off a concrete slab.
Using a pressure washer with a good concrete cleaner will help get really stuck on dirt and loose paint if the concrete was previously painted. As you can see from the pic below it really got everything clean compared to first pic.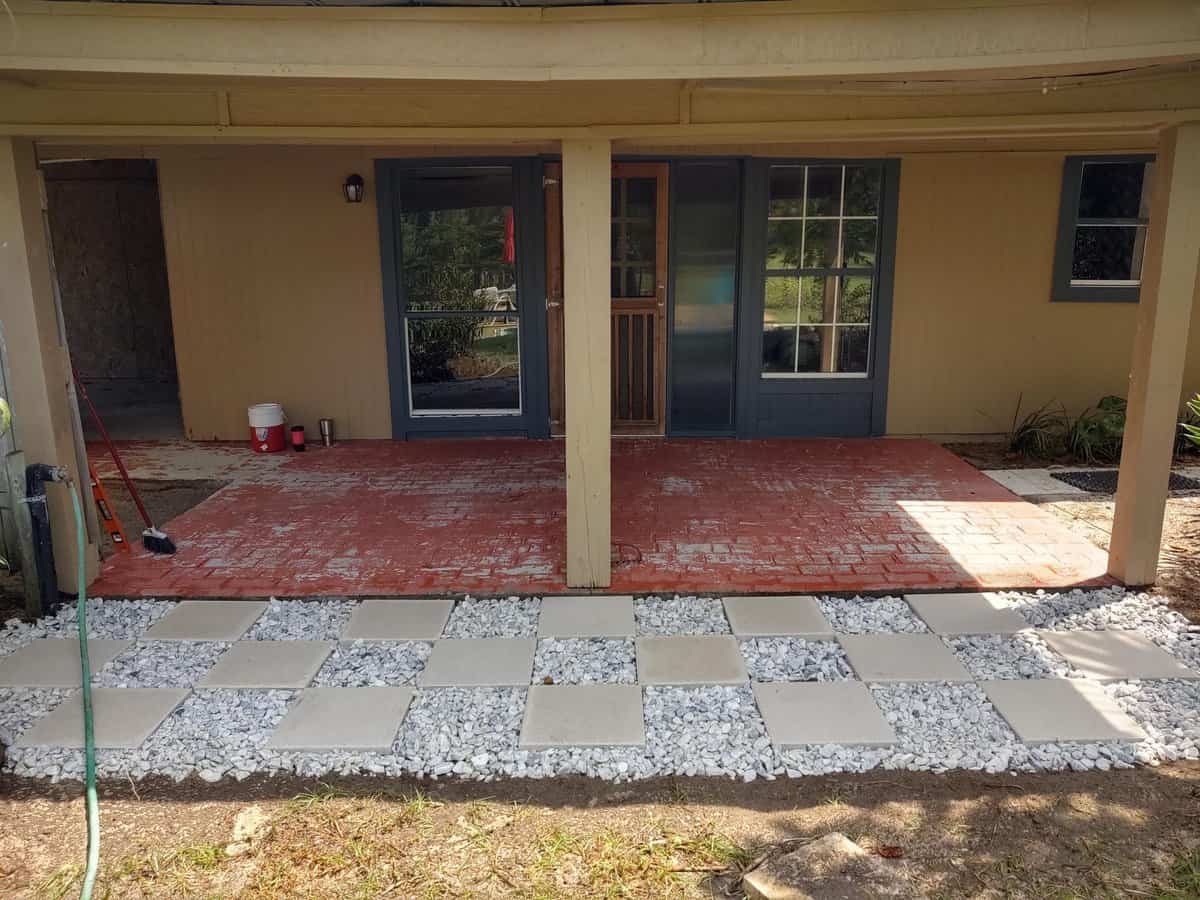 You may need to etch your concrete if it is really smooth. The process of etching is essentially a cleaner and sander in one. It deep cleans the concrete by peeling a thin top layer off leaving a rougher surface for paint to adhere. You should only etch if you concrete is very smooth.
Steps to Clean Concrete Patio
Sweep any loose dirt off floor
Use grease cleaner if you have grease spots.
Pressure wash using concrete cleaner
Etch Concrete – If your concrete is really smooth, you'll need to add this step
Wait for concrete to be completely dry
How to Paint A Concrete Patio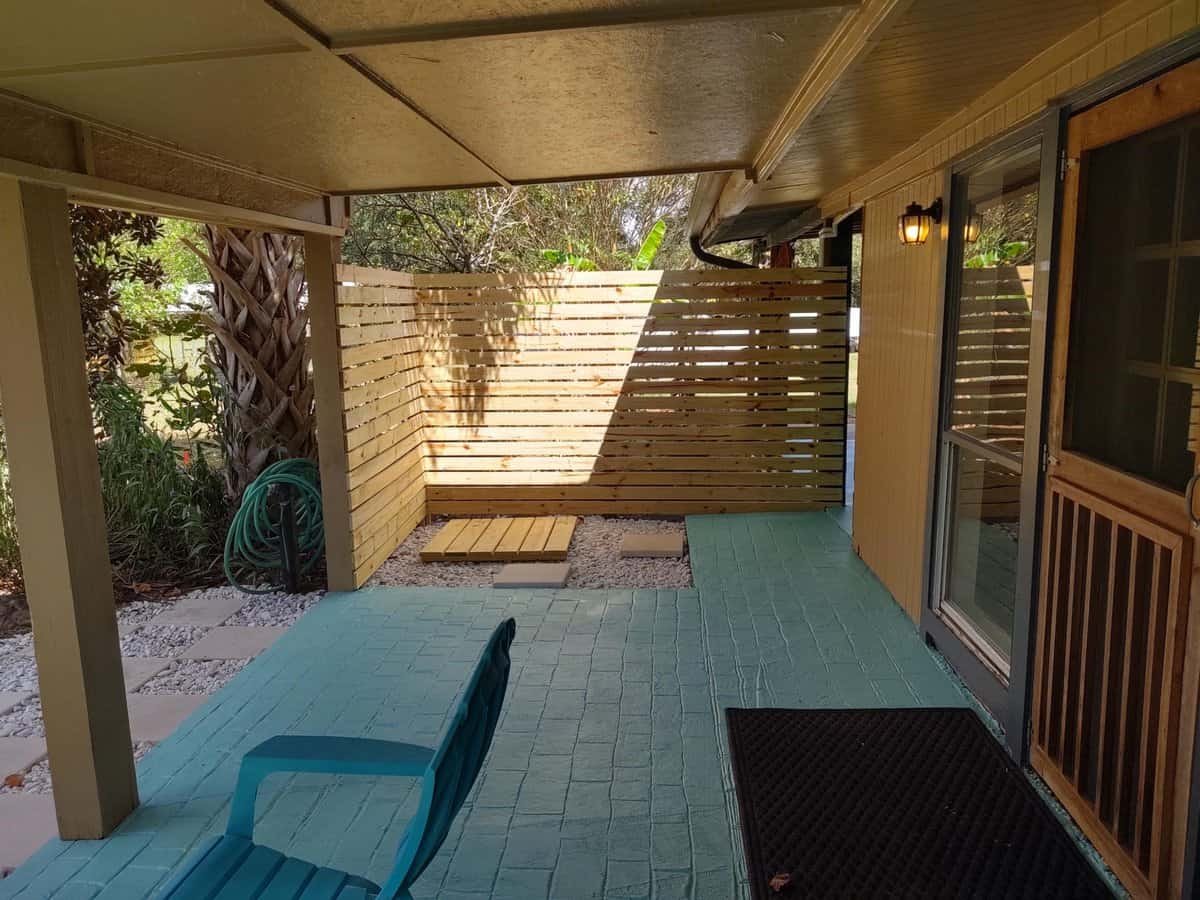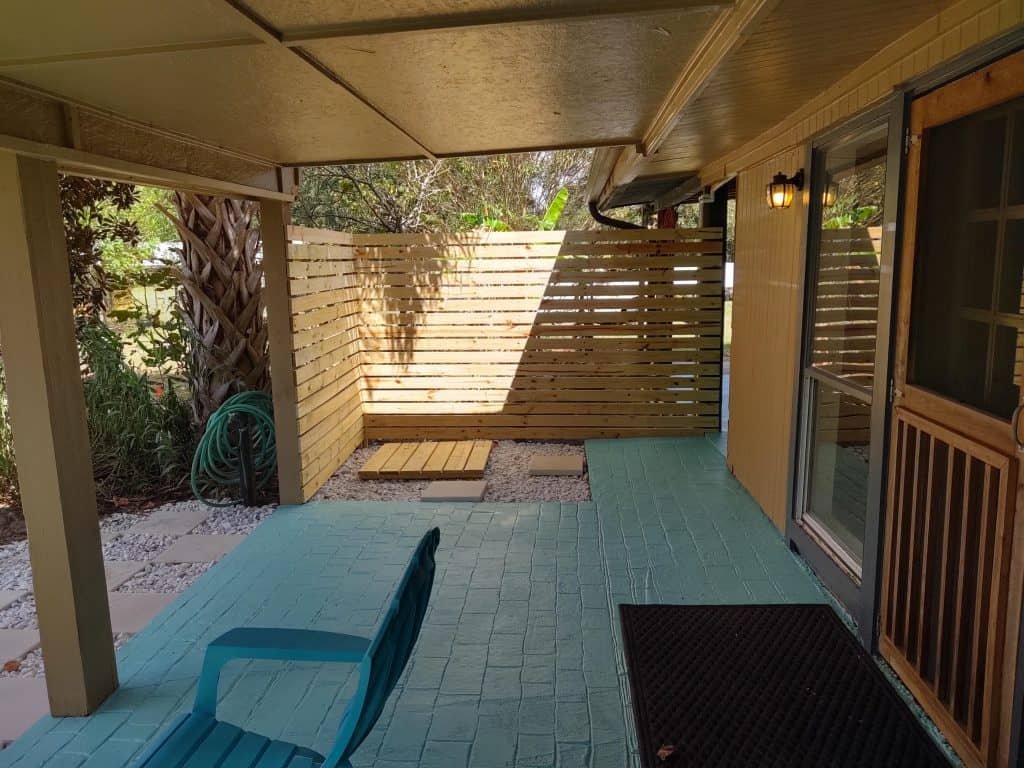 After waiting a couple of days for your concrete patio to dry, you're now ready to paint your concrete. As with any painting job, tape off anything that you don't want paint to get on or know how to paint your edges without getting paint on your house walls.
You'll want to paint all your edges first that is next to an object, like your house walls, or posts holding up a roof. You'll also want to edge far enough out to not worry about hitting the house walls with your paint roller.
Make sure you stir the paint constantly and before pouring it out into a pan for rolling. Using a long pole will allow you to roll the concrete floor without bending over or being on your knees.
Depending on if you're going from a dark paint color to a light color, you may need to roll a couple of coats to cover everything.
With the ArmourSeal Tread-plex it dried in a couple of hours and was ready for foot traffic in 8 hours.
Conclusion
Painting your concrete patio floor is a very easy process and will make a big difference in your backyard setting. Hopefully you'll try this project on your concrete patio soon.
If you noticed in the pictures, we also add a layer of gravel and patio stones to keep the dirt at bay in front of the concrete patio. We also replaced a vertical fence with a horizontal fence to house an outdoor rinse off shower. We'll showcase the steps to complete those projects in separate articles soon.