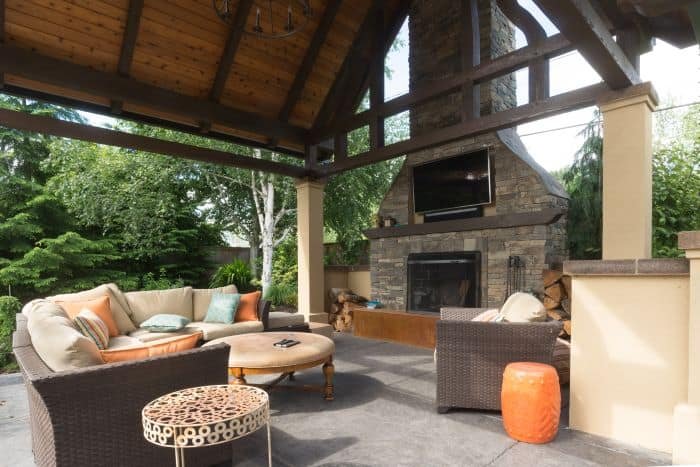 Decorating your backyard patio can be an exciting venture. What better way to accessorize than by adding a television for tailgates, new season premieres, or movie nights with the family?
A TV outside can add greatly to the entertainment of your backyard patio area.
However, what if you choose to put an indoor TV on your patio? Can you use an indoor TV outside?
You can use an indoor TV outside. As long as it is properly protected under a roof or covered in a cabinet, you should have no problem using your indoor TV outside.
However, without proper setup, ideal weather conditions, and more, it may not work out.
Continue reading to learn about how to best utilize an indoor TV outside. Whether you want to move it temporarily or keep it outside permanently, there are specific ways to approach the situation.
Can I Use An Indoor TV Outside?
So, can you use an indoor TV outside? Yes, but you must take some precautions before doing so. There are several aspects to consider before installing your TV outside:
Location
Installation style
Environment
Where you place your indoor TV outside is extremely important. Since they are made for an indoor environment, an indoor TV may not have as bright of a display. With that said, it may be more difficult to see the screen on a sunny day, as it might be too dim. Placing your TV in a predominately shady area is the best way to avoid this problem.
How you install your indoor TV outside is also essential. One major security problem with outdoor TVs is that they are simply mounted on an outdoor wall.
A TV mounted outside risks the chance of theft without some type of locking mechanism. There are many different outdoor TV cabinets to choose from that can match your outdoor décor.
If you do mount your indoor TV outside, it does not automatically mean it will be stolen.
Rural areas and neighborhoods with additional security might be a better place to have a mounted indoor TV outside, but no matter where you are, it is encouraged that you invest in a TV cover to protect your indoor TV from weather when it is outside.
Mounting your TV on a covered wall will provide a great range for viewing your TV at different angles, so it is a practical option.
However, if you do not add more security, you should at least purchase a cover when it is not in use. This is particularly beneficial in extreme weather conditions and sun exposure.
Any type of covering can protect from rain, snow, extensive sunlight, or freezing or blazing hot temperatures. A protective cover is also great for keeping out dirt, dust, and, if you live in a rural area, any animals that might be a bit too curious.
If you have an indoor TV outside, being exposed to any type of changing weather is detrimental. Putting an indoor TV outside requires the most careful preparation and upkeep, ensuring that your TV stays out of harm's way at all times.
How Is An Indoor TV Different From An Outdoor TV?
Before reading this article, you might not have even known that there is a difference between an indoor TV and outdoor TV.
While they are nearly the exact same, outdoor TVs have certain features that may not be found on your indoor TV. So, if you are considering putting your Indoor TV outside, what might you be missing out on?
Before discussing the possible risks of having an indoor TV outside, you should become familiar with outdoor TVs.
Also known as weatherproof TVs, outdoor TVs are equipped with certain attributes to further protect them from an outside environment, be it temperature, sun exposure, precipitation, debris, or anything else.
An outdoor TV usually comes encased to keep it safe from climate conditions. This helps maintain water resistance, protects from debris, and can even aid in UV protection and heat. However, outdoor rated TVs are very expensive.
An outdoor rated TV will cost 3-5 times more than an indoor TV, sometimes even more depending on weather resistance and if it can sustain full sun exposure. An example is the Samsung 55″ Partial Sun Outdoor TV vs Samsung 55″ TV with similar features. Both TVs have similar features but you will pay more to get a brighter daytime display with an outdoor TV.
Should I Use An Indoor TV Outside?
From weighing the pros and cons of having an indoor TV outside, you still may be unsure if it works for your backyard setup. Is it better to stick with an outdoor TV?
If you choose to install an indoor TV outside, how seriously must you protect it? Overall, using an indoor TV outside is a better option than a weatherproof TV depending on the TV's outdoor location.
You do not have to worry about your indoor TV being damaged outside if you set it up the right way. Make sure it has some type of larger covering for protection and a clear display in the shade.
There is no point in having a TV outside if you cannot see the screen. 
If you don't have a covered patio to protect your indoor TV from weather and sun, a wall mounted lockable weather resistant outdoor TV cabinet will be your best bet. If you don't need quite the same protection as the cabinet above, then a zip-up skin cover to put over the TV will also work.
If you want a custom looking outdoor TV cabinet, a local carpenter can build one or you could try your hand if you're the DIY type. As long as your TV is protected from the outside sun and rain, you should have no problem using an indoor TV outside.
Takeaway
You can use an indoor TV outside. With proper installment and careful security precautions after using, an indoor TV outside provides a better display, easier maintenance access, and an all-around better experience for watching television outdoors.