A patio is a great way to enhance the outdoor livability of your home.  Patios provide casual seating areas and room for outdoor dining. 
You can take it up a notch by adding a fire pit and even a kitchen.  The big question, though, is how much space is all this going to take.
A patio should be designed to allow 25 square feet per person when in use. 
Smaller patios that comfortably seat 1-2 people range from 60 to 100 square feet.  Larger patios that offer fire pits, kitchens, and/or multiple seating areas may range from 300 to 700 square feet. 
Planning to add a patio or expand your existing one to include some of these features? Read on to find out just how big of a patio you should be designing.
Patio Measurements are Key to a Comfortable Experience
When you're designing a patio, it's important to get the right balance between spaciousness and coziness. 
A patio that's too small will limit the amount and type of furniture you can put there.  You may also find that you're constantly bumping into others or unable to push back from the table.
An overly large patio may give you plenty of room for outdoor furniture but leave you feeling less than cozy because of its vastness. 
Plus, the extra space will jack up the cost of your patio project and eat into your yard's green space.  
Let's take a look at three common patio features that many homeowners want to include in a new patio. Depending on your space and budget, you may be able to include all or some combination of the three.
As you design and plan your patio, one of the key considerations is to factor in how much space each of these features needs to work effectively.
How Much Patio Space Should be Allowed for an Eating Area?
An outdoor eating area is usually the main reason homeowners add a patio. 
| People | Table or Furniture | Patio Size | Area |
| --- | --- | --- | --- |
| 1-2 | Bistro set of small table and 2 chairs | 6×10 feet – 8×12 feet | 60 -100 sq. feet |
| 4-6 | Round or Square table with 4-6 chairs | 10×10 feet – 12×16 feet | 100 -192 sq. feet |
| 6-8 | Rectangular table with 8 chairs and lounging furniture | 16×18 feet | 288 sq. feet |
How Much Patio Space Should be Allowed for a Fire Pit?
Fire pits usually range from 3 to 6 feet across and are typically round, square, or rectangular in shape. Of course, you'll want seating around the fire pit and this can be built-in seats or movable chairs.
To allow for safe use of the fire pit, most people recommend about 24-30 inches between the edge of the fire pit and any seating.  There also needs to be room behind the chairs for people to move about – about 30 inches works. 
Factoring in the size of the fire pit and the area needed for seats and movement, it's best to design a fire pit area of 15 x 15 feet.
If your fire pit is larger than 6 feet, allow more space accordingly. Here's how we built our DIY paver fire pit kit. If you're purchasing a fire pit knowing when they go on sale could save you hundreds of dollars.
How Much Patio Space Should be Allowed for a Kitchen?
Outdoor kitchens draw a crowd. That's why you'll need to allow plenty of space on the patio for one. Backyard kitchens can vary greatly in size, from a portable or built-in grill to a full kitchen with undercabinet fridge, cooking surfaces, and prep counters.
We showcase the different types of outdoor kitchens and their respective cost in a separate article.
Experts suggest a minimum of 2 feet of open area – and preferably 3 ½ feet – around a grill to allow plenty of room for foot traffic to flow through. Grills should have at least 4 feet clearance from any building.
For a patio to house a grill safely, you should plan for a minimum area of 8 x 10 feet. If you're going beyond a simple grill, allow anywhere from 10 x 10 to 20 x 20 for the outdoor kitchen patio area.
How Big Should a Multi-Use Patio Be?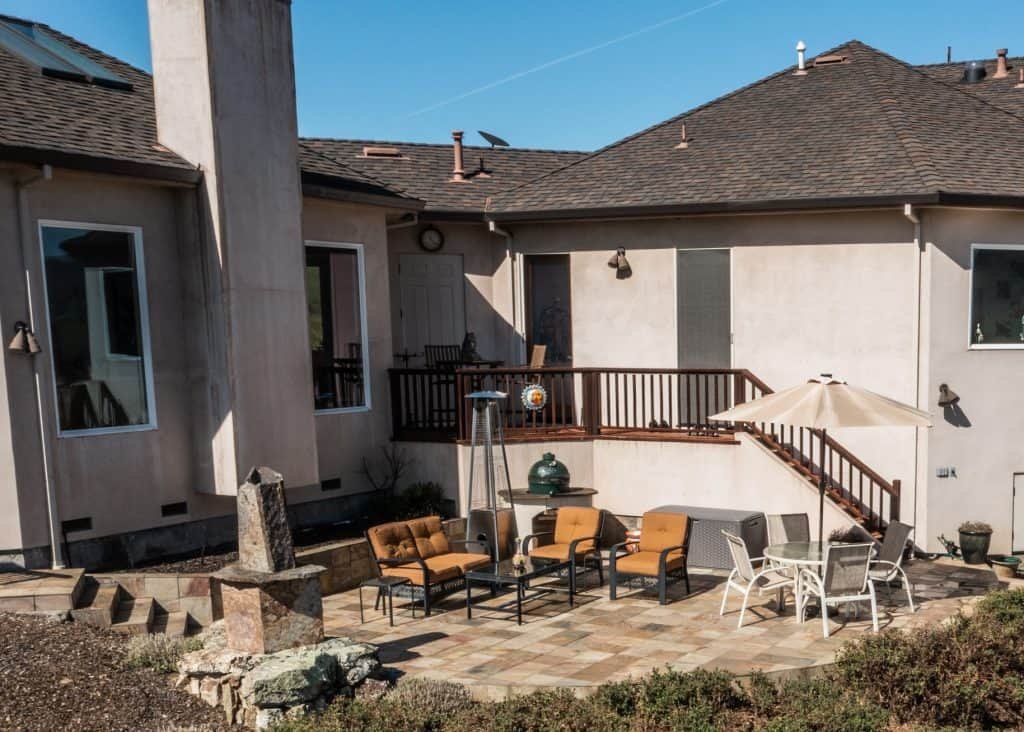 What if you want to incorporate all three of these features in your new patio as well as offer lounging areas with chairs, sofas, chaise lounges, and side/coffee tables? Plan on a large space that offers plenty of room to spread out and safely walk around the fire pit and kitchen areas.
According to Your Own Architect, a good rule of thumb is to plan on about 25 square feet per person using the patio.  It's important to account for any furniture you want to use as well.  
Their recommendation for a comfortable entertaining on a multi-use patio is a minimum of 550 square feet.  
For patios that reach into the 700 square feet range, set up multiple seating and eating areas to break up the space into more intimate spots.
Final Thoughts
Depending on how you want to use it and what you want to include, a patio can range from a cozy 6 x 10 foot area to upwards of 700 square feet. Your budget and available backyard space will also help determine the size of your new patio.