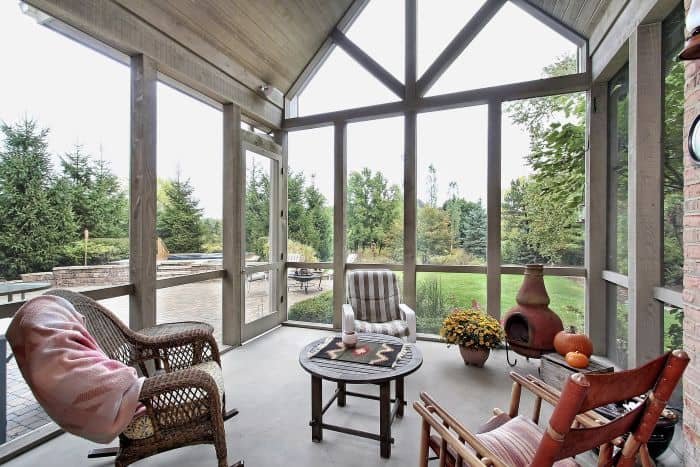 If you're tired of facing the elements or being bitten by bugs in your backyard, you may start looking at how to screen in your patio area. Your next logical question would be how much does it cost to screen in a patio? The cost can be as little as a few hundred dollars for a simple screen DIY job to more than $40,000 for a state-of-the-art enclosure.
These cost estimates also depend on whether you have an existing patio or if you plan to hire a contractor to build one from scratch. The size and materials used for the screened in patio will greatly affect the price as well.
Let's take an extensive look at a screened-in patio cost, and the factors that affect the price.
Types of Patios
Patio Enclosures Come in a Variety of Styles.
Encircle the area with curtains or screens to create a screen room, free from bugs.
Surround the patio with glass from ceiling to floor, called a Sunroom, or panels that can be retracted to accommodate Spring to Autumn.
Add an air conditioning system to the three-season room to make it an all-season space.
Surround the patio with panels and a roof made of glass to create a solarium.
Average Screened in Patio Cost
To add a new screened-in patio from scratch, you'll pay an average price of $30-$120 per sq ft, depending on materials. On the other end of that spectrum, a DIY screened-in patio with a roof can be as low as $10-$15 per sq ft.
The variety of patio enclosure options with prices averaging:
National Average Price: $13,200
Minimum Price: $200
Maximum Price: $45,000
Average Range: $8,000 to $18,800
Patio Materials Costs on Average
A freestanding steel patio gazebo set costs between $200 and $350.
Basic Patio Kit costs $900 dollars and above
A Metal/aluminum kit costs $5,000–$6,000
For a custom-built patio, it costs between $8,000 and $45,000.
Patio Roof Costs
The patio roofing and framing is an essential aspect of the enclosed patio project and an important factor in the screened-in patio cost. 
If you don't already have a roof over your patio, that's where you'll begin. A wide range of patio roofing choices is available, from metal, and asphalt shingle to wood with a price range of $3,000 to $10,000. Regardless of which material you choose on top of your roof, you're looking at a minimum of $5000 for a 20×20 area built by a contractor to frame out your new roof.
Costs of a Pre-Constructed Patio Enclosure Kit
Pre-built Aluminum pillars and fiberglass screens make up the next choice with a detachable awning. It will comprise one or more screens on the doors to stave off pests and may be stored for the winter.
A pre-built patio set often costs $900 or more.
Cost of a Steel Patio Gazebo Enclosure
The most conventional and inexpensive style of patio screen is more of a tent than an enclosure.
The roof comprises fabric attached to a steel frame with curtain rods around the circumference. The patio is then completely enclosed, with a metal frame and a tent-like layout.
It's not a suitable long-term alternative as it's not tied to the house and may not endure mother nature. This option will set you back about $180 to $350.
Patio Enclosures Made of Wood and Hardware
Framing your patio with wood with a metal or shingle roof is a more permanent structure. It is a great addition to many architectural styles of homes and will increase your home value.
Wood frames offer an ideal affordable option for covering your patio, as long as you use pressure treated wood and galvanized or stainless steel hardware. Using the proper wood and hardware will help with water or termite damage.
Custom-made wood patios installed by a contractor can start at $15,000 depending on the size of your patio. are another possibility, or purchase a kit and have it installed by a contractor.
Costs of Aluminum and Metal Patio Enclosures
Metal will not decay or be harmed by termites. It's not combustible, so it'll hold up well in a fire. It doesn't absorb sunlight, and inclement weather conditions have no impact on the material.
Corrugated steel is available in a variety of sizes and shades. If you desire a more rustic aesthetic, you may even get panels that are engineered to rust organically.
Patio enclosure kits with a frame, wall panels, and slanted roof are available at most hardware supplies, costing between $4,800 and $6,000. Because the manufacturer does not provide installation, you'll have to contact a professional.
Solariums are available in varying sizes from 8'x12′ to 10'x16′, and cost between $2,600 and $3,900. Check their ability to handle snow and hail.
Patio Heating and Cooling Costs
A portable device that can cool air via a window is a cheap option to cool your patio with glass panels for $200-$500. For a more permanent solution or if you have a large patio a ductless mini-split range is your best option in the price range from $650 to $4,500.
A BTU below 8001 costs between $250 and $550, while a higher BTU costs between $300 and $700 if your space is bigger than 200 sq ft. Insulation is crucial for the windows, doors, roofs, and walls.
Costs of Patio Enclosure Flooring
Concrete – Although you may be satisfied with the look of your poured concrete patio, many homeowners choose to enhance it with options such as pavers and concrete stenciling. Based on the material you choose, the cost of a concrete patio might range from $2 to $7 per square foot.
Pavers– If you don't want to pour a concrete base floor, another alternative is pavers. There are different types of pavers such as natural stone, brick, and concrete ranging from $2-$5 a sq ft. Anticipate paying around $6-$10 per sq ft for materials and labor.
Deck – A wood deck is a classic choice for enclosed patio flooring. The price range to install a basic deck flooring is $10-$15 a sq ft based on pressure-treated wood. If your patio sits high above the ground, you will need to install screening below the deck boards so that bugs can't get through the gaps.
Permitting for Patio Construction
Municipal permits are essential when planning out you're screened-in patio. If you're building an enclosure instead of adding something temporary, there's a good chance your local authority will have design restrictions. 
Enclosures must be set back from adjacent buildings, have a finite amount of height, and square footage, and have sufficient space from divider walls. If attached to the side of your home, there will be specific requirements for the framing and roof components.
Your Homeowners Association may have requirements as well. Therefore, you should submit the patio plans to them and the local authority and await authorization before beginning work.
If you don't submit the required paperwork, the city may order you to demolish the patio if it's not within their building code. To obtain the necessary building permits, anticipate paying between up to $300 and get inspected regularly as your project goes along.
Here are a few tips before you decide to hire a contractor to build your screened in patio:
Make sure the material and design can handle the weather conditions in your state.
Ensure that you contact multiple contractors to get the best price and advice. (The cheapest is not always the best).
Ensure your contractor is licensed and insured.
Check their reviews.
Get advice from previous customers.
Do your research.
Check with the local authority first, so you do not waste your money.
Conclusion
Looking at all the possible options for enclosing your patio or building one from scratch can seem very daunting. Not only are there a ton of style choices, but you will also need to decide if it's a DIY project or hires a contractor project. Budget and style will start to narrow your choices so it's not so overwhelming.
Hopefully, we've helped you gather some information on different styles and pricing for each. Speaking of patios, we have several related articles. How to Clean Patio Screens, Do you need a permit to build a Patio? and When Does Patio Furniture Go on Sale?