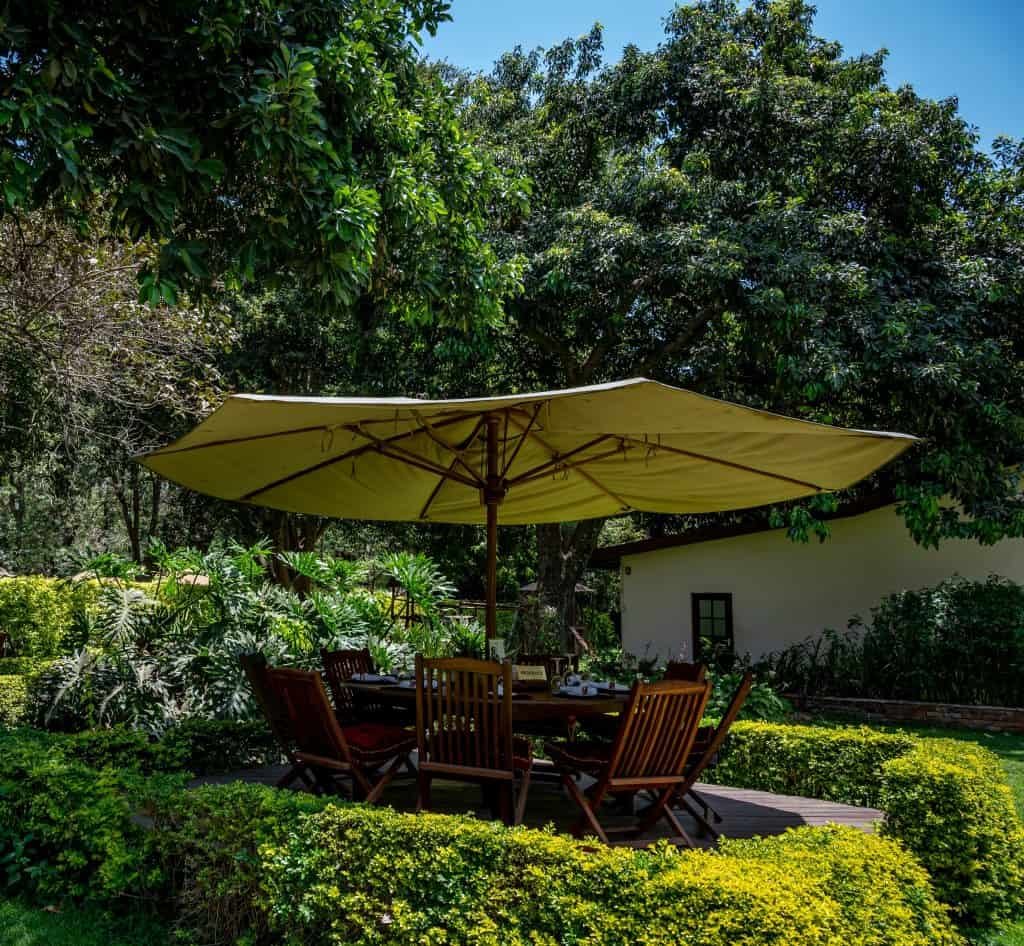 Having an umbrella for your patio table is a must to enjoy your time outdoors without getting rained on or burned from the sun.
However, you don't want one to be so small or so large that it looks ridiculous. So, what size umbrella is right for you?
The right size umbrella for a patio table should cover the entire table area plus an extra 2 feet beyond the table area.
Having the extra coverage ensures there is protected space when sitting at the table. Also, find an umbrella that mimics the table's shape.
In this post, we will discuss how to choose the right size umbrella and share examples with you as well. Read on to find out more.
What Size Umbrella Does My Patio Table Need?
Choosing an umbrella for a patio table is easy.
Here's how:
Choose an umbrella in the same shape as the table
Measure the dimensions of the patio table.
Measure the umbrella
In the paragraphs below we will explain in greater detail how to find the right size umbrella for your patio table.
How Do You Measure a Patio Table?
The following section will explain how to measure your patio table and how to measure patio table umbrellas.
Measuring a Rectangular Table
This is how you measure a rectangular patio table:
Length: Take the tape measure and secure the end to a corner of the table. Run the tape along the edge of the table to the next corner. This is the length of your table.
Width: Measure the short end of the table.
Height: Hold the end of the tape measure flat on the patio floor and bring the tape up to meet the tabletop.
Calculate: Add an extra 2 ft to the length and width.
Now, let's look at the next measurement method.
How to Measure a Square Table for an Umbrella
With a square table, measuring is less complicated.
To measure a square table you only need to measure one side because all of the sides are of equal length on a square. Add two feet to this. Then measure the height to make sure your umbrella isn't too tall or too short.
How To Measure an Oval/Round Table
Measuring an oval table is very similar to measuring a rectangular table.
Here's how:
Length: Use the umbrella hole to help you find the center of the table. Run the tape from one end of the table through the center to the other end of the table.
Width: Run the tape through the middle where the umbrella hole is.
Height: Hold the end of the tape measure on the ground and measure to the top of the table.
Calculate: Add an extra 2 ft to the length and width.
Now, let's look at how to calculate what umbrella size you need based on your patio table size.
How to Calculate Umbrella Size Based on Patio Table Measurements
Knowing the dimension of the pole is very important. If it is too large to fit your table the umbrella will not work for you. So, how can you calculate what umbrella size is right for your patio table?
Now that you know the measurements of your table you can add 24 inches to each of the sides. You also need to make sure you measure the center hole in the table the umbrella pole will fit in.
7 Examples of the Right Size Umbrella for a Patio Table
Below, we will explore seven different examples of umbrellas for patio tables that have the correct size umbrellas.
Rectangular Umbrellas for Small Patio Tables
For a small rectangular or an oval-shaped table, this Ammsun market umbrella might interest you. It is 7 ft long and 4 ft wide. It can extend to 7 ft in height. The width of the pole is about 1.2 in. You can also tilt the umbrella to offer shade when the sun is lower in the sky.
Rectangular Umbrellas For Mid-Sized Patio Tables
If your rectangular table is around 6 ft long, consider this Sunlax 6.5 ft by 10 ft rectangular umbrella. It will give you ample coverage and has solar lights for late evening and nighttime enjoyment.
It can also be found in the 6.5 ft or 9 ft wide options for even larger tables.
Rectangular Umbrellas for Large Patio Tables
For a longer table the PHI VILLA 15ft Patio Double-Sided umbrella is a fantastic option. It is 15 ft by 9 ft wide. Make sure to measure the hole in your patio table because the pole for this umbrella requires it to be 2 in wide. It does come with a base.
Round Umbrellas for Small Tables
The typical round umbrella is great for the round or square patio table. If you have a small table that fits one or two people this small Market Umbrella will work well for you.
This round market umbrella would adequately cover a 3 ft round table or a 3 ft square table.
Large Round Umbrellas for Patio Tables
Large round umbrellas can be found in sizes that will easily cover 10 ft in diameter of space. That's a lot of coverage and perfect for an 8 ft round or square patio table.
For larger tables, the 10 ft Bumblr might suit your needs. There are many color choices and sizes. You should be able to find one that would complement your patio table nicely.
Square Umbrellas
Square-shaped umbrellas will work best with square or round patio tables that are about 2 ft smaller than the span of the umbrella.
Look at this nice 7.5 ft by 7.5 ft square umbrella by Bumblr. There are plenty of color choices. This would make an excellent umbrella for a table that is around 5 ft square or 5 ft feet in diameter.
Free-standing Patio Table Umbrella
If you have a very large table with no center hole for an umbrella, consider a free-standing off-set umbrella such as this Purple Leaf 12 ft square umbrella. This will provide plenty of shade as well as shelter you from the rain with ease.
Conclusion
It is not difficult to find the right size umbrella when you know how to measure the patio table and what shape umbrella to look for. With this information, you will be able to find an umbrella that complements your patio table and your life.