A patio umbrella is an indispensable patio accessory, being that it keeps you from getting wet from the rain or burnt by the sun. But if your patio umbrella isn't properly weighed down, it can quickly become more annoying than useful, and it can even be dangerous in some cases. So, taking the time to weigh your umbrella down is totally worth the effort.
Weighing down a patio umbrella can be done in one or more of the following ways:
Purchasing a weighted umbrella base.
Picking up an umbrella weight bag.
Using the table as extra support
As you can see in the previous list, there are many options you can use to weigh down your patio umbrella, and there are pros and cons for every option. If you want to learn more about how to weigh your patio umbrella down, then keep on reading!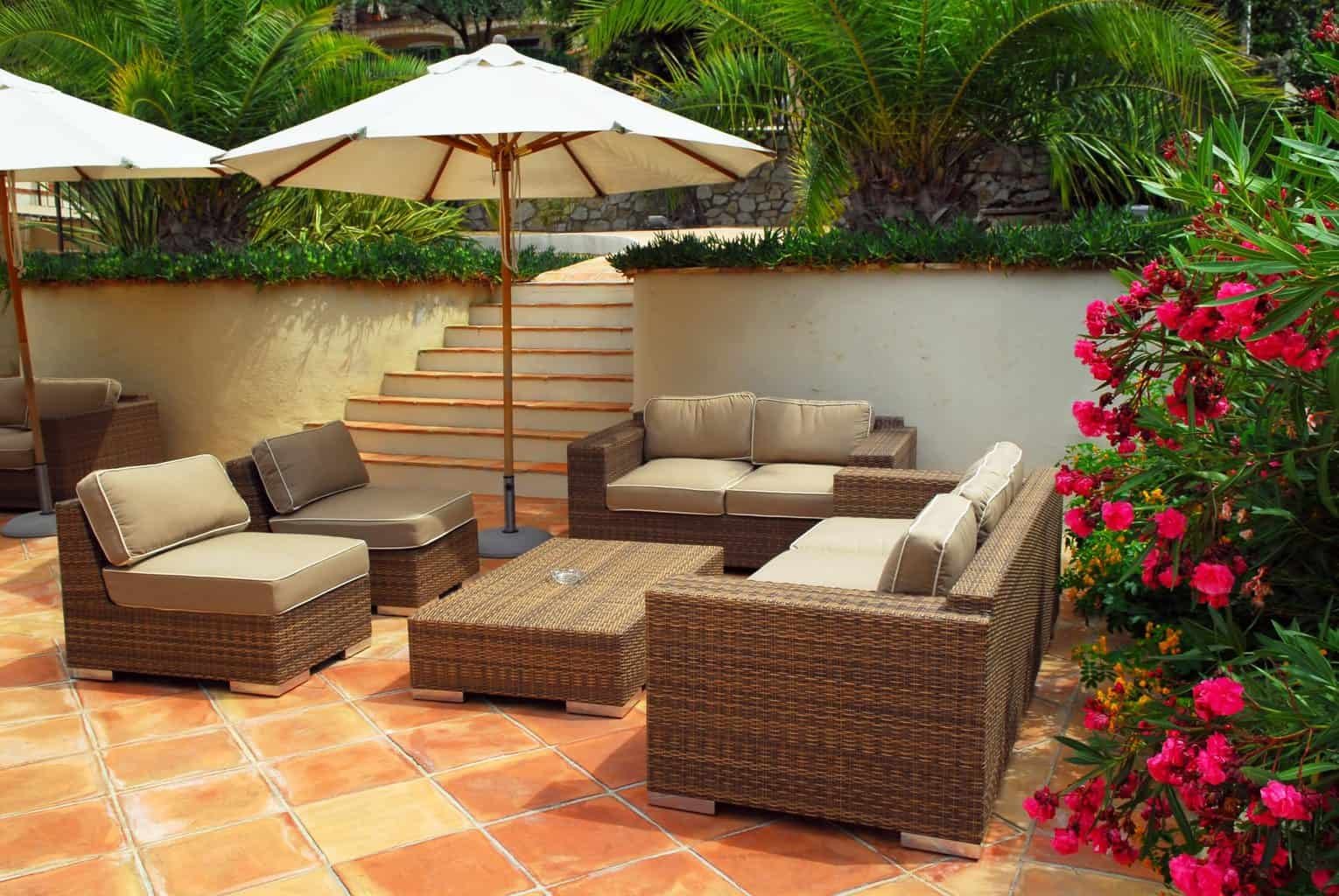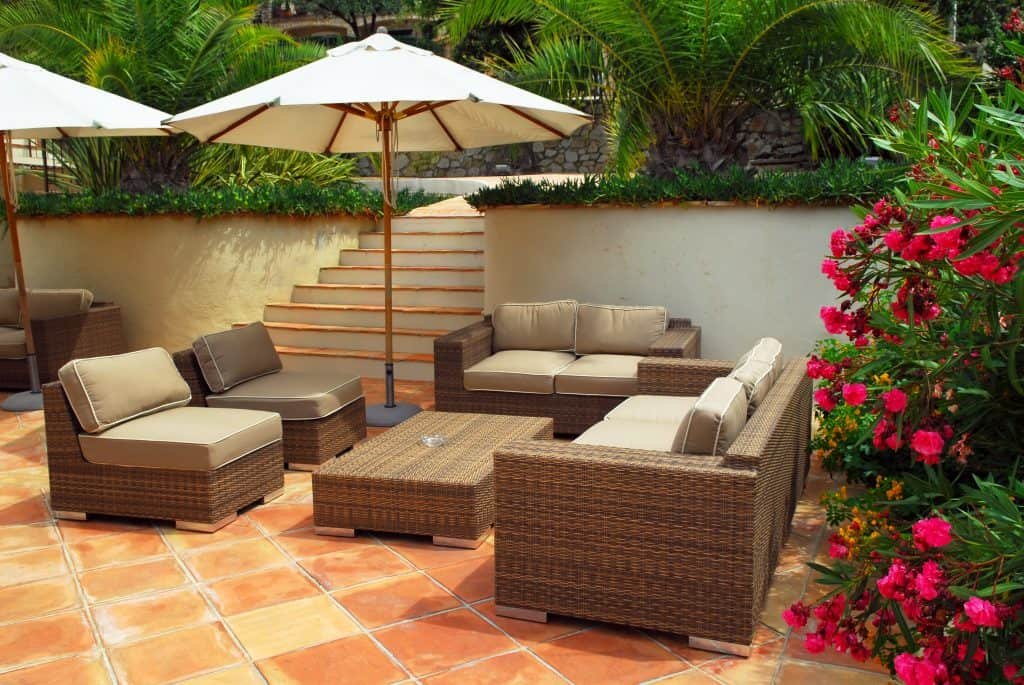 3 Ways to Weigh Your Umbrella Down
When it comes to choosing a way to weigh your umbrella down, it's important to gather information about all of your options. Then, you'll be able to choose with confidence which option is best for you. The following sections will explore each option in detail.
Use a Weighted Umbrella Base
A weighted umbrella base may be the easiest way to weigh your umbrella down. Umbrella bases are weighted stands that help to keep your umbrella stable, upright, and in place. All that you do is place your umbrella into the hole in the base and then tighten up the base to fit your umbrella snugly.
Choose a weighted umbrella base that coincides with the size of your umbrella. If you have a small umbrella, you don't need to buy an extremely heavy umbrella stand. Conversely, if your umbrella is large, make sure that your umbrella base is very heavy.
Umbrella bases range in weight from about 35 lbs to more than 90lbs. If your umbrella is 6 feet tall, you may be able to get by with an umbrella base that is around 35 lbs. But for much larger umbrellas, like cantilever umbrellas that are more than 9 feet tall, you will need to splurge on a base that weighs at least 75 lbs.
If you need a little help choosing an umbrella base, check out the following highly-rated bases from Amazon:
Tropishade Steel Plate Umbrella Base, 36 lbs – This is a low-profile steel umbrella base that weighs 36 lbs and is made of a durable steel plate. It's perfect for the lightest, shortest umbrellas and costs $78 on Amazon.
Abba Patio 50lb Patio Umbrella Base – This base is made of UV protected plastic that's been treated with an anti-rust powder. You have to fill this base with water in order for it to reach the 50 lb weight. It's a good match for you if your umbrella is not too large and the pole measures between 1.5 and 2 inches. You can get this one home for less than $100.
Heavy Duty Shademobile Outdoor Umbrella Stand – This heavy-duty umbrella stand can hold up to 125lbs of weight. You can add your own weighted materials, like pebbles, sand, or bricks, to get to that weight. What's great about this stand is that it has locking wheels that won't scratch up the flooring it sits upon. It costs $175.
When purchasing any umbrella base, it's important to check the weight limit and the recommended pole size. If you don't, you may get one home and realize that you're unable to use it.
Use a Weighted Umbrella Bag
For a lower-cost alternative, you can use a weighted umbrella bag. These are bags that add additional weight to an existing umbrella base. It's best for when you have trouble getting your existing base to stay upright in windy weather.
You can find weight bags in many configurations and weights. The right one for you will depend on the size of your existing umbrella and base. For instance, an 18″ round umbrella weight bag is a good universal option that will fit most umbrellas. It does not come pre-weighted, so you will need to fill it with sand after you get it home.
Alternatives to this bag will have a different weight limit and may wrap around your umbrella's pole.
Use a Table With an Umbrella Hole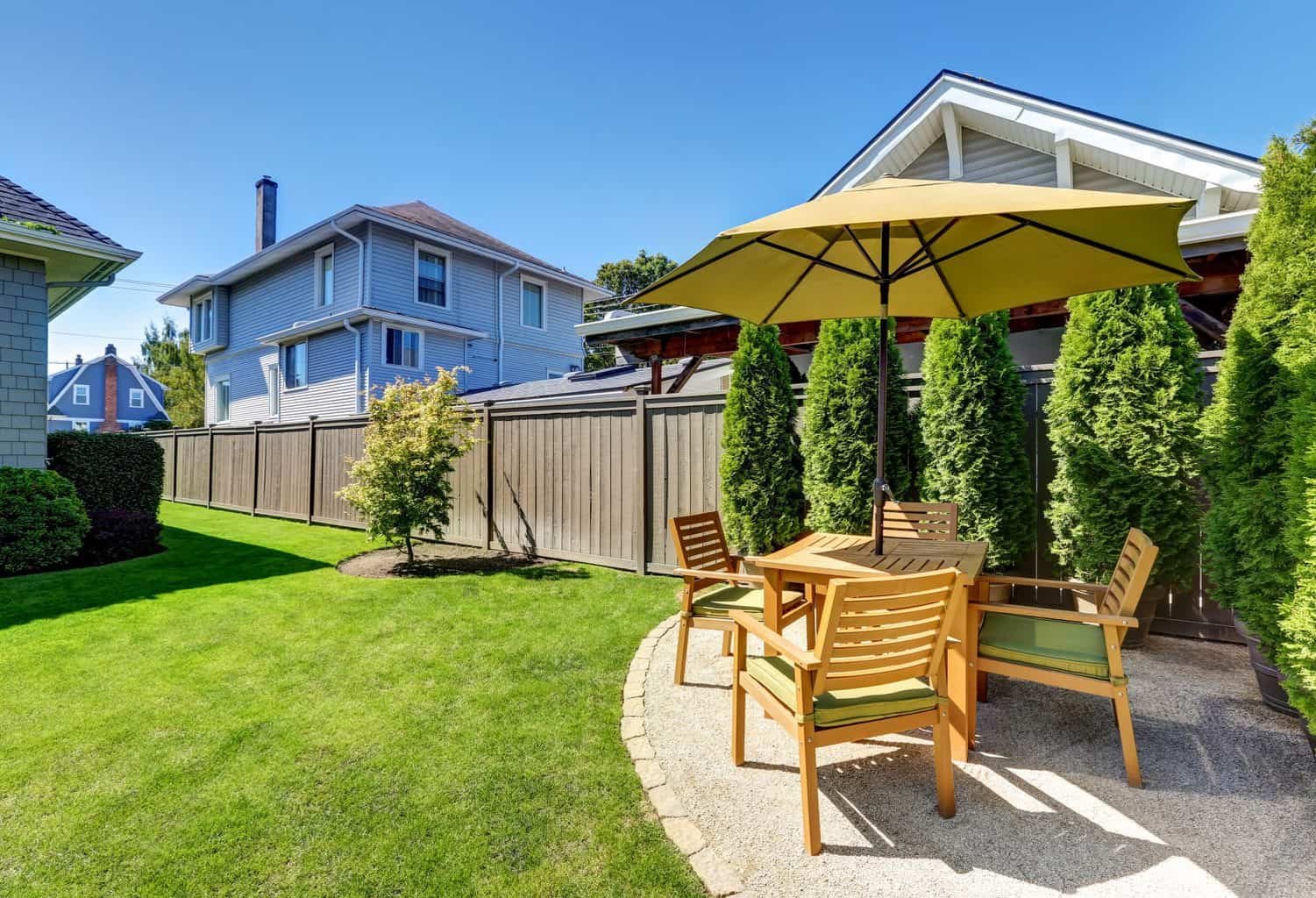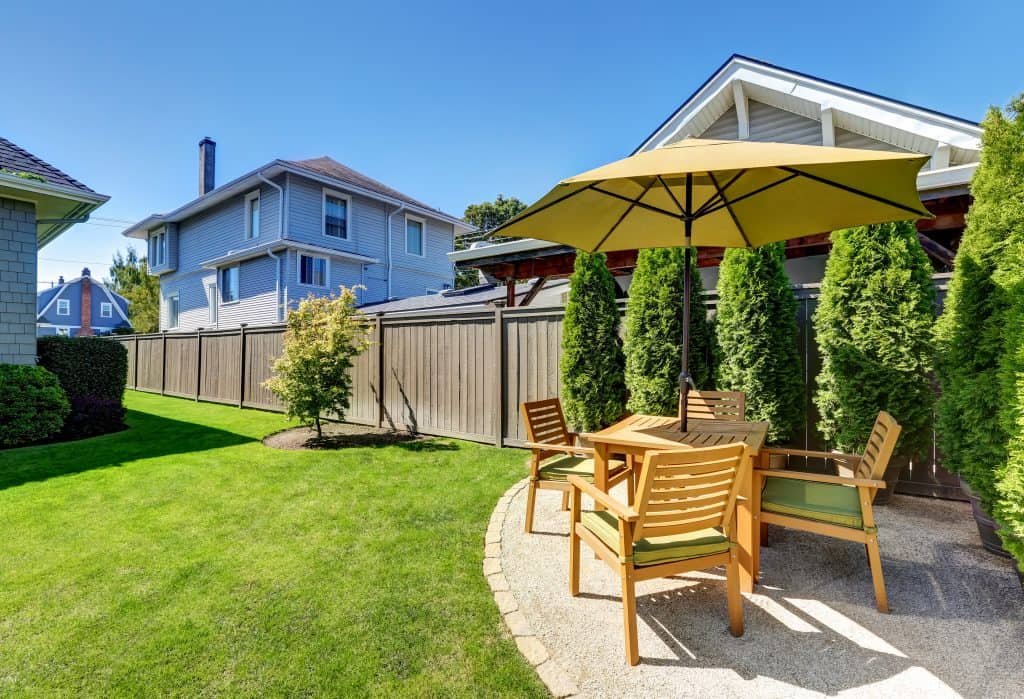 If you're still in the midst of designing your patio and you haven't purchased your patio table yet, you can kill two birds with one stone by purchasing a patio table that already has an umbrella hole.
You will still need an umbrella base for your umbrella, but the table with the umbrella hole will give your umbrella a bit more stability. Since your umbrella will be a bit more stable, you could save money by purchasing a base with a lower weight limit.
You can find a patio table with an umbrella hole for as little as $50 for a small umbrella. Make sure you get an umbrella that is properly sized for your patio table.
Dos and Don'ts of Weighing Down a Patio Umbrella
To ensure that your umbrella is safe and secure, there are some dos and don'ts that you should know about. The following section will outline each of them in detail.
Dos
We will begin by going over several "Dos" that are recommended when weighing down a patio umbrella.
Do measure the diameter of your umbrella pole. The only way to choose a base that will fit your umbrella is to know the exact size of your pole.
Do read the description for any umbrella weight you see online. To avoid surprises, read about how weighted umbrella bases work before you buy one. While some come already weighted, others are designed to be filled with sand or rocks to get to the advertised weight.
Don'ts to Avoid
Now that you know about all of the "Dos," it's time to go over the don'ts of weighing down a patio umbrella.
Don't skip out on buying a base. Even if you place your umbrella in a hole on a patio table, you will still need to purchase a base to keep the umbrella upright and stable.
Don't go for the cheapest base. If you automatically choose the cheapest base, you could end up sacrificing quality, and you may find that you need to purchase additional weight via a weighted umbrella bag.
How to Keep the Umbrella From Blowing Away
Even when an umbrella has a weighted base, your umbrella could still end up across the yard, and this can be extremely frustrating. This section will fill you in on things you can do to keep your umbrella from blowing away.
Keep your umbrella closed when it's not being used. Though umbrellas are much nicer to look at when they're open, you should close them up when you're not using them. Winds can blow an umbrella into the air or damage the umbrella, and the longer the umbrella is open, the higher the probability of something like this happening.
Secure your umbrella's pole in the base. Many umbrella bases have a tightening mechanism that you can use to make sure that your umbrella is as secure as possible. If you simply stick your umbrella pole in the base, the pole may not fit in snugly. If you're unable to get a snug fit after using the pole base correctly, you may need another base.
Add additional weight if necessary. If your umbrella has ever fallen over, you need to add additional weight to the base to make it more secure. Once you've added enough weight, the umbrella won't fall over.
If you follow the above tips, you won't have to worry about your umbrella blowing away.
How to Keep a Patio Umbrella from Falling Over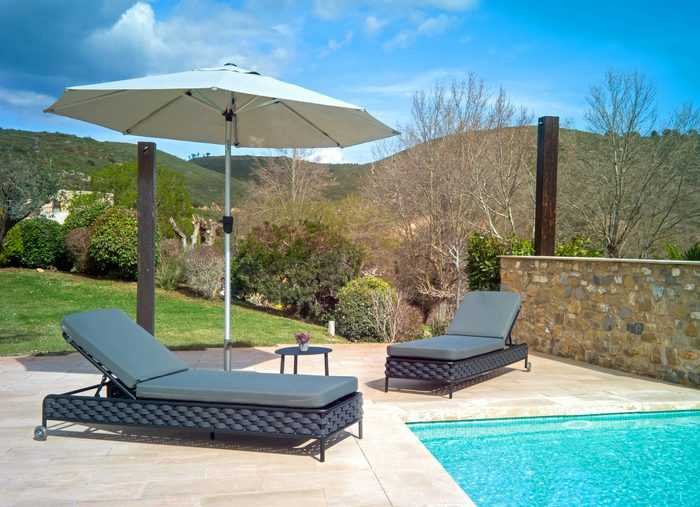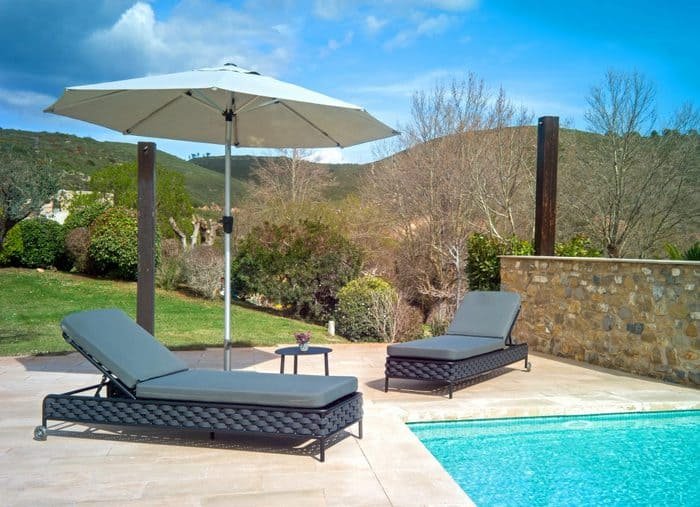 No matter how hard you try, it can sometimes seem impossible to keep your patio umbrella upright. Do you feel like you are always picking the umbrella off the ground and cannot enjoy your time outdoors? Are you worrying about your umbrella tipping over and hurting someone?
Well, there are a few ways that you can reduce the risk of your umbrella falling over. Here are some simple tips:
If you think that keeping your patio umbrella upright seems impossible, it may be because you are not utilizing the proper tools. ct condition, look for weatherproofing and rust-resistant coatings on the frame. The elements will cause less damage to your umbrella, and the longevity of your product will increase!
Final Thoughts
Now you know how to weigh down your patio umbrella, some dos and don'ts to help you avoid costly mistakes, and more. We hope that this article serves as a helpful guide for your patio umbrella concerns.
If you're looking for more backyard patio ideas, check out ways to make your patio more private as well as our flagstone patio ideas. And to enjoy your backyard in the evening our fall lighting ideas may give you some fun design options.