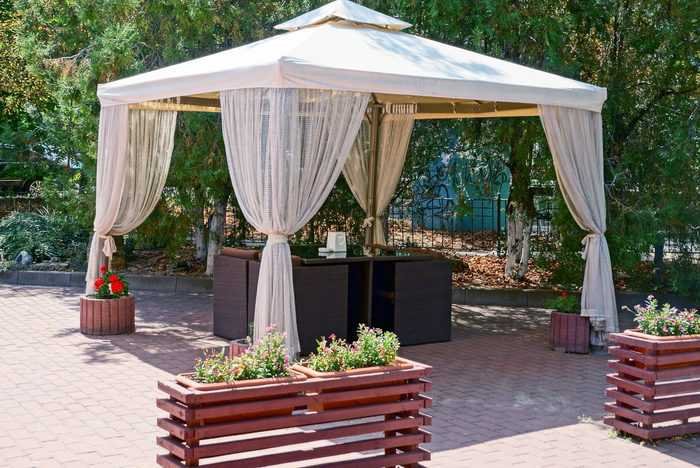 We all enjoy the perfect shade that gazebos offer, either on a hot or rainy day. Securing your gazebo from the effects of various weather conditions without having to drill into the ground is easy. Luckily, it is a simple task that you can do by yourself.
The best way to anchor a gazebo without drilling is to use leg weights. They are practical and versatile ways of securing your pop-up gazebos. Several types of leg weights out there can help secure your gazebo in different weather conditions.
Your choice of gazebo anchor weight depends on your personal preference. Some weights are more suitable than others, depending on the floor upon which they are used. Here, you will find the best leg weights to purchase and a DIY to follow to make your weights.
How To Secure A Gazebo Without Drilling
It is more appealing when you avoid drilling into the ground. Chances are, you do not want a hole in your concrete floor, or you are using a pop-up gazebo. Either way, there are several leg weights you can use to anchor your gazebo against the elements of nature.
The different types of gazebo leg weights are:
Cast Iron leg weights
Weight bags or Anchor Weights
Fillable plastic weights
Concrete planter pots
Any of these weights is suitable for a pop-up gazebo and will hold it in place even in windy conditions.
Securing Your Gazebo Using Cast Iron Weights.
These leg weights are made from cast iron and are easy to use for pop-up gazebos. Cast iron leg weights usually come in pairs. To better secure your gazebo, it is advisable to use more than one cast iron for each leg.
Due to the way iron leg weights are designed, you simply have to slide them over the gazebo footplate. Also, cast-iron weights provide much stability when used on hard surfaces.
Some cast Iron leg weights have the H-shape design. This innovative design makes it suitable for holding down two gazebos at a time.
Using Weight Bags or Anchor Weights for Your Gazebo
Weight bags are another excellent way of anchoring a gazebo in high winds. They come in different designs as well. You can fill the weight bags either with sands or stones to secure your gazebo.
They usually have straps, making it easy to wrap the weight bag around the gazebo legs. The materials used for the weight bags are always waterproof and easy to use. The bags steady the pavilion when the winds come. You could use similar methods in weighing down an umbrella.
Anchoring Your Gazebo Using Fillable Plastic Weights
Fillable plastics are also used to secure gazebos, and they provide ballast once filled. You can fill them with either water or sand. Since they are made from plastic, they are long-lasting and straightforward to use. Depending on the brand you get, they can add up to 20 to 35 pounds to each leg.
Securing Your Gazebo With Concrete Planter Pots
This is another suitable way to anchor your gazebo. The materials needed for this are accessible and inexpensive. To get your gazebo secured using concrete planter pots, follow these simple steps:
Get four pots or planters at least 2-3 feet high that can accommodate the gazebo legs.
If the gazebo legs are empty, consider filling them with sand to about halfway to add more weight to them.
Place the legs into the pots and fill them up with bricks and wet soil. You can also add flagstones to add more weight to each leg.
Instead of 2 and 3, you can also fill the planter with concrete. You want 6-12 inches worth of concrete per planter.
Once you've weighed down your planter you can now plant your favorite flowers to make them look more appealing.
DIY Leg Weights to Anchor Your Gazebo.
If you want to get your hands on a little project, this is one way to achieve that. Making the weights by yourself can help you save some money. With a DIY weight, you get to decide how much each leg is going to weigh. If you like DIY projects, be sure to check out our article on how you can make your own gazebo cover!
There are two methods we would recommend here. You should go for whichever one you think is more convenient or appropriate.
Method one: Making PVC Weights For Your Pop-up Gazebo
This is more suitable for hard grounds because when applying the weight, the gazebo should sit well horizontally.
Materials you require:
PVC tubes (with approx. lengths between 2 – 3 ft)
PVC caps
Threaded hooks
Eye hooks
Drill
PVC glues and primer
concrete mix
The longer the tubes, the more weight they add to the legs. Here is a stepwise guide on how to make this particular leg weight:
Glue one of the PVC caps to the end of the pipe using PVC glue and primer.
Prepare your mortar, making sure that you mix the cement and water well.
Fill the pipes with the wet concrete and allow them to set. For the same purpose, you can also fill the pipes with either sand or rocks.
Drill a hole into the top of the other cap, wide enough for the eye hook to pass through.
Attach the eye hook and secure tightly with the nut.
Cover the other end of the pipe with the cap that has the hook in it and glue using the primer and glue
Attach a chain to the eye hook and attach a threaded hook to the other end of the chain.
Fix the threaded hook to the corners of the gazebo roof.
Method 2: Using Brick weights To Secure Your Gazebo
This is similar to a weight bag or plastic, just that you are the one making the concrete weight by yourself. The following steps will show you how to go about it.
Materials Required
Many of the materials you will use are handy and not costly.
Heavy-duty gloves
Googles
Masonry adhesives or epoxy resin
Bricks
Clean the surface. The surfaces to be glued must be clean and dry to get a strong and long-lasting bond. For the adhesive to work well, you have to make sure the surfaces you are applying it to are free of dirt.
Apply the adhesive to the surfaces. Apply the adhesives to the brick and concrete. Carefully align the bricks to ensure that they glue firmly to the concrete.
Glue the bricks to the post. Glue the bricks to the post as you carefully arrange the bricks to make a pillar around the post.
The Best Leg Weights
As there are different weights available for securing your gazebo. These are the best leg weights you should consider
ABCCANOPY Heavy Duty Grade Weight bags
The weight bag will fit any gazebo with its leg size ranging from 15mm to 50mm. The bags are thick and will hold up to 20 and 30 pounds of sands or rocks on any surface (either sand, grass, or concrete). They are durable, yet affordable. The weight bags are coated with PVC, making them sturdy enough to withstand weather conditions and waterproof. The unique design, especially the straps, makes them easy to use.
Eurmax Universal Upgraded Water Weight
What makes the Redwood plastic weight great is that it does not require any tool to assemble. It is sturdy, durable, and heavy when filled. The plastic weighs up to 11kg when filled with sand. However, it is easier to empty when filled with water. With water, each leg weighs about 8kg. It is easy to fit the gazebo legs in the bag weights. The bags securely hold the gazebo in all weather conditions.
Quik Shade Canopy Weight Plate Kit
The crocodile Iron is suitable for heavy-duty pop-up gazebos. The awesome design makes it possible to anchor the gazebo easily, hence a faster setup. The best part is that you can easily stack them upon each other. That means you can easily add as much weight as you can to each leg. Each Iron adds about 13kg weight to each leg, hence securing the gazebo.
Conclusion
Using leg weights is the best option for securing your gazebo without drilling into the ground. Gazebo leg weights work on any surface and can easily be filled with either water or sand. They are also capable of holding down your gazebo without fear of it getting blown away.
Wait no longer, get that leg weight today!