Shade sails are an essential part of exterior design for any home or public place. They play a critical role in reducing people's chances of developing skin disorders, as they're made to block harmful UV rays and provide cool, shady space away from the sunlight. When you place these in your backyard, they can be wonderful decorative pieces, too.
Shade sails come in various shapes and sizes, including square, rectangular, triangular, or custom designs. You can create a relaxing atmosphere and boost your sun protection when installing these in your backyard, especially over gardens, patios, and poolside lounges.
These covers are easy to incorporate into any backyard. Since they come in such a vast range of sizes, it's easy to work them into any yard, even if your space extends only a few feet wide. You can get as simple as you want or make some interesting designs by combining several. Here are a few ideas to consider for incorporating a shade sail into your backyard.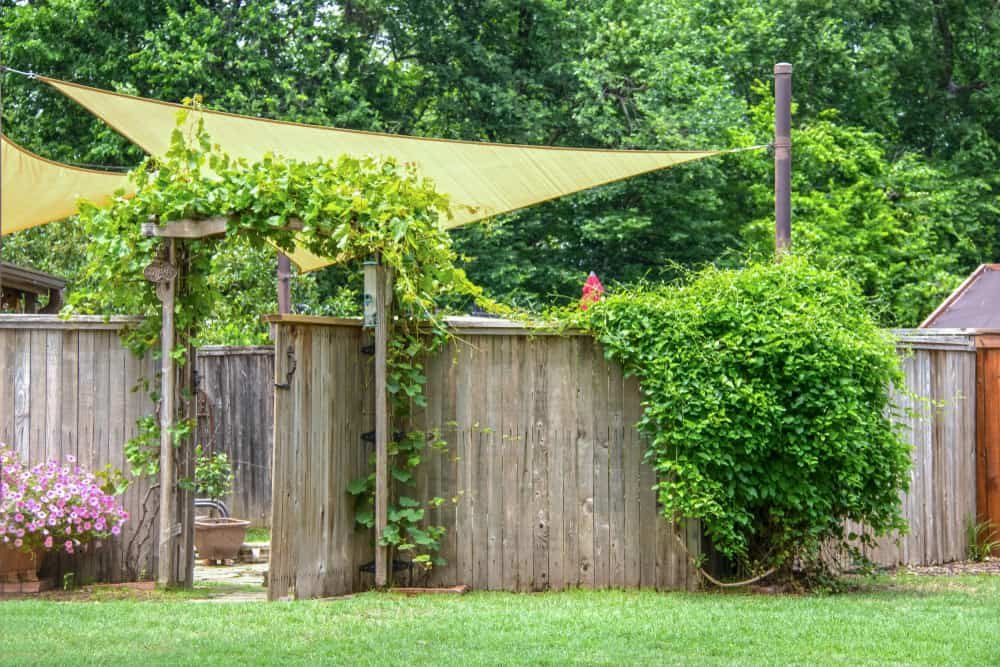 What is a Shade Sail?
A shade sail is a large piece of fabric used to protect people from excessive UV (ultraviolet) exposure and other environmental hazards when they're outdoors. Approximately 40% of adults in the United States always look for shade when they're outdoors for an hour or more, so it's a critical piece of outdoor equipment. (Source: U.S. National Library of Medicine)
You might have encountered one at a playground or an outdoor space at a church, or another public gathering space. Since people tend to spend several hours under the sun on these institutions' grounds, it's essential to have the means to relieve yourself from extended periods of both heat and sunlight exposure. (Sunshades mimic tree shade, where it can be up to 25˚ cooler than uncovered areas. Source: Office of Energy Efficiency & Renewable Energy)
There are several different types of shade sails (commonly known as "canopies"), all suited to protecting areas of various sizes and dimensions, and group sizes. Another factor to keep in mind when buying your shade sail is whether you'll be storing any play equipment underneath it. This determines the height of the support pillars, which is often directly related to the shade's length and width.
This is all well and good for public institutions, but what about your backyard? Luckily, shade sails span a vast range of dimensions and are quite customizable, so it'll be a breeze to find one that works for your purposes. Below you'll find some of the best shade sail ideas for your backyard.
Decorative Sunshade for Outdoor Lounge Space
The LOVE STORY triangular sun shade sail is perfect for creating a small, private space in the backyard where you can sit back and relax with a snack or a book. This is great for large patios or relatively small backyards, as its sleek design doesn't take up too much space. Since it doesn't require any pillars for installation, it's quite flexible concerning where you can install it, too.
This shade sail measures 9'10" on all sides, so it's great for shading poolside lounge chairs, small gardens, and other compact areas where you wouldn't expect to move around too much. Another one of the advantages of this particular shade sail design is that it provides a significant boost to an area's aesthetics.
The minimalist geometric design is perfect for those who want to continue a modern design to their home's exterior. It's subtle but offers just enough visual appeal to bring a whole home's look and theme together or create a relaxed atmosphere outside, turning your backyard into an oasis. Some things you can do with this triangular shade sail include:
Set it up over a small dining or sitting area
Position it over pool lounge chairs
Creating shade over a small garden
Shade Sails for Entertainment Spaces
Spring is here, and summer is on the way, so lots of people are getting ready to entertain their friends and family in their backyards. Of course, these are the times when the sun is out in full force, so you'll want to make sure to slap on that sunscreen and make sure everyone's got a backup method for protecting themselves from sunburns.
Under the SUNNY GUARD rectangular sunshade, everybody can relax and get a few seconds to reapply their SPF product. This shade can be as small as 6.5′ x 9'10" and as massive as 20′ x 23′. It can always give multiple people shade at the highest point of the day, since it's suspended by at least two pillars. (Install it as an awning attached to your roof and pillars, overlooking a patio or portion of the yard.)
This shade sail sits high enough that you can safely fit a grill underneath it (you can install it at an appropriate height to minimize risks with smoke and flames) or other items for entertainment or hosting (e.g., music systems, dining or lounge furniture, etc.). Plus, since it's got such a high clearance, your guests can all stand and mingle with each other, no matter their height. Design ideas include:
Position this over large patios where you'll have furniture or grilling
Reserve this shade sail for special occasions – since it's directly overhead, it only protects users at mid-day, so it's not ideal for use throughout the day
Place over a garden to give you (and your plants) a break from the harsh sunlight in the middle of the day
Decorative Shade Sails to Cover a Large Space
You can combine several shade sails to put together an artistic look for your backyard lounge space. This is most easily done with several triangular shade sails, as they can be arranged to make some really eye-catching designs. Depending on how many you want to use (three is ideal, but two or more is good), you can cover a compact spot or huge entertainment area.
In this case, the ColourTree shade sails can be as tiny as 4′ on all sides up to 32′ per side of the right triangle. Now, of course, it can look nice when used for either a small children's play area or garden, but you can make an even bigger impact when you use it for hosting parties and barbecues.
Don't get too crazy with the size – you don't want it to dominate your backyard, but it should be large enough to make a statement and catch everyone's eye. The great thing about these sails is that they come in various colors, including red, turquoise, and sand beige, so you can match it to your yard's theme, no matter how bold. The best uses for a combination of shade sails include:
Set up over an extensive outdoor dining area (these look great with string lights!)
If you have a large concrete patio, this would make the perfect awning
Place over large gathering areas in the backyard (e.g., outdoor bar, amphitheater, etc.)
In Conclusion
Shade sail structures are critical parts of design and architecture for both public institutions and your backyard. They are essential to giving you and your guests somewhere to get a few moments of relief from the harsh sunlight and heat. Despite their importance, these can be great decorative features in your yard.
There are several types of shade sails available in rectangular, triangular, and custom shapes. Choose the sail's dimensions and configuration based on what you envision for your yard (a private relaxation area or a show-stopping entertainment venue?), and you're sure to get the look you're aiming for while protecting your skin's health and reducing your risk of heat sickness. Be sure to check out our article on what else you can use as shade for you backyard, such as using trees. Also find out what you use to provide you doggies with shade as well.