Backyards do not need to be associated with being scorched by the sun. Every so often, many people want to relax in a secluded outdoor area while protected from the bright beams of the sun. But perhaps your yard is much like a blank canvas, in need of something to protect you from the heat of the outdoors.
A multitude of ways exists to create shaded areas in your backyard space. You can construct a detached structure or, through various means, upgrade an existing one like a pergola. Whatever you choose, adding shade to your yard is the best way to enjoy the space.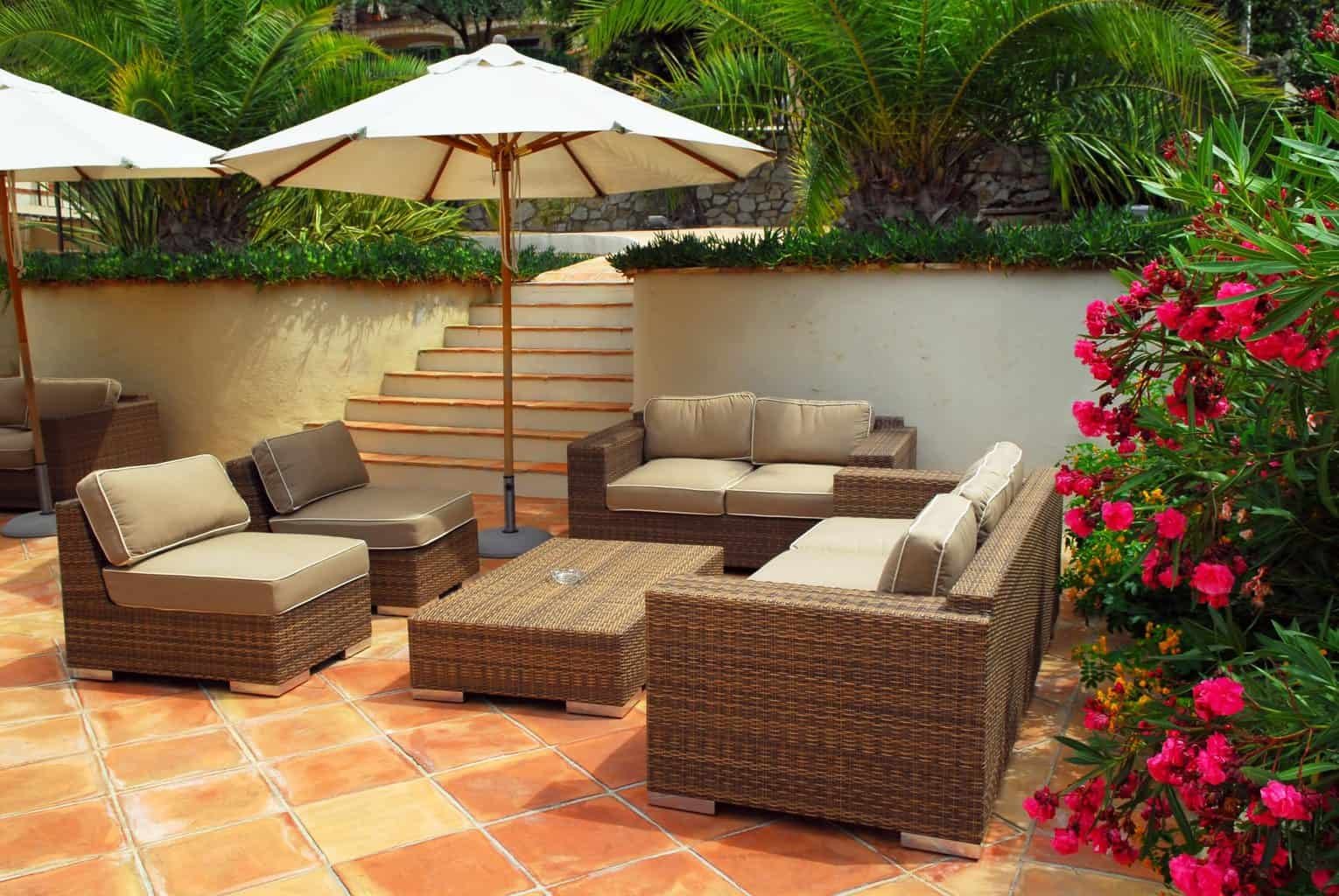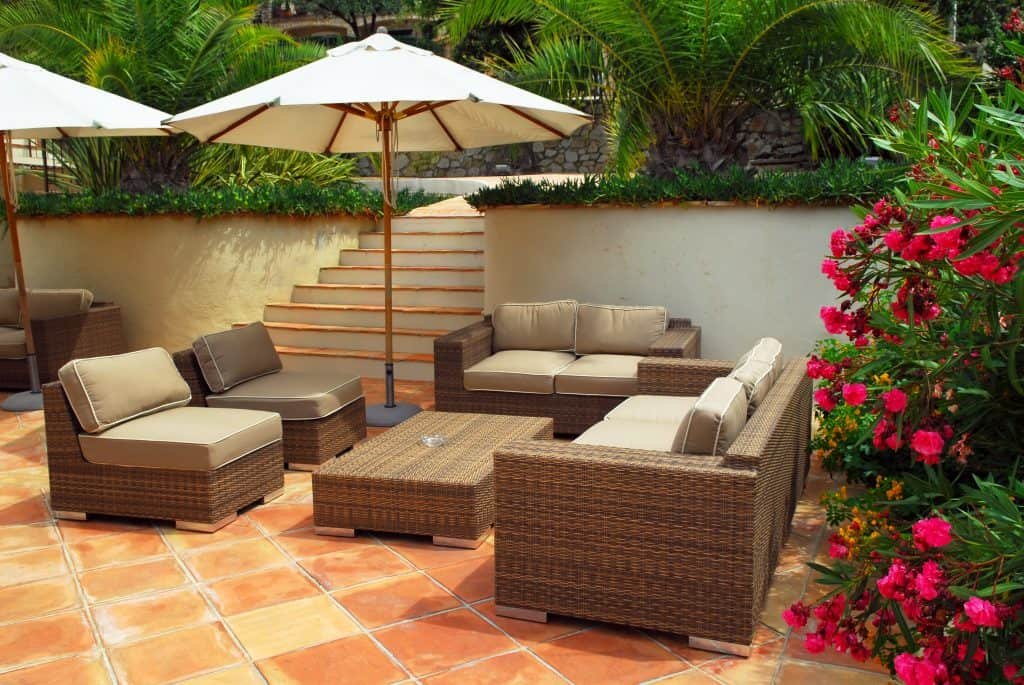 The best thing about many of these improvement options is that some do not need you to hire a contractor. Here are a few ideas that will give you some shade and give your backyard a makeover or some aesthetic improvements at the same time.
Nothing feels better in the summer than reclining in the shade of your backyard or garden with a cold beverage in your hand. On the other hand, it can be miserable if your yard gets sweltering hot. When the sun is beating down on hot summer days, you have to get a little creative to find or invent your own backyard shade.
Adding shade to your backyard does not have to be super expensive, difficult, or time-consuming. Read on to learn about seven ways you can find your own nice, shady protection from the summer sun.
Invest in a Gazebo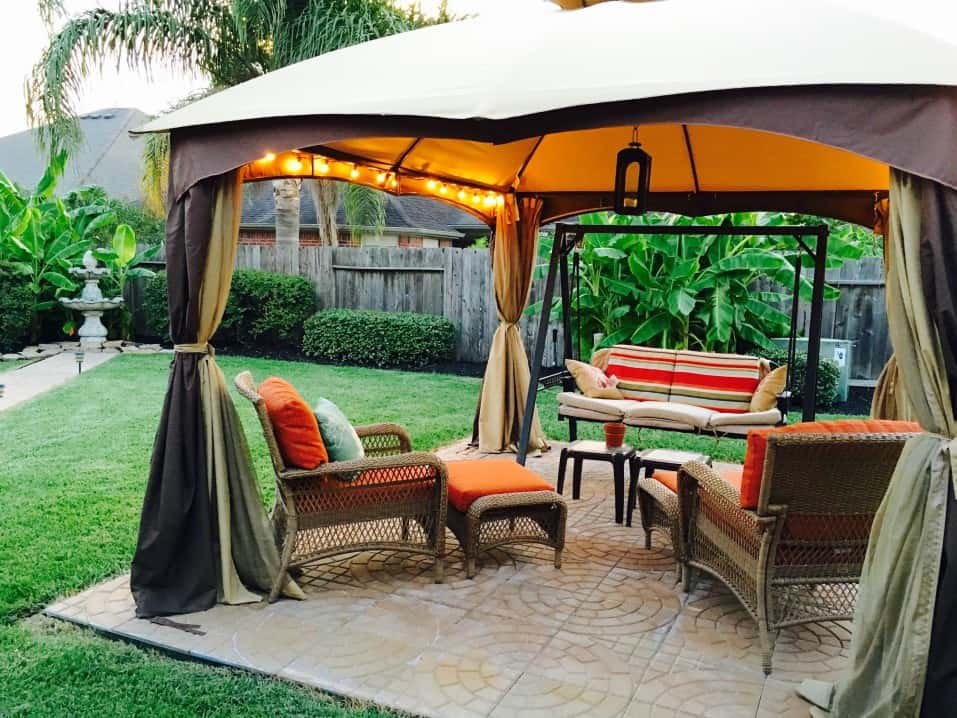 Another way to add shade to your backyard oasis is to purchase or build a gazebo. Gazebos are outdoor structures often built-in octagonal, circular, or hexagonal shapes that are used to beautify a yard or garden.
Using a gazebo as a covered shelter in your yard is a classic way to gain some shade and, when done correctly, can add a lot more. While they are expensive, they are permanent structures that offer a lot to a person's backyard.
Gazebos always feel romantic and can offer added privacy when combined with all-weather curtains or drapes. They can also be used to entertain guests for a simple afternoon tea or as an ideal spot for enjoying the surrounding views.
These beautiful garden structures are also favorites for winemakers as the latticework provides an ideal spot to weave grapevines or strawberry plants. If you have the space and the money, a gazebo will quickly become your favorite relaxation spot and the treasure of your estate.
Canopy Gazebo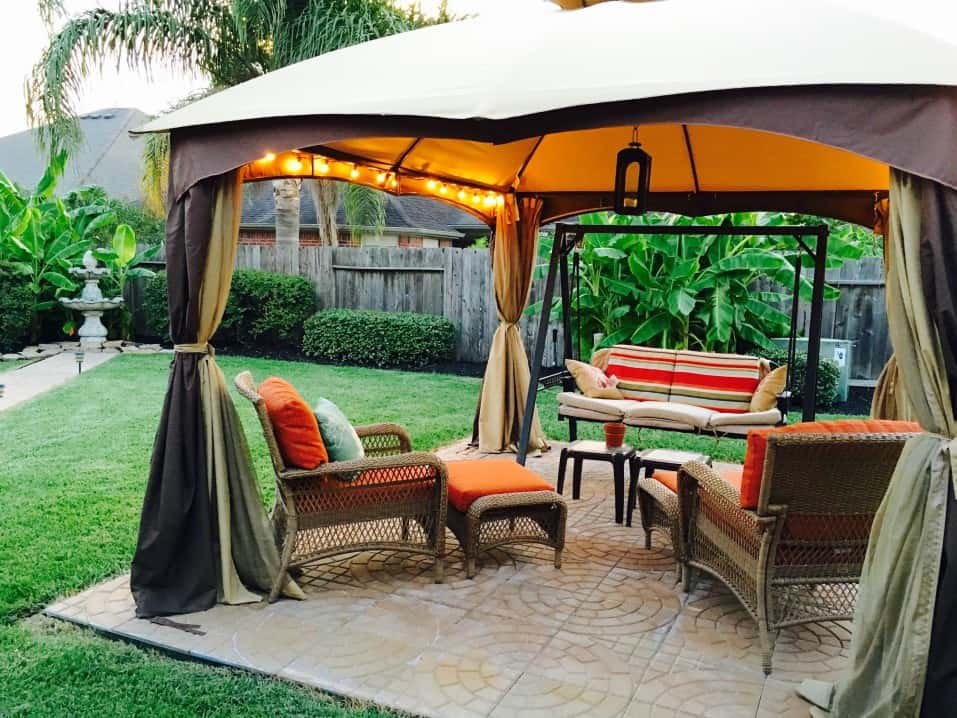 Canopy gazebos provide all the benefits of owning a gazebo at a fraction of the cost. Canopies are primarily fabric with a metal frame, so you are able to construct them when needed and then take them down once the party or outdoor activity is over. They are perfect for homeowners that live in areas that experience four seasons or long winters.
This type of gazebo is much less expensive but does not last as long as a permanent structure. Ultraviolet rays, harsh winters, and general weathering take a toll on the fabric. Unless properly taken care of, these will only last two or three years.
Put up a Pergola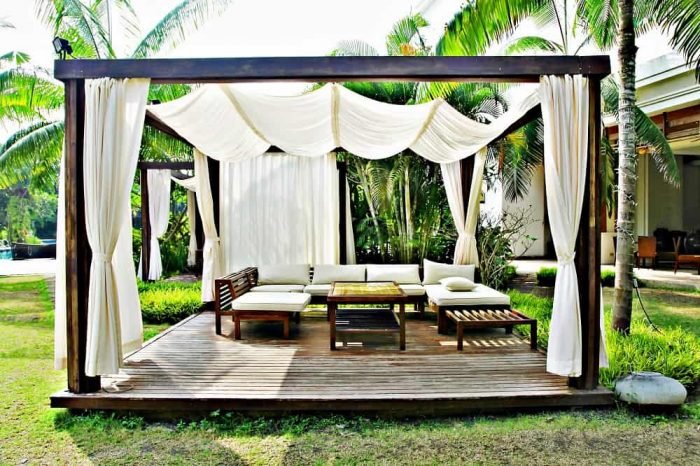 A pergola adds many of the same benefits as the elegant gazebo, without the same money or space commitment. Gazebos tend to look a little silly if you do not have a grand backyard, so those with a more modest space tend to lean more toward building or purchasing a pergola that can easily attach to the back patio or porch.
Pergolas are grid-shaped rectangular structures that weave lattices of wooden cross beams and planks. These frames usually run around $260 or more, making them far more affordable than your average gazebo. Pergolas are easy to build for even the most novice of craftsmen.
While both add value to your home, pergolas tend to offer less shade and protection from the elements, while gazebos have the option to add fancy commodities like electricity and insect screens. You can get creative with your pergola to make it shadier, though, by adding fabric or shade to decrease temperate and increase style.
Many people use their pergolas for outdoor entertaining. You can add shade and flair to your pergola at once by draping some of the following items across its top beams:
Foliage
Reeds
Bamboo
Lattice
Cloth
Curtains
Plant Tall Trees
The most obvious choice when adding shaded areas to your backyard is trees – and lots of them!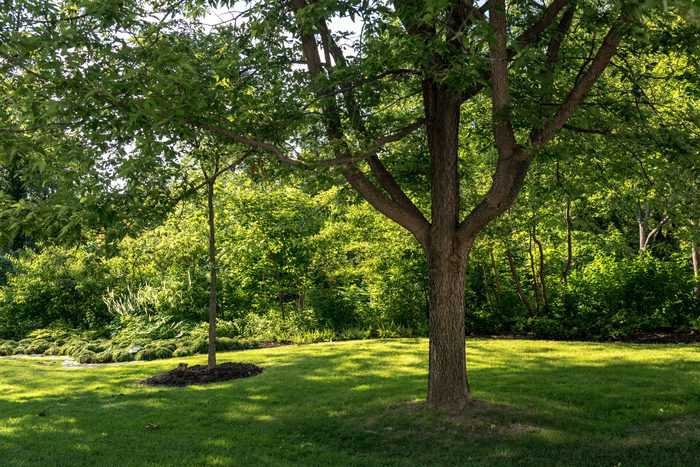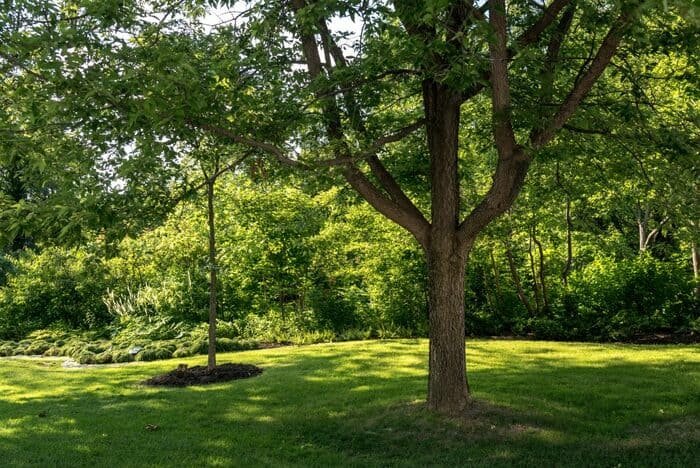 There are many benefits to planting tall trees and shrubs. They provide leafy cover from the hot weather. In addition to the shade they provide, trees and shrubs can add beautifully fresh scents to your outdoor sitting area. Depending on the types of greenery you plant, some trees and shrubs can potentially add buds and flowers for you to view.
| | | | |
| --- | --- | --- | --- |
| Plant | Height in Full Bloom | Average Cost | Benefits |
| Fuzzy Deutzia | 6-10 feet | About $18 | Attracts bees and butterflies, fragrant blossoms |
| Witch Hazel | 12-15 feet | About $25 | Bright yellow color, adds color in winter months |
| Weeping Willow | 30-40 feet | About $85 | Fast-growing, Willow Bark Tea relieves pain |
| Rhododendron | 3-20 feet | About $33 | Attracts bees, comes in a variety of colors |
| Pin Oak | 60-70 feet | About $32-70 | Easy for beginner gardeners, dense foliage |
| Mock Orange | Up to 10 feet | About $13-48 | Flowers shed a citrusy fragrance, several varieties |
| Beauty Bush | 6-10 feet | About $3 for seeds | Low maintenance, beautiful clusters of tiny flowers |
| Incrediball Blush Hydrangea | About 5 feet | About $52 | Constant bloom in spring and summer, very large flowers |
| California sweetshrub | 6-12 feet | About $3-13 | Low maintenance, smells like sweet red wine |
All of these options come with their own pros and cons, but each and everyone will give you at least enough shade to sit in the grass and enjoy an otherwise roasting summer day.
Considerations When Relying on Trees for Shade
Trees provide great shelter from the hot sun, but they also have some downsides. Do not let these discourage you from planting trees in your yard, but do keep them in mind, so you know the full picture before you decide to rely on trees to keep your backyard shady and cool on hot summer days.
Some require lots of maintenance
You need lots of space
They can be expensive
Trees take years (or even decades) to grow if you start with saplings
Luckily, as long as you keep in mind how much room you have in your backyard and plan around any power lines or obstructions in the air, you can get a lot of use out of trees. Not only do trees offer huge canopies and great shade, but you are doing the environment a favor with each tree you plant.
Trees provide oxygen, and they absorb carbon dioxide from the air, which helps with air pollution. They also provide shelter for many critters like birds and squirrels. If you are an animal lover, this should come as a great advantage.
Overhanging trees are a great choice and an eco-friendly, economical approach to add shade to backyards. Many overhanging trees are deciduous. However, people who live in Southern California, for example, can utilize their open-air engaging spaces through fall and winter, too, so evergreens would be a great choice for all year shade.
The issue with this choice is that it will require many years for a young tree to adequately develop to provide ample shade. In any case, the outcome is undoubtedly worth the long wait.
Additionally, overhanging trees placed strategically can bring down the expense and energy utilization when warming and cooling your home. Be sure to check out our article where we go over different types of trees that are good for shade.
The Benefits of Trees as Shade
A tree can bring down a home's temperature by as much as 20 degrees or more during the hot months. As such, you should think carefully before chopping one down and using a porch cover in its place.
Trees are outstanding amongst other shade-creating solutions. Nothing crazy is required to "install" them, and they require very little care. Simply plant them and allow them to thrive.
It is best if you plant the tree in an ideal spot. To determine what is best, take note of its current size and plan accordingly, deciding where you want it to be permanently located.
Here is a tip: keep trees under twenty-five feet at least eight feet from the house, and plant larger trees at least 15 feet away.
Set Up a Shade Sail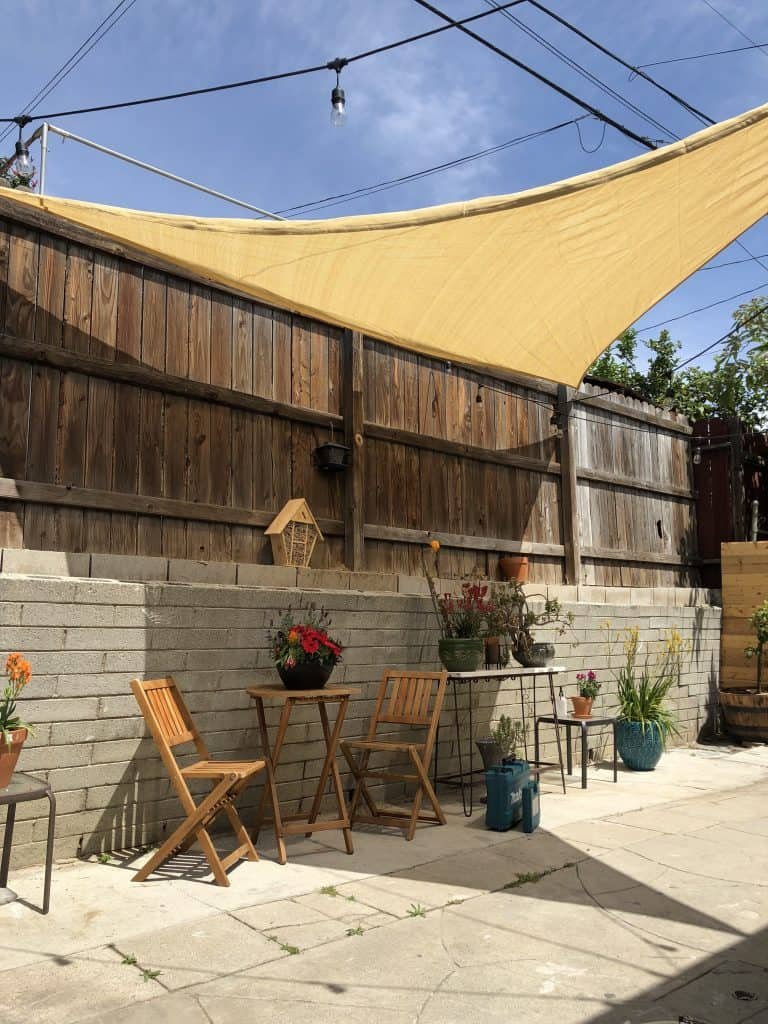 Putting up a shade sail is relatively easy and runs you less than $50. A shade sail is essentially a square or triangular piece of cloth that can be suspended from any building, pole, or outdoor structure. The coverage provided by a shade sail helps protect against harmful UV rays and deflects heat.
Because this product is really just a large piece of weather-resistant fabric, it is easy to find a customized style to match any desired color, size, and shape to perfectly complement your backyard décor. You can combine different shapes that overlap to create a bigger shaded area.
Keep in mind that the larger and more decorative the sail, the higher the overall price will be. Different materials vary in cost as well. Special coatings can be added to the fabric to prolong its lifespan.
A shade sails are among the most effortless DIY sun-blockers you can make. All that is necessary is:
A three-sided cut bit of textile with eyelets punched in the corners
Solid twine or rope to connect the textile to something solid
A solid place to attach the twin or rope, such as a house's side or closeby trees
As the name indicates, these structures look like sails and are held up with hooks affixed to grommets with locking cuts. Square, three-sided, or rectangular in shape, shade sails have a range of up to 20 feet, so they are perfect for when you need to cover a huge area.
On the chance that your porch or deck is small in size, a shade sail is a perfect solution for shade. It is also an option that can be taken down or adjusted with relative ease.
Decorative Umbrellas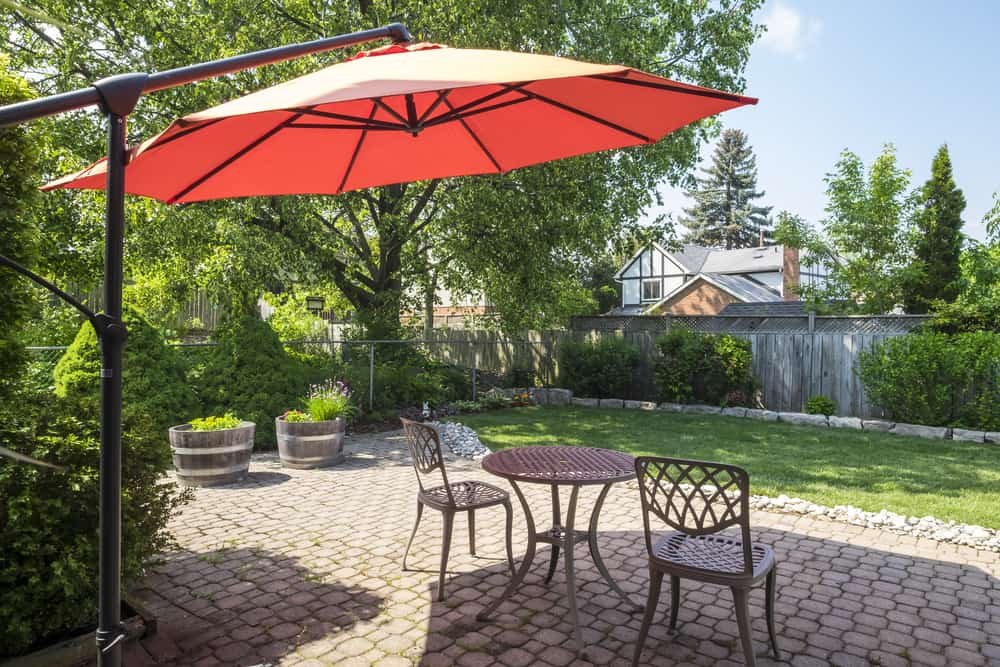 Patio umbrellas come in all shapes and sizes and have the added benefit of customizable styles, patterns, and colors. 
Umbrellas now come in half sizes as well, perfect for apartment balconies or smaller outdoor areas. Although half umbrellas only provide half the shade of full-size umbrellas, they can fit in tighter spaces. Even the littlest yard can get some nice, cool shade.
When looking for shade, consider returning to the basics. A fun-looking umbrella can beautify your green lawn, giving your yard the ultimate look of pool culture and style. Vintage or retro furnishings with a cool umbrella that complements your pool tile or theme would also be an amazing choice.
They can spread 10 to 13 feet, which is ideal for shielding huge open-air areas from the sun. Their mechanics allow for the perfectly shaded area in your backyard.
Yard umbrellas are the most straightforward and affordable approach to add shade to a backyard zone.
Pop-Up Canopies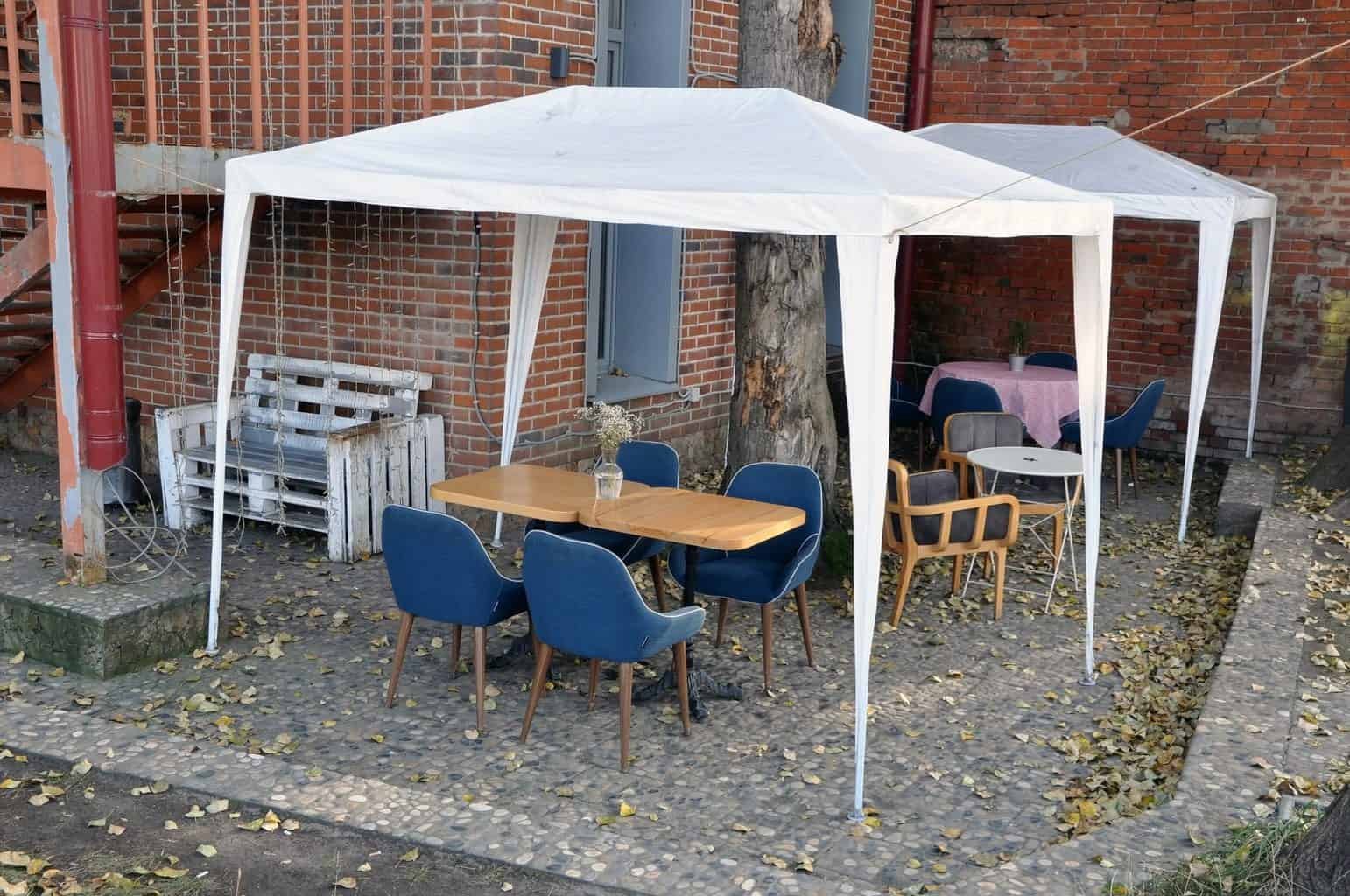 If you need some additional shade only once in a while, it is likely not worth the cost to invest in a lasting shade structure.
In this case, you can buy at least one spring cover to give temporary shade any place you may want it. Advantages of this alternative include things such as:
The capability to move your shade areas
The ability to store your covering when it is not being used
An affordable, temporary shade option
While you can spend more on a higher-caliber or more-polished product, you can get these overhangs for relatively cheap in almost any home improvement store.
This option is one that you can buy, set up, and use within an hour or so, making it a great alternative when adding shade and sun protection to your yard. Since it can be moved any time you want, this may be the best choice while waiting for the previously mentioned overhanging trees to develop.
Pavilions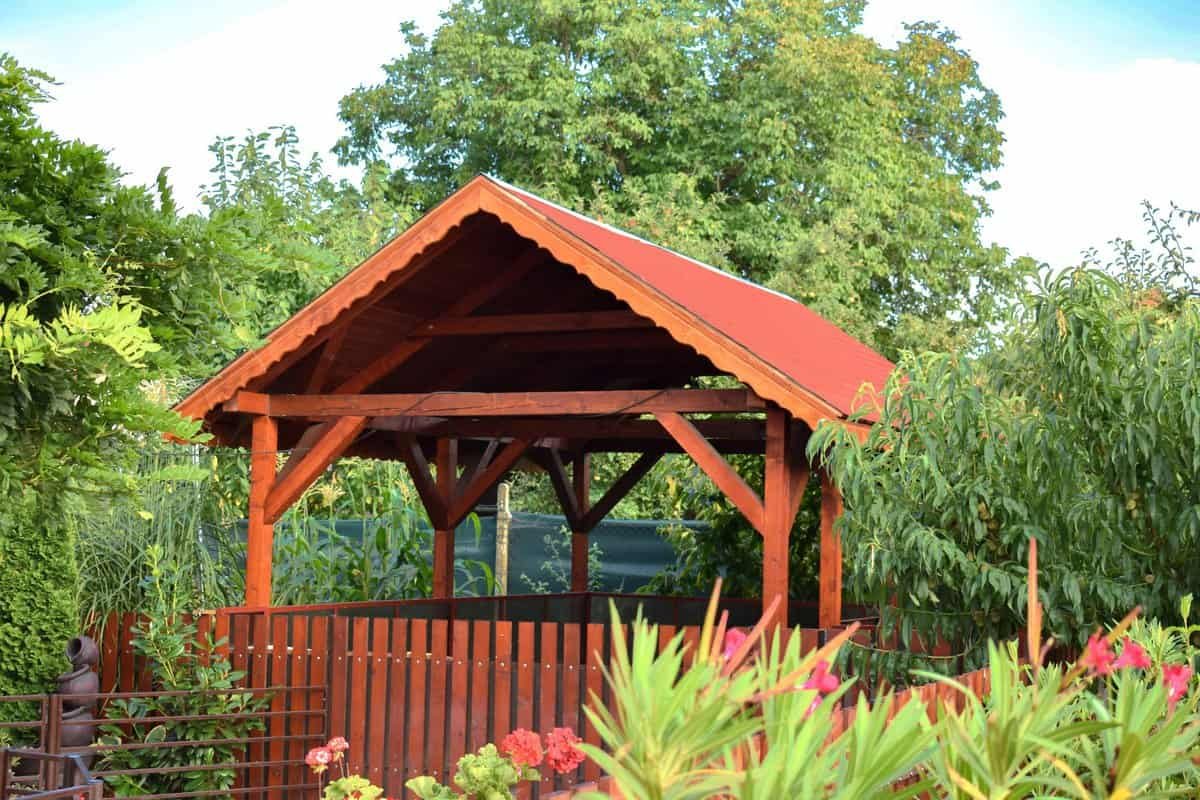 Pavilions are nearly similar to canopies. However, the terms are used independently to differentiate between the simpler style of canopies (referenced above) and the more sophisticated style of pavilions.
A pavilion, for the most part, has a textured roof and corner posts. Pavilions are all the more a semi-lasting shade structure – not exactly permanent since you can generally move or get rid of them easily. Also, they can be connected to a deck, porch, or the ground rather than remain an independent structure.
The Allure of Pavilions
Pavilions are more alluring than other shade options and are often preferred over material or canvas coverings since they are made to withstand the elements. They can be secured to the ground, a porch, or other areas in your backyard to give daily respite from the sun and or the rain while you make the most of your open-air living space.
Suppose you need something with more style and strength than an overhang, but your budget does not allow you to purchase an awning for your porch. In that case, a pavilion is somewhat the ideal compromise.
The price range for pavilions can go from around $200 and rise into higher numbers. However, you can get an excellent structure to appreciate for quite a long time to come beginning at about $600.
Finally, a pavilion is an excellent option to bring delicious shade to your backyard for a long time, so long as you give it appropriate care.
Install an Awning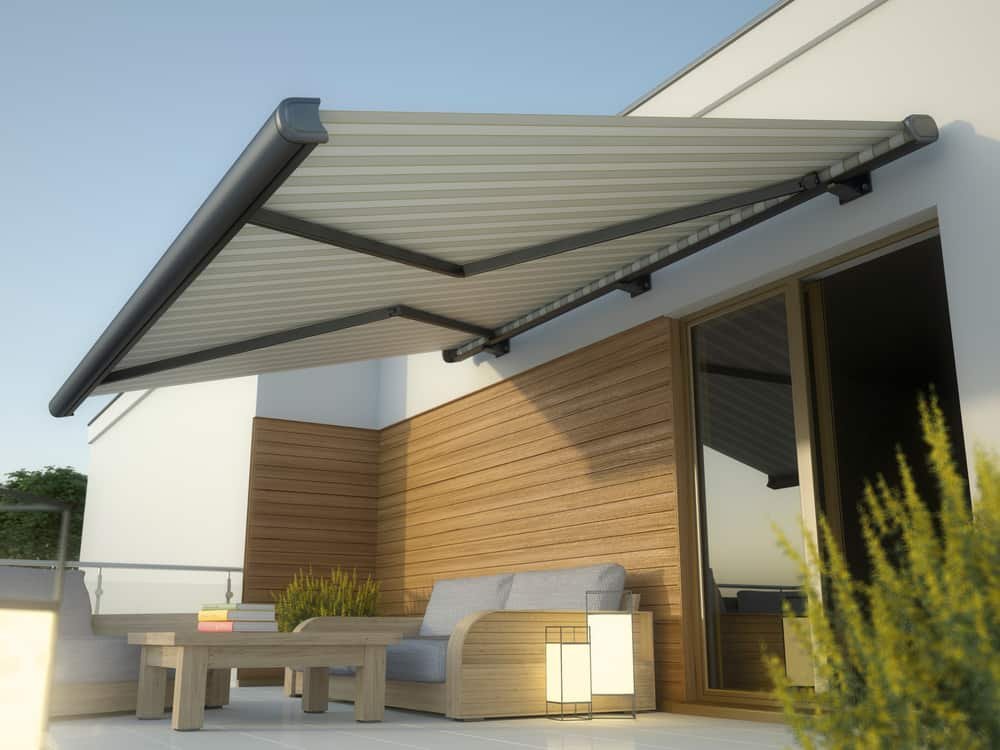 Awnings, or exterior building overhangs, are not all created equally. There are multiple styles, sizes, and factors that can make owning an awning more convenient or more complicated.
Retractable awnings can provide shade that is tailored to your specific needs without marrying you to one look for your home. Metal awnings are less expensive, but once installed, they are quite the long-term commitment.
| | |
| --- | --- |
| Retractable Awning | Metal Awning |
| Can be motorized or manual, potential to break down | Much more durable and simple, less likely to break down |
| Easy to extend to provide shade, difficult to retract close to the house after | Once installed, awning does not move |
| Run about $2000 after installation | Run about $800 after installation |
| Come in all sorts of materials, styles, and sizes | Comes in different sizes and styles |
| Customizable shade | Consistent shade |
Awnings can be excellent additions to the appearance of your home and always provide your backyard with the benefit of a little cool shade.
Conclusion
As you can see, there are a lot of options for backyard shades. Depending on your needs, you can install shades for temporary or permanent use. You can also opt for eco-friendly and natural shades like trees, but they take a lot of planning and waiting.
Nevertheless, having shade to protect you from the glaring beams of sunlight is essential. People can always use a spot to take shelter from the intense heat of the sun. Plus, shaded areas also give an aesthetic look to your backyard, making it look more relaxing and calm.