Adding a gazebo to your yard can add a new place to gather with friends and bring a new mood to your entire property. There's plenty to consider before you take on this project, however.
An average gazebo cost approximately $6,400. Most homeowners can expect to pay between $3,000 and $10,000, depending on the material used, land preparation, and if it's a kit or a custom job.
Let's dive a bit deeper to examine what goes into determining the cost of your gazebo. Read on to determine if this yard feature is within your budget.
Is It Cheaper to Buy A Gazebo Kit or Pre-Assembled Gazebo?
There are two primary options if you want a pre-built gazebo: a kit or a pre-assembled gazebo.
Gazebo Kits
A kit will come with everything you need and all you have to do is put it together. As the name implies, a pre-assembled gazebo is ready to go and you'll just need to install it. You can buy wood or metal such as the ones above.
Gazebo kits are the cheaper of the two options. The unit price for a gazebo kit is between $1,000 and $4,000, and they'll cost about $100 to ship. You can assembly them yourself, or pay a professional to do it. If you pay a pro, that'll cost $250 to $800.
Pre-Assembled Gazebos
Pre-assembled gazebos are a bit more expensive. The unit price is $2,000 to $7,000 on average, and shipping can cost up to $250. Installation is cheaper than kits, coming it around $150 to $600.
Either way you go, you're looking at a costly structure. The exact price that you arrive at if you go for either option will vary quite a bit. Make sure that you factor in shipping costs as well.
I Want a Custom Gazebo: Should I DIY the Gazebo or Hire a Pro?
If you do a pre-assembled gazebo or a kit, you might be able to handle the task yourself. Although, professional help can come in handy.
However, what if you don't want either option and you want an entirely custom gazebo. You'll be looking at a much higher expense. There are several factors that go into calculating the overall price:
Shape and size. The larger the gazebo, the more expensive it will be. It will simply require more materials to complete the job. Shape can play a factor too, as circular gazebos require rounded wood which is typically more expensive.
Plans. Do you already have plans for the gazebo? Unless you're skilled doing so, you likely won't be able to design your own gazebo. If you buy plans online, that's an added expense to consider. If you're hiring a designer, that'll be a significant expense.
Land preparation. You might need to do some prep work before adding a gazebo to your yard. We'll discuss this in detail below, but it's an added expense to consider.
Roof installation. Do you want a roof on your gazebo? That will consume more materials and may require special tools to install it.
Screens or windows. Some people want gazebos that have some sort of protection against the elements. Windows will make it warmer (or cooler) than the outside, while screens will only keep the bugs out. Either way you go, you'll be looking at increased costs.
All of the factors come into play when determining the price of the job, but deciding to do it yourself adds another factor: your experience level.
How DIY-Savvy Are You?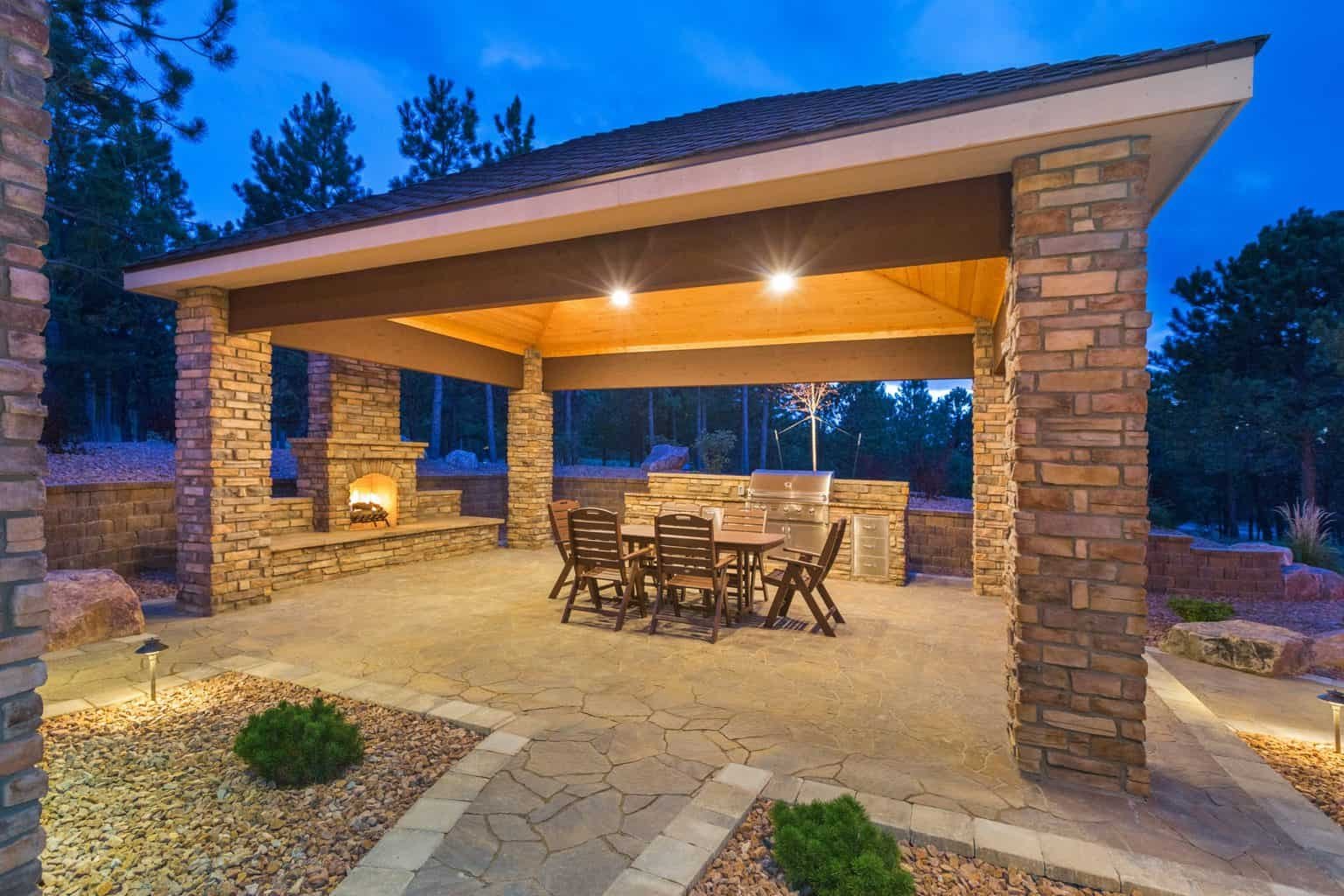 If you're experienced with construction projects, it might save you money to do it yourself. However, if you aren't quite sure how to build a structure, you could easily end up doubling or tripling the price.
Measuring incorrectly, choosing the wrong materials, or needing to buy equipment can all quickly increase your price.
Having a professional build the gazebo is usually the best option for custom jobs. A Cedar custom built 12×12 gazebo will range from $9,000-$13,000 in materials and labor depending on where you live.
A professional may cost you upwards of $2,000-$5,000 in labor alone, but it can save you time and headaches. You'll also end up with a sturdier structure than if you tried to build it yourself.
Custom Gazebo Features Add to Cost – And Usually Require a Pro
You also need to consider if you want any added features, which is a large reason why people go for a custom-built gazebo. Some common features are:
Misting system
Surrounding deck
Pathway to the gazebo
Bar or kitchen, including plumbing
Outdoor TV
Wiring any electrical outlets
Each of these features will raise your cost by varying amounts. Adding a misting system won't be a large expense, but wiring it for electricity and adding an outdoor TV will be a significant cost. You'll need to compare your budget with your needs to decide on your bonus features.
If you're working with a pro, make sure to get a comprehensive quote for your custom gazebo, including added features, before you get started.
If you're wondering how a gazebo is different than pergola or arbor, there are a few differences.
How Do I Prepare the Land for a Gazebo?
To ensure long-term enjoyment and overall stability of the gazebo, you'll need to prepare the land. The type of land prep that needs to be done will vary based on where it's being built, along with the overall size.
A gazebo that comes with a floor can be placed on crushed stone, or on concrete. A gazebo that doesn't come with floors can be placed over a deck, pavers, concrete and dirt or grass if secured properly.
It's important to note that most gazebos can be placed on any existing concrete, but you should check with the gazebo builder or a specialist to ensure that there is proper drainage in the area to keep your gazebo dry. Having pools of water around the base of your gazebo will decrease its overall lifespan.
If you'll be laying a new concrete , make sure that you add at least 4" of concrete. The cost of a new concrete slab is an expense to consider by itself, and you would likely be better off having a professional company lay the concrete even if you'll be building the gazebo yourself.
Can I Legally Add A Gazebo to My Yard?
Before adding a gazebo to your yard, you'll need to do some research. Most places do not consider gazebos as a permanent structure, however, that can vary based on your area.
You may need to acquire building permits before adding a gazebo to your yard. Check your local laws before you enter into a purchase or a deal with a professional contractor.
Another thing to consider is your homeowner's associations, if you have one. Having an HOA means that what you do with your yard may need approval. Before adding the gazebo, it'd be smart to check the bylaws of your HOA or ask leadership about it directly.
Does a Gazebo Add Value to My Home?
Building a gazebo can certainly add value to your home. The exact value will vary based on the size, shape, and features of your specific gazebo.
Having a gazebo sets your home apart from other homes on the market.
Other than the dollar amount they add, they may also persuade someone into choosing your house over someone else's house. It's just like having a pool in your backyard; some people just like gazebos and want a home that has one.
A home appraiser won't add the square footage of the gazebo to the overall square footage of your house, but potential buyers will understand that it's an additional area they can spend time in. It's also a bonus that it's a way to spend time together outside.
Is a Gazebo Worth the Expense for You?
Now that you have a more thorough understanding of what's involved with adding a gazebo to your property, is it the right option for you? It will be a somewhat significant expense, but it can pay off by adding value to your property.
Of course, it also gives you an outdoor area to spend time with friends and family. Be sure to check out our article about how you can anchor down your gazebo without having to drill!