Your outdoor furniture might not be the ideal furniture if it is not protected by a fabric you can trust. Depending on the type of fabric you have on your outdoor furniture, it could fade over time, leaving you with no other choice, but to compare perennials fabric vs sunbrella. You need to decide which is the better choice and why. Choices are not always easy to make. However, when you consider your choices, you can see for yourself, that quality is immeasurable. Most fabric materials break down during extreme weather conditions because they are not made from quality or durable fabrics that last.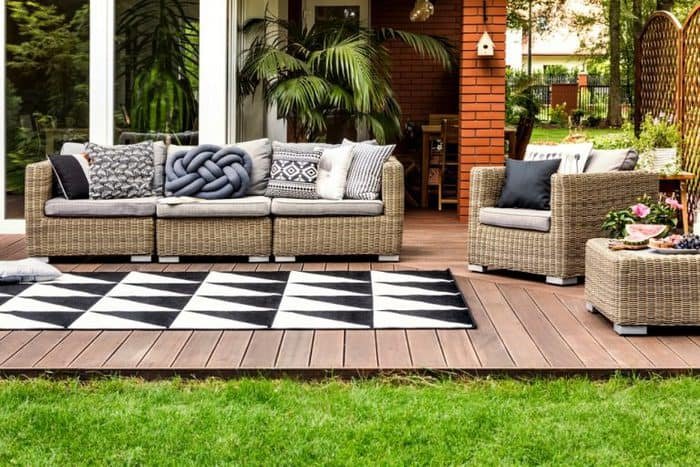 We all prefer durable and elegant styles of furniture that speaks volume. Sometimes we believe that paying thousands of dollars for a piece of elegant looking furniture makes it a quality piece. That is not always the truth. Price is not everything. Buying a great looking patio set with beautiful cushions and fades in hot weather or cracks in cold weather, is not a high-quality material. Perennials and Sunbrella Products are in high demand due to their versatility, durability and flexibility. These fabrics are crafted for elegance and designed for luxurious purposes.
Not only do they stand out against any competitive fabric, but they are reasonably priced. When you are faced with choices of which fabrics to choose, look at the benefits of both of these fabrics and decide for yourself, which fabric will have the biggest impact on what you are looking to accomplish.
Perennials Fabric Vs Sunbrella
Perennials and Sunbrella fabric are considered luxurious, designer fabrics. Both fabrics are perfect for indoor and outdoor use. They are the most durable fabrics, and they are resistant to both mold and mildew. There are very few fabrics that can measure up to Perennials and Sunbrella products. Sunbrella fabric comes in many textures, from rough to smooth. Each has its own special features that attract customers from around the world, making both these products the most sought-after products on the market today.
Sunbrella Fabric Benefits
If you are looking for an all-season fabric for your outdoor patio furniture, Sunbrella Fabric is the best. You can trust your outdoor furniture in the worst weather, and not worry about any damage. You cannot say that for most fabrics, but you can say that about sunbrella fabrics. When you buy sunbrella fabric cushioned outdoor furniture, you are getting more for your money. You are investing in fade and water resistant sunbrella products that are also mold and mildew resistant. This is important, because outdoor furniture is exposed to various types of outdoor elements that can permanently ruin sub-quality fabrics.
Sunbrella fabric provides durability that lasts for years to come. Even Sunbrella's greatest rivalry cannot compete with the quality and aspects of Sunbrella fabrics.
Why Choose Sunbrella?
Some of the greatest and most noticeable features of Sunbrella fabrics are:
Color fade-resistant
Waterproof
High resistance against harmful UV rays (heat absorbent)
Affordable
Vibrant color
Various styles and designs
These are just some of the reasons why so many customers choose Sunbrella products. Why spend money on fabrics and products that cannot withstand outdoor temperatures? No one should keep buying the same products again and again. When you do buy the same products repeatedly, you are likely dealing with low-quality fabrics. This scenario keeps money in the seller's pocket, and out of your pocket.
When you go shopping for outdoor furniture, remember looks are not everything. Some products are attractive, and they catch your eyes. However, the eyes can be deceived, but you cannot dispute facts. Did you know that Sunbrella fabrics are heat-resistant? No matter how hot it gets outside, your sunbrella product will not feel the effects and neither will you. You cannot say this about similar products that do not have the built-in features like sunbrella fabrics. If you are sick and tired of wasting your money on low quality fabrics, you now have two great fabrics to choose from. On the downside of sunbrella, some of the fabrics are not smooth, depending on the type of fabric you choose. If you have sensitive skin, you might want to go with a smooth sunbrella fabric.
Sunbrella fabrics are used on lounge cushions, deck chairs, umbrellas, awnings, and grill coverings. Best of all, they maintain their beautiful look, while still protecting your products from Mother Nature's unpredictable weather. The smoother types of Sunbrella are resilient, comfortable, and easy to clean. Sunbrella has the reputation of being one of the best, if not the best, outdoor fabric options on the market.
Perennials Fabric Benefits
Perennials fabrics are the first choice used by contractors and designers because of their incredible versatility. The fabric is luxurious, elegant and is used in transforming indoor and outdoor settings. The designers' collections are inspired by worldwide cultures, art, and nature. The fabric has a rich history and is a highly performance textile used in industries since 1997. Perennials are used to design yachts, outdoor rugs, and swimming pools. Nevertheless, Perennials fabrics are recognized for their transformational power in creating beautiful gardens.
Perennials fabric continues to be the most preferred product for many reasons. The quality is unbeatable and so are the built-in features and benefits of having this fabric around. It is one of the best options available when it comes to choosing outdoor fabrics.
Why Choose Perennials Fabrics?
Some of the best advantages and the greatest benefits of investing in Perennials fabric come without saying. Here are some great benefits to consider when you are deciding which fabric is best for what you are trying to display.
Fade-resistant
Can stand up to excessive heat and extreme cold
Available in stylish colors, patterns, and designs
Soft to the touch
Smooth and soothing material for underfoot
Outdoor textile technology
100 percent solution-dyed acrylic
Being sure about a product usually means you have compared the products and we are ready to decide. Choices are not always easy to make, especially when you have two great products to compare. Nevertheless, when you are ready to create your perfect outdoor setting, remember, you have choices, and it is up to you to decide which choice is right for you, Perennials Fabric or Sunbrella Fabrics. We also compare Sunbrella to other brands such as Outdura, Olefin, and Bella-Dura, so be sure to check those out, to see which fabric best suits you and your needs!