Christmas does not really feel like Christmas till you begin decorating. It does not matter if you have your Christmas tree set up already, there are quite a number of Christmas outdoor decorations that could transform your dreary front yard design into a winter wonderland, particularly if you plan on hosting a Christmas party.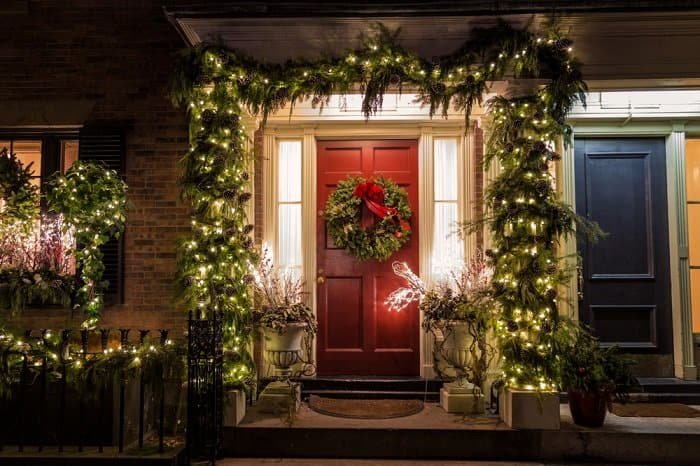 When it comes to purchasing outside Christmas decorations, it is always best to select pieces that can be used year after year. It is always a good idea to go for Christmas ornaments that match your chosen garden décor.
While there is nothing wrong with reusing your treasured vintage and homemade decorations passed down from generations before, you might want to consider spicing up your backyard décor with some new Xmas decorations.
Doing this will bring quite a lot of options to the forefront, the question then becomes how do you select the right Christmas decorations that are best suited to you and that is why we have taken the time to group a few of the top rated products to ensure that your Christmas is merry.
Christmas Novelty Accessories
Celebrate the Holiday season in style with these Candy Canes Lights. Your illuminated pathway will delight your neighbors and guests during the holiday season.
These candy canes can be staked in the ground or hung on walls for even more versatility. They come with 6 inch long stakes to make them very sturdy along your pathway. As well as being weather-proof, these candy canes can be connected up to 5 sets for an even longer driveway.
This light cover can add an extremely festive touch to your front porch light, transforming your bland yard décor into a winter wonderland. This cover takes on the style of Snowman, offering a warm glow that greets friends and family whilst enhancing the festive atmosphere.
Given that it is to be outside in the elements, it is moisture resistant and waterproof. The cover is manufactured from environmentally EVA textured plastic and has a crystallised texture reminiscent of snow. It is suitable to match any decoration you have in your garden.
With an included elastic strap you can be sure that this porch light cover can stay on regardless of what the weather conditions are outside. The strap is easy to fix and remove.
These Christmas banner decorations feature cute designs and large lettering easily stand out from the crowd. Durability has been a keyword in its manufacture as it is weather-resistant, washable and easy to store. Perfect for decorating doorways halls, shower curtains, porches, decks.
This outdoor extension cord comes with multiple spaced outlet plugs, making it the right accompaniment to your outdoor Christmas lights. It comes in a candy cane striped pattern to ensure that functionality does not take away from the festive charm.
With 3 spaced outlets, you can say goodbye to having a stream of unnecessary cords strewn all over your landscaping. Holiday yard decorations, Christmas tree lights and any other outdoor decorations can be put up easily.
This outdoor decoration accessory is coated in a wear-resistant PVC outer jacket and has a full moulding design to ensure that it can handle a lifetime of whatever you throw at it. This outdoor extension is also extremely durable and is able to resist abrasion, cold weather, direct sunlight and moisture.
Your safety is paramount as the outlets have been grounded and have been rated for use in wet locations. This is helped by the included safety plug design that protects against dust, snow, and rain when the outlet is not being used.
Best Winter Wonderland Inspired Decoration
This set of Lightshare LED Birch Tree outdoor Christmas decorations comes in three different sizes, 4, 6 and 8 feet. This outdoor wall décor brings in the beauty of nature into your home or your patio décor.
This set comes with led Christmas lights alongside natural white stems which combine to provide a great winter wonderland accent in your living room, front door, your backyard or just about anywhere.
Each branch comes embellished with led lights that are realistic. They are also energy-saving and have a long life span so you need not worry about running up your electricity bills. The lights in question are rated to work for about 30,000 hours.
Constructed out of natural birch and has been hand-painted. The branches are bendable ensuring that you can form a realistic tree, enabling them to house ornaments should you choose.
Its multifunctional design ensures that it can be used just about anywhere, a garden, shop, home or more and you get 4 grand stakes which help provide additional stability to ensure the trees do not tilt.
This 7ft Multi-color LED Spiral Christmas Tree Light is a great addition to your Xmas light decorations, helping to add a bit of festive charm to your indoor or outdoor yard décor. The Spiral Tree light offers a fun and lovely way to bring wow to your holiday guests with its 433 multi-color LED lights with 8 different light functions!
Will add holiday charm to indoor/outdoor in a very economical way. This lovely and fun flashing Spiral Tree Light is a perfect festive decoration solution. The tree consists of iron and plastic poles ensuring that the tree remains durable and strong. The 8 lighting effects can be controlled through a button.
Easy to assemble and can be flat packed for seamless storage. The lights are waterproof and energy saving. For stability, you get ground stakes to ensure the tree is secured to the ground. Its versatility ensures that it is suitable both indoors and outdoors.
This set of led Christmas lights is extremely long; 330ft from the first to the last LED. You don't an extension cord to connect this. Thanks to its length, they make very good outside Christmas lights, suitable for bushes, banisters, gardens, yards, Christmas trees and any other landscaping or garden design.
These Christmas garden decorations come with bulbs that are energy-efficient, ensuring that they can be used for a long time without overheating. With 8 lighting modes and 4 brightness levels to select from, you can create the best garden décor.
The LED lights as well as the string light wires are waterproof ensuring that they can be used outdoors. It is important to note that the controller is not waterproof and will need to be protected.
Who doesn't love hanging lights during Christmas time, especially ones that look like snowflakes. Each light comes with 60 copper wires to put in many different shapes as well as 120 LED lights. You can choose up to 9 different colors to create a beautiful lighted winter wonderland in your backyard.
These battery operated lights can be controlled up to 30 feet away with the included remote. They can be controlled with 10 different brightness settings as well as 8 different modes such as flashing, steady or blinking, etc. You can also set these lights with a timer to be on for 6 hours and off 18 hours to conserve battery usage.
These are the perfect outdoor festive lights to include with your outdoor winter decorations. Being fully waterproof, you'll have no worries about leaving these lights outside all year round if you enjoy the twinkling lights even when it's not Christmas time.
Best LED Lights
This set of 4 color changing floodlights is a great addition to your outdoor Christmas lights. It comes with numerous modes and colors. You simply have to point the included remote in the direction of the floodlights, turn them on, and select your preferred color, mode and brightness.
Speaking of modes you get 4 different modes to select from, making it the perfect Christmas window lights for just about any occasion. The remote control comes with 24 keys which enable you to control these RGB floodlights. These floodlights are IP66 waterproof and dustproof ensuring that it can work perfectly in the snow, sleet and rain.
It is also extremely versatile that it can be used just about anywhere and any landscaping, adding a colorful edge to your backyard or patio design. Made of die-cast aluminum, it has an efficient cooling design that makes it reliable and durable.
You don't need to worry about wiring when it comes to installing. You simply need to plug it in and can be installed on the ground, wall or ceiling.
This patio/walkway outside Christmas lights come with 7 color modes that auto-change. This feature makes it ideal for use as Christmas ornaments to adorn your lawn, walkway, yard, pathway, patio and garden for the festive time of the year.
When it comes to installation, these lights can be installed hassle free. You do not need any cords as there are no wires involved. You simply need to install these and you are done. These pathway lights are solar powered and contain a rechargeable battery to ensure they can be used for a long time.
The solar panel charges the battery during the day, providing 6 to 8 hours of usage before it is recharged. Every individual light has been constructed from solid plastic, ensuring that it is not only water resistant but is able to handle all sort of weather.
This solar globe crystal ball Christmas decorations are easy to understand, ensuring that that installation and operation are seamless, saving you effort and time. These string lights are bound to transform your patio décor, ensuring that the ambience is different.
As outdoor Christmas lights, they come in 8 varying working light modes, from waves, slo-glo, and slow fade to sequential, steady and chasing. The moment you select a mode, it remains on till you change it using the mode button on the remote.
This outdoor Christmas lights set is powered by the sun, making it energy efficient. It also requires little charging time. A full charge of 6 hours can keep your lights on for over 8 hours, without affecting your electricity bills. Given that it is going to be used outside the majority of times, it has been designed to be waterproof.
The string lights automatically light up at dusk and remain on till dawn, so long as they get adequate sunlight. It is versatile enough to be used both indoors and outdoors.
Frequently Asked Questions
How do you hang Christmas lights outside without nails?
In order to hang Christmas lights outside without nails, you will have to use plastic clips and hooks to achieve the same purpose. S shaped gutter hooks can come in handy as they can be pressed into the gutter to help support the weight of your lights. Command strip hooks for outdoor are also a nail/screw free way for hanging Christmas lights.
Should you cover outdoor Christmas light plugs?
Generally, outdoor Christmas light plugs have been designed to be used outside and they come with safety features such as covers to ensure that operation in the elements is not a safety hazard. This means only plugs designed to be used outside (dust proof, waterproof and weather proof) should be used outside to power your outdoor Christmas lights.
Can outdoor Christmas lights get wet?
As stated in the previous question, it is always best to use outdoor rated plugs for your outdoor decorations. This is because they are usually waterproof. When your plugs aren't rated for outside use, they can get wet creating a hazardous situation, which would cause them to become inoperable due to damage.
What does 12/3 mean on an extension cord?
Generally, outdoor extension cords have a number on their packaging. In this case, the 12 in the 12/3 highlights the wire diameter or gauge wire rating, while the 3 at the bottom signifies that there are three conductors or wires inside.
What is the best time to decorate for Christmas?
It does not matter the type of Christmas decorations you choose, the best time to decorate for Christmas is Thanksgiving weekend. For those concerned about putting up decorations too early, it is always best to put your Christmas decorations up any time after Halloween.
How do you hang things on brick without drilling holes?
You can use brick clips which hold the bricks at the mortar grooves ensuring you can hang whatever you need to without drilling any holes.
Conclusion
Christmas decorations, regardless of where you place them, outside or inside are an essential aspect of getting into the Christmas spirit. And with quite a range of outdoor Christmas decorations to select from, it can be easy to find the perfect outdoor decoration that fits well with the scheme of your backyard décor.
Every decoration on this list offers something different, especially if you are searching for decorations that won't run up your electricity bills.
Be sure to check out our article were we give out some more outdoor Christmas light ideas, as well as our backyard pavilion ideas!