Backyard pavilions are great meeting spaces for family and friends alike. Whether you enjoy resting in your backyard while listening to the birds, enjoying a good book with coffee in hand, or getting the most out of your summer break with days spent by the pool, a backyard pavilion can significantly elevate your quality of life.
Continue reading below to learn about some of the most beautiful, unique, and functional backyard pavilion ideas, as well as what to consider when creating your own custom pavilion design.
Outdoor Kitchen
Outdoor kitchens are one of the most common types of backyard pavilions due to their usefulness. Not only can you use your outdoor kitchen to barbecue and entertain friends on beautiful afternoons, but a covered pavilion outdoor kitchen can also be used to host sophisticated evening soirees by candlelight.
Since it's covered you may be wondering if you can use an indoor TV outdoors to make it like a family room but outside. If you'd rather take it easy, you can use your outdoor kitchen to make family brunch on lazy Sundays or even warm up a snack while getting some work done in the shade of the kitchen's pergola.
Relaxing Poolside Retreat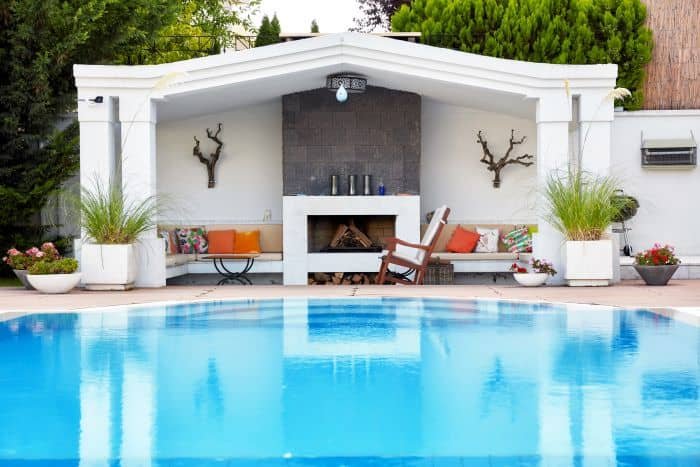 Sip margaritas or iced tea by the poolside in the summertime while you watch the kids do cannonballs and play games on the lawn. A relaxing poolside retreat is the perfect backyard pavilion idea for anyone who lives in warm and sunny climates or enjoys making the most of the summer season.
Not only is this style pavilion perfect for avoiding sunburns by staying out of the sun and watching all the action, but it is an excellent place for the kids to take a break for lunch when they start to feel too much of that summer heat.
Beautiful Wooden Pergola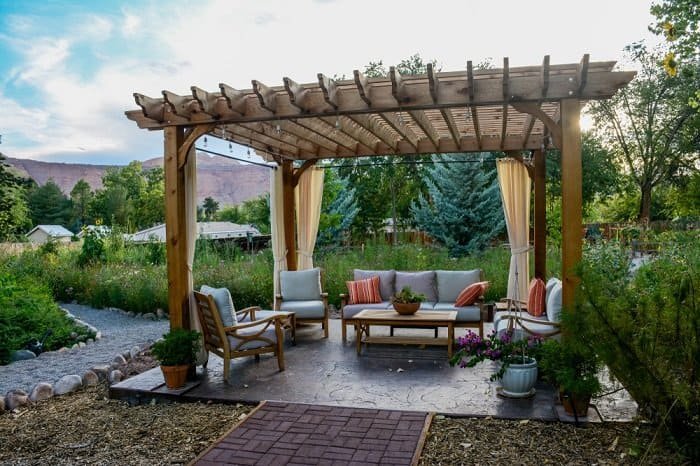 A simple and elegant wooden pergola is the perfect backyard pavilion idea for those who prefer minimalism and minor upkeep. To dig deeper to what is a pergola used for, see our separate article.
By placing a wooden pergola over your patio, you can create a practical and versatile space that can house lounge chairs, a dining table, or even a blanket and child's toys for when the kids just don't want to stay indoors.
An Exciting Backyard Bar
What better way to spice up your outdoor living spaces than to add a full-service bar? With a:
Bartop
Outdoor refrigerator
Mini sink
Built-in ice chest
You can enjoy a cocktail with friends from the comfort of your own home. Add some tall bar stools with matching patio color accents, and you'll feel like you're living a life of luxury. We discuss in detail if you can put a refrigerator outside in a separate article.
Mountain Style Pool House
For those who prefer the cooler climates of a mountain or forest lifestyle, consider building a mountain-style pool house as your backyard pavilion. Add a rock wall, cozy couch-like patio furniture, and a living room-style fire feature for some cozy cabin vibes that you and your family can enjoy year-round.
Fire Feature Cover Shade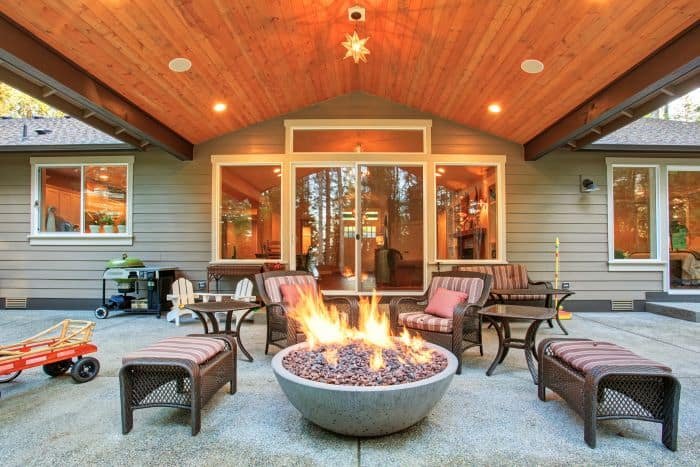 If fire features are your favorite part of spending evenings in your backyard, why not take your backyard to the next level? By adding a fire-resistant pergola or cover shade over your round or rectangular stand-alone fire feature, you will add protection against the weather. This will allow you to enjoy a hot beverage by the fire or roast marshmallows any time of the year, rain or shine.
A Colonial Centerpiece
If you consider your stylistic sensibilities to lean towards traditional rather than modern or contemporary, skip the sleek pavilion look and opt for a colonial centerpiece as well. By adding:

A faux mini bell tower
Cotswold-style shingles
Colonial-era support pillars
You will give your backyard the timeless feel of a New England cottage in the countryside.
For a more authentic pavilion, consider sourcing reclaimed historic and vintage materials to custom-build your colonial pavilion. When you invite guests over, you'll have an exciting story to tell about the history of your own backyard.
Wood Gable Picnic Area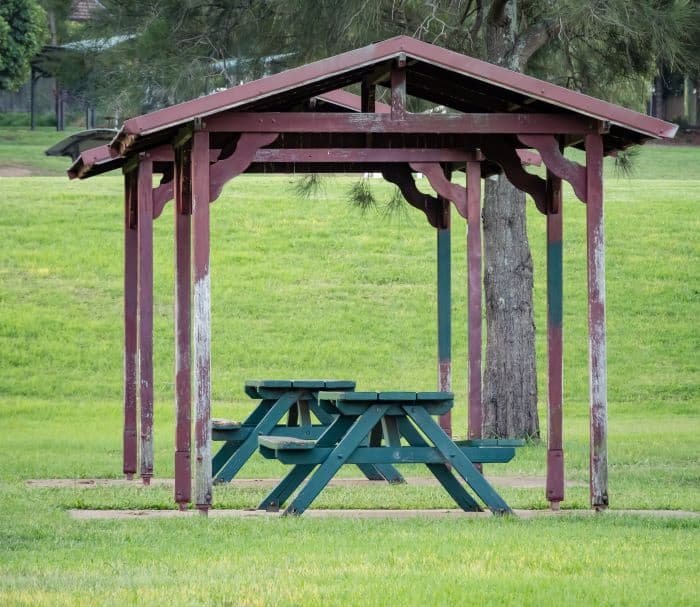 Whether you have a considerable family, host luncheons every weekend, or own a large property that you'd like to compartmentalize, a wood gable picnic area is the perfect place for groups to gather. Wooden picnic area pergolas are convenient because they can be made to suit almost any size yard.
Place picnic tables with cute, red-checkered tablecloths under your wooden gable pergola for a communal mealtime feel. You can also class up the place by bringing out the nice china and flower vases for events like backyard weddings or birthday parties.
Themed Garden Pavilion
When you love spending time with your roses more than sipping a sweet rosé, it might mean that a themed garden pavilion is the perfect addition to your backyard. Cater your pavilion to your preferences by creating a Japanese garden complete with cherry blossoms and bonsai trees, or build your own English oasis surrounded by roses, morning glories, and climbing vines.
The Storybook Gazebo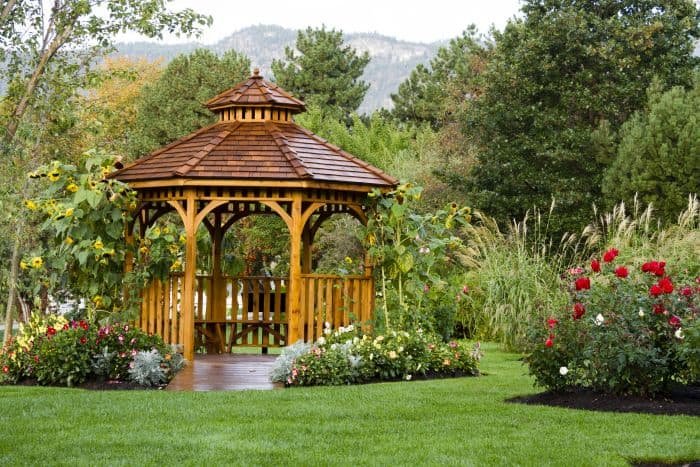 The storybook gazebo is one of the most recognized backyard pavilion ideas of all time. With its quintessential round or octagonal shape and peek-a-boo cut-out window openings, storybook gazebos can suit nearly any size or style backyard due to their classic and romantic essence.
Use your quaint gazebo as a reading spot, a romantic hideaway, or a break from the sun. Find out how you can get your gazebo set up in your backyard to get it looking great!
A Backyard Game Area
One of the most exciting yet unconventional backyard pavilion ideas is a backyard game area. By building a sleek, modern, and flat-topped pavilion atop a sprawling patio, you can create room for fun games like a foosball table, outdoor pool table, corn hole, and even mini-golf.
On rainy days, use your game pavilion to play Twister, charades, or even board games while you take in the fresh air.
Covered Hot Tub Spa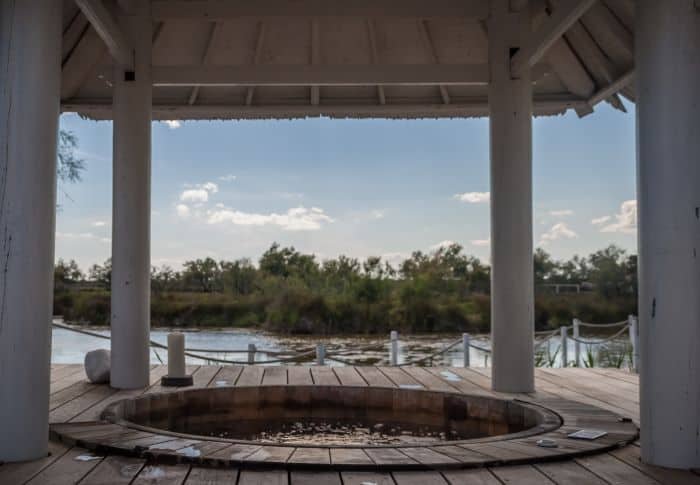 For those who love a spa getaway, consider building one in your own backyard. A covered hot tub spa area is the perfect pavilion idea for those who choose to use their backyard for rest and recovery after a long week.
By installing an outdoor shower, jacuzzi, backyard cold-plunge tub, and even a sauna under your backyard pavilion in one corner of your backyard, you can create a self-care paradise that you'll never want to leave.
The Best Way to Customize Your Pavilion
If none of the above ideas quite suit your fancy, there are many ways to customize your own version of a pavilion and hire a construction and landscaping company to do the installation for you. Some things to take into consideration when putting together your pavilion plan are:
The Pavilion Materials
Your pavilion area's price, durability, maintenance, and aesthetic style will depend heavily on the materials. If you want a useful and industrial feeling, you can use long-lasting vinyl. If you'd like a more whimsical and romantic pavilion, consider pressure-treated, carved, and painted lumber.
The Material of the Roof
Whether you pick shingles, flat metal, carved wood, or additions like bell towers or gables, your roof is what gives your pavilion its true character. For added color and texture, consider hiring a metalsmith to create copper or metal details like spires or custom lettering. For a more subtle touch, utilize different paint tones to create interest.
Post Style and Details
The posts you choose for your pavilion will determine both the size and the amount of detail your pavilion will have. While standard square posts in 8×8 sizing are the least expensive, opting for tapered posts can give your pavilion a more delicate look.
Conclusion
Don't be afraid to mix and match styles when it comes to creating your backyard pavilion. With many ideas to choose from, you're sure to find the perfect pavilion to fit both your needs, your property style, and the preferences of your family.