Owning a propane fire pit comes with plenty of conveniences, but before you fulfill all of your outdoor cooking fantasies, you'll want to make sure that it's safe for all the activities you have in mind.
Yes you can roast marshmallows over a propane fire pit. Propane produces no harmful substances when burned, so food cooked over it is safe to eat.
Now, While propane is safe to use for marshmallow roasting, it can affect the taste and quality of your marshmallows.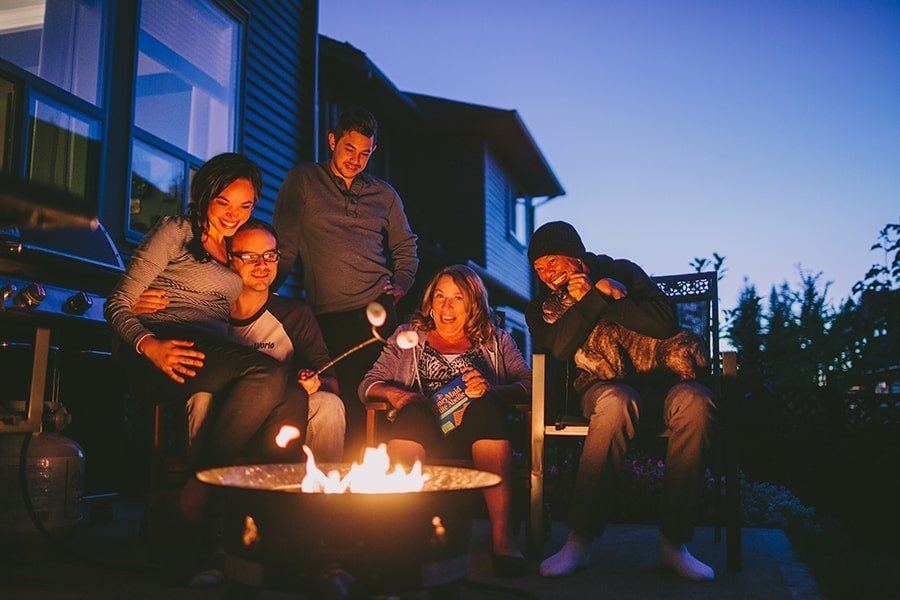 How clean the fire pit is, what you burn in it, and where it's positioned are all factors that can affect the taste and healthiness of food cooked over your fire pit.
You and your family can enjoy the best fireside experience with proper maintenance and cooking practices. Here are the main points to remember when using your propane fire pit to roast marshmallows.
Roasting Marshmallows on a Propane Fire Pit
You can safely roast marshmallows over a propane flame without changing their taste or smell. The propane itself has no scent. It contains an additive called ethanethiol that allows it to be smelled in case of a leak.
Ethanethiol burns up with the propane and doesn't transfer onto food. The only danger your marshmallow faces is the fire itself and any debris present in the fire pit.
Debris builds up in fire pits over time. Materials that fall into the pit burn and release particles that can contact the food you cook. Here is what you need to know to avoid marshmallows with unpleasant tastes and smells.
Always Roast Over a Clean Fire Pit
The first step to safe and good-tasting marshmallows is a well-maintained fire pit.
Clean your fire pit regularly to get rid of soot, dirt, and bits of burned food.
Fire glass used in many propane fire pits is easy to keep clean.
If you burn wood in your fire pit, make sure to clean out the ashes and replace burned up wood with fresh fuel.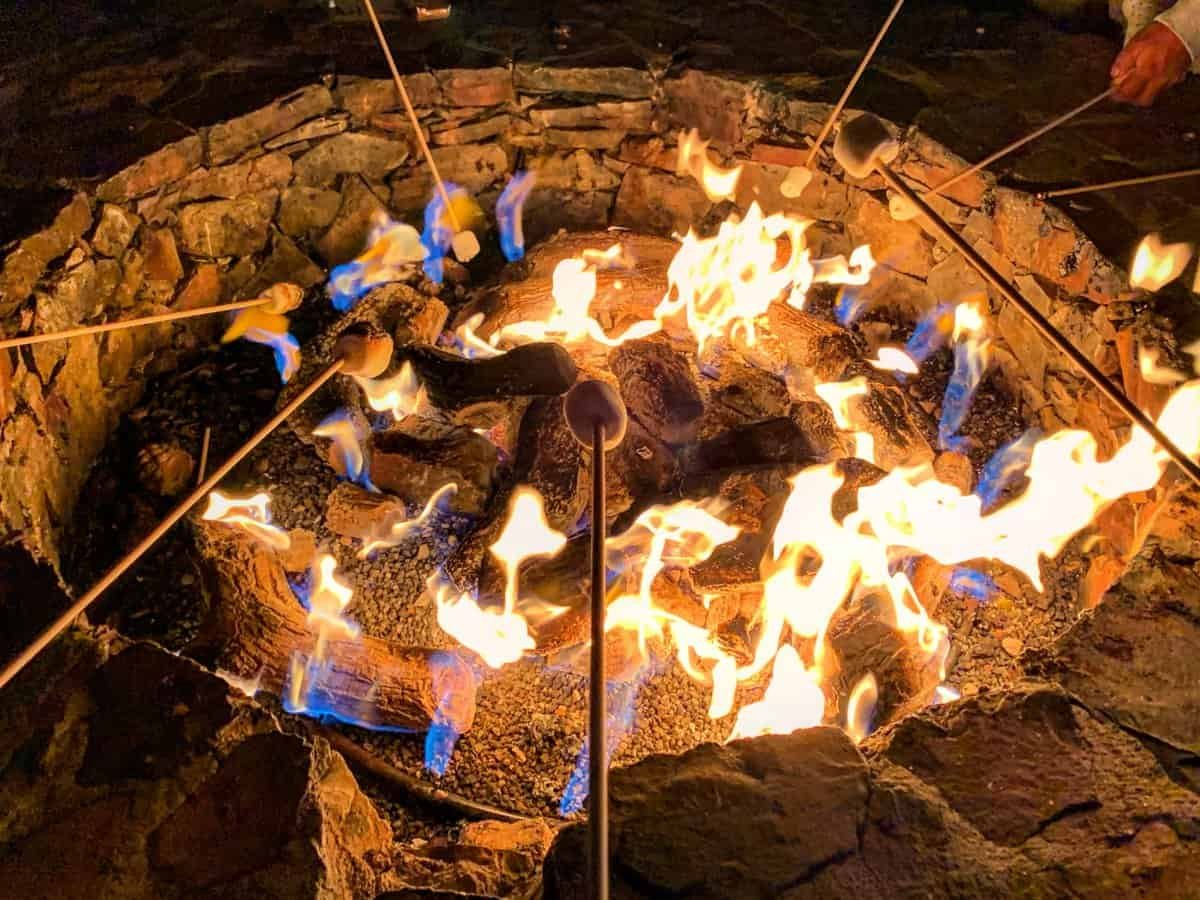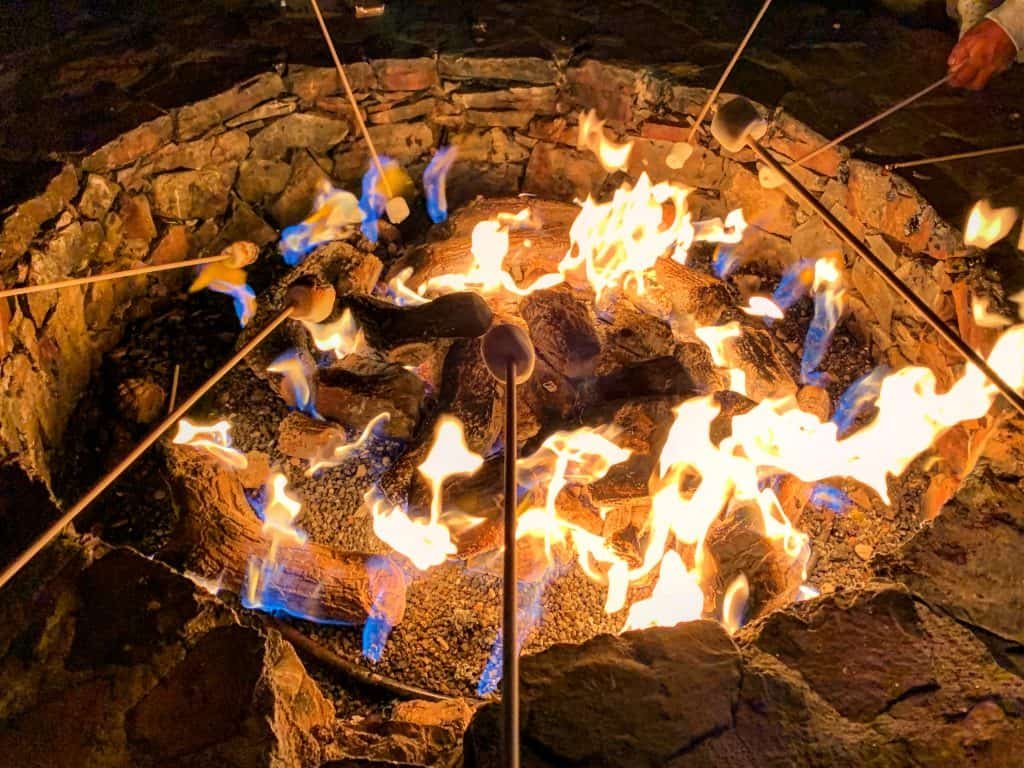 Practice Safe Cooking When Roasting Marshmallows
Be mindful of how your pit is being used for cooking food. Establishing rules and keeping an eye on a lit pit is essential to the safety of everyone using it.
Supervise children constantly. An adult should always be present when young children are roasting their treats. Teach kids to roast marshmallows without catching them on fire as burned food can be unhealthy.
Avoid letting large pieces of food fall into the pit. Have you ever tried cleaning a charred blob of marshmallow off the side of a fire pit? That stuff is tough to get off.
Try roasting food with two-pronged skewers. This will provide a more secure grip on food. Plus, your marshmallow won't slip on the skewer when you try to turn it.
Never cook food over a fire where plastic and other materials have been burned. Use your pit only for food and find other ways to dispose of plastic and trash.
Preventative Measures
The best offense is a good defense. Take steps to prevent unwanted materials from cluttering up outdoor fire pits, mostly located near trees and other plants.
Cover the pit to keep leaves and dirt from falling in when it's not in use.
Purchase a fire pit that comes with a lid or cover. A simple tarp will keep debris from falling in if you have a pit with no lid.
Try positioning the pit in a place where debris is less likely to drop in, such as under a patio cover or away from trees.
Propane Vs. Wood Fire
Perhaps you're considering switching from wood fires to a propane fire pit. If so, you will be glad to know that propane is safer to cook over than wood fires for a few reasons.
You can immediately turn off a propane fire pit.
Propane is adjustable, allowing you to control the heat level.
Unlike propane, smoke from a wood fire produces particles that can stick to food.
Remember that a propane fire pit's added control and safety come with a higher price tag than wood-burning pits. Installing a propane fire pit takes longer and costs more than a traditional pit. Add to that the cost of replacing propane tanks regularly, and propane is the pricier way to go.
Although propane fire pits can be costly, many people consider that extra cash as an investment in the safety of their family and property. Spending more money now to reduce the risk of fire damage might pay off in the future.
Top Propane Fire Pits for Roasting Marshmallows
Want to opt for the safer propane fire pit but don't know where to start shopping? According to the folks over at Backyard Boss, these are a few of the most marshmallow-worthy options for you to explore.
Pros
Cons
The right balance of quality and value
Great for small patio spaces
Natural lava rocks included
Comes with protective cover

Kids have easy access to propane controls
Susceptible to rust from exposure to rain
This famous propane pit tops the list with its stylish space-saving design and stellar Amazon reviews. It provides a heat source for roasting s' mores and adds a classy aesthetic to any outdoor space.
Coming in second on the list, this elegant propane fire table kicks backyard fun up a notch with its attractive modern design and immense size. This fire table makes an impressive focal point for any patio set up if you have space and budget for it.
Pros
Cons
Sleek modern design
Long fire pit allows for uncrowded marshmallow roasting
Table space for food and drinks
Natural lava rocks included
Cost inhibitive
Takes up a lot of patio space
Blue fire glass not included
Requires at least two people to move
Perhaps you're in the market for a more on-the-go fire pit. If so, the Outland Fire Bowl is an excellent option for you. Not only is it the most affordable option on this list, but its compact design and easy setup are ideal for camping and activities away from home.
Pros
Cons
Compact and portable design
No tools required for setup
CSA approved for use during most campfire bans
Perfect starter pit for all home designs and lifestyles
Can't roast as many marshmallows at the same time
Does not produce as much heat as other fire pits and wood fires
Final Thoughts
In conclusion, roasting marshmallows over your propane fire pit are safe, convenient, and fun. It even has health and safety advantages over traditional wood fires.
As long as you choose the best fire pit for you, properly maintain it, and stay mindful of safe cooking practices, you are sure to enjoy many pleasant evenings chewing on warm golden marshmallows while basking in the glow of your propane fire. Find out when fire pits are most likely to on sale in this article and check out our list for the top fire pits we could find!