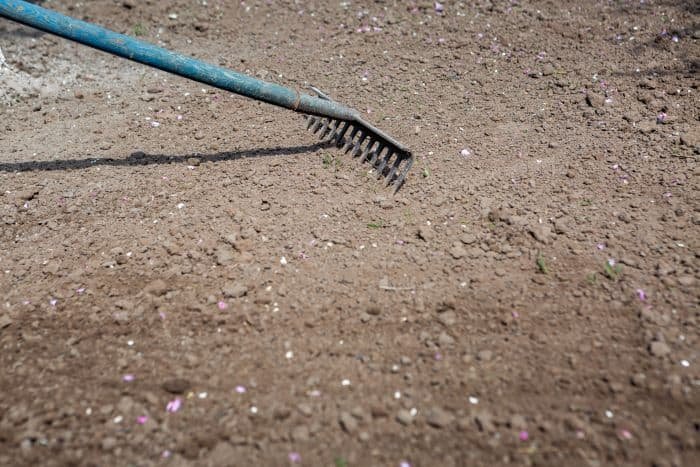 For many homeowners, a backyard is a place where they can relax and enjoy themselves. But a bare expanse full of dirt and weeds isn't what most people have in mind when they're thinking of spending some time outdoors.
Unfortunately, you may have to deal with this at certain times of the year. But is there a cheap way to cover the dirt in your backyard?
There are many affordable ways to cover the dirt in your backyard. You can cover it with ground cover, green it up with grass, or wood mulch and crushed concrete, among other things.
Your choice will vary depending on the look you're going for. But if you don't want to spend too much, covering the dirt with mulch or crushed concrete is your best bet.
However, deciding which method to go for is easier said than done. With so many options to choose from, narrowing your choices down to one can be challenging.
That's where we come in. In this blog post, we'll share with you some of the cheapest ways to cover dirt in your backyard and help you make an informed decision about which one is right for your needs.
Use Grass to Restore Your Yard to Its Former Glory
Most people choose to cover the dirt in their yard with grass because it looks good and is relatively easy to maintain, provided you have a green thumb. It's also relatively cheap in comparison to other options. However, this method requires a bit of elbow grease.
For starters, you'll have to plan to install the grass seed or sod at the best time for it to take root, which is spring or early autumn with cooler temperatures. You'll also want to add compost to your dirt before you lay the sod. You can purchase compost or make your own with the following ingredients, though making your own takes 2-6 months.
Weeds
Dead leaves
Shredded paper
Grass trimmings
Manure, grass and other yard debris
Till the compost into the soil and water it sufficiently. Next, rake the ground until its smooth and level, then scatter grass seed throughout the yard. Keep watering the seeds until they sprout, making sure to keep the soil wet but not soggy. This should take about 7 to 14 days.
If you're laying sod, the same steps above apply but after laying the sod, you'll need to press down the sod to make sure it's making contact with the dirt to help the roots take hold.
It's also crucial to choose the right grass species for your yard. Some species tend to be invasive and may end up causing more harm than good. Therefore, research which grass species will be best for your yard.
If for some reason you do get grass in your backyard but now you want to know what type of outdoor flooring to layover grass, we have an article for that as well.
Create an Eco-Friendly Space with Recycled Bricks or Crushed Concrete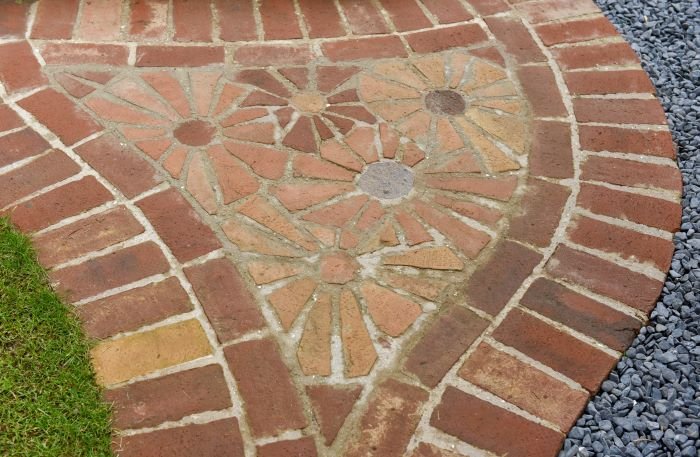 Recycled bricks or crushed concrete are an excellent alternative to planting grass, and what we chose in our own yard.
You'll end up spending less in the long run over grass since there's no maintenance costs. Plus, using recycled materials, keep those items out of landfills. What's more, there's no worrying about constant watering or putting chemicals in your yard.
If using crushed concrete like gravel, make sure your dirt is level and firm. You can install weed fabric to help control the weeds before spreading the gravel. Spreading gravel is much harder than spreading mulch due to its heavier weight.
It took us half a day to spread mulch and over a week to spread the same amount of gravel so be ready to get a workout!
If using recycled bricks like pavers, use the steps below
Remove 3 inches of soil.
Add 1 to 2 inches of sand and arrange the materials you've gathered over the sand. Add and remove sand as needed to ensure the patio is level.
Make sure to fill the cracks between the concrete, bricks, or pavers with more sand or crushed gravel. This way, the setup will remain intact even with heavy use.
You can also add color to the space you've created by adding decorative stones or pavers around the perimeter of your new recycled brick patio.
Consider adding some potted plants, a sitting area and a patio umbrella to elevate the look of the space. And that's it! You now have a gorgeous spot for hanging out and relaxing surrounded by nature on any budget.
Cover the Dirt with Ground Cover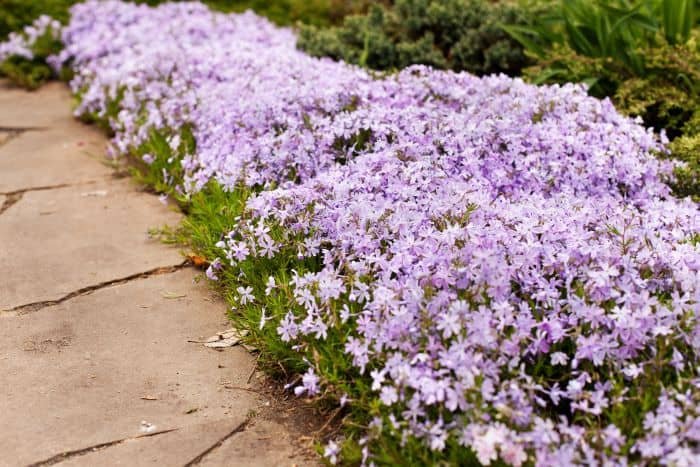 If you want to cover your dirt yard with some greenery, but grass isn't an option, you can do so by planting ground cover. Low creeping plants are great for covering the ground and creating an instant garden.
Some examples of ground cover that can fill up every part of your yard include:
Sun-loving ground covers, e.g. creeping phlox, creeping thyme and creeping jenny
Shade-loving creepers, e.g. bugleweed, bowles periwinkle vine and mondo grass
The best thing about using ground cover is that it's pretty easy to find a neighbor who's willing to share some cuttings with you and share tips on how to take care of them.
However, if you're ready to spend some money on the process, you should purchase established plants because they will require less time and effort to grow, unlike seeds that take months before they reach their full potential.
Also, keep in mind that not all ground covers are suitable for covering large areas. Furthermore, some species are invasive. Therefore, you should research the species before making any purchase.
Play It Safe with Mulch
If you're unsure what your future landscaping project will look like, you should consider using mulch. It is low cost, and it also provides several benefits such as weed control, suppression of soil erosion and moisture conservation.
We used mulch in our side front yard to cover the dirt where we parked our car. Our friends took down a cherry tree and mulched it up and had extra. All it cost us was the time to go gather it up and spread it in our yard. The added benefit was the organic materials released in the ground helped a tree look much healthier 6 months later.
The most common type of mulch used in homes is bark chips because they are aesthetically pleasing and easy to install. And the best part about this method is that some tree trimming firms will gladly give you the leftover chips to use in your project.
Our second mulching attempt was leftover mulch from our city's tree trimming around power lines. It was free, but it definitely didn't look as nice as the bark chips we currently have in our yard, shown in the picture above.
Time to Give Your Backyard a Facelift
You don't have to live with a dirty yard because you're strapped for cash. As you can see, you can achieve a beautiful look with little to no investment. Whether you choose to use wood chips or stone, you can't go wrong.
However, be sure to research the method you've selected to ensure you're not doing more harm than good to your soil. If your yard is prone to flooding, make sure you know how to dry up a wet yard before applying any of the ideas above.
Most importantly, before deciding on a permanent solution for your yard, be sure to consult landscaping experts to ensure that what you do is entirely safe and environmentally friendly. It's always better to be safe than sorry!