Nothing feels better in the summer than reclining in the shade of your backyard or garden with a tall glass of something cold in your hand. It can get miserable out there if your yard gets sweltering, though. When the sun is beating down on hot summer days, you sometimes have to get a little creative to find or invent your own backyard shade.
Adding shade to your backyard does not have to be super expensive, difficult, or time-consuming. Read on to learn about seven ways you can find your own nice, shady protection from the summer sun.
Set Up a Shade Sail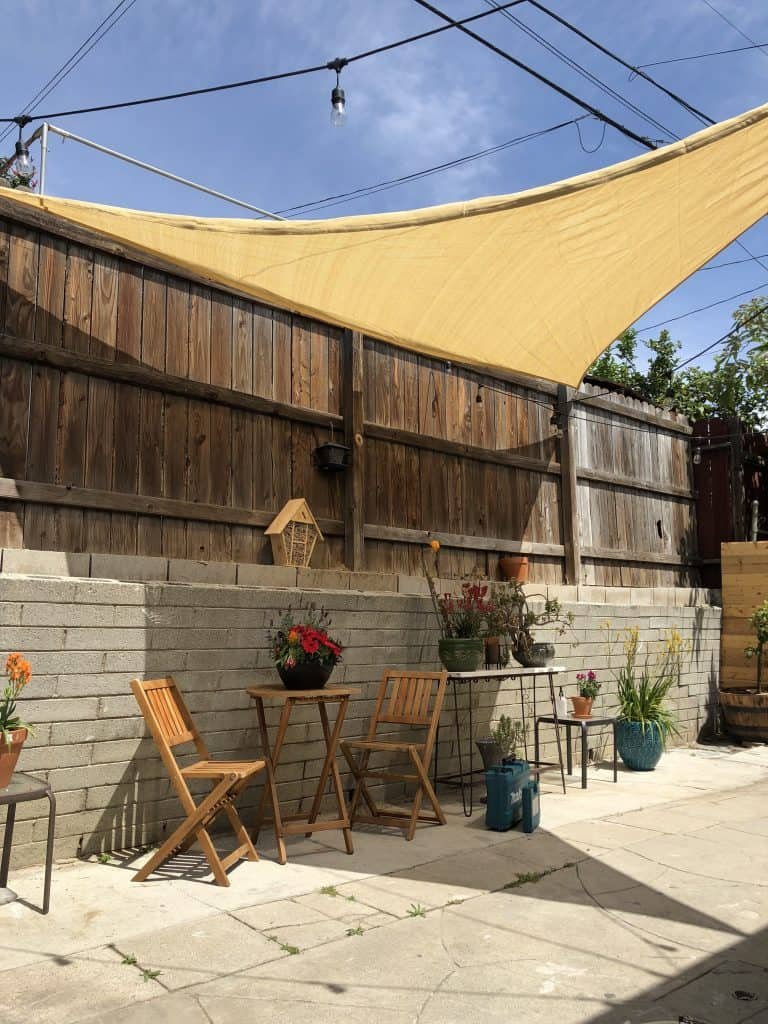 Putting up a shade sail is relatively easy and runs you about $40. A shade sail is essentially a square or triangular piece of cloth that can be suspended from any building, pole, or outdoor structure. The coverage provided by a shade sail helps protect against harmful UV rays and deflects heat.
Because this product is really just a large piece of weather-resistant fabric, it is easy to find a customized style to match any desired color, size, and shape to perfectly complement your backyard decor.
Keep in mind that the larger and more decorative the sail, the higher the overall price will be. Different materials vary in cost as well. Special coatings can be added to the fabric to prolong its lifespan.
Plant Tall Trees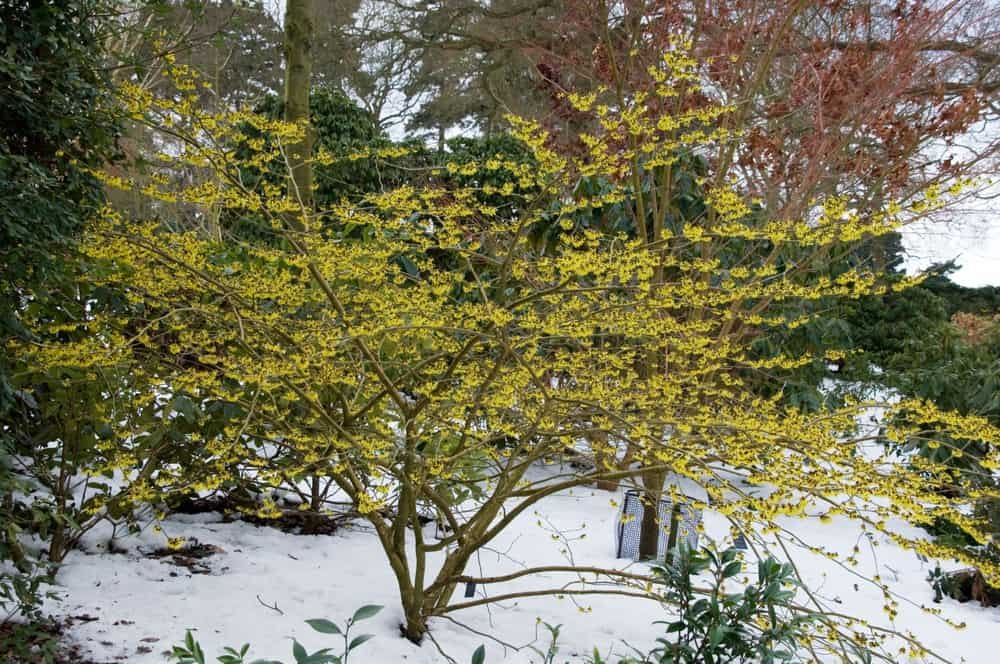 There are many benefits to planting tall trees and shrubs. They provide leafy cover from the hot weather. In addition to the shade they provide, trees and shrubs can add beautifully fresh scents to your outdoor sitting area. Depending on the types of greenery you plant, some trees and shrubs can potentially add buds and flowers for you to view.
| | | | |
| --- | --- | --- | --- |
| Plant | Height in Full Bloom | Average Cost | Benefits |
| Fuzzy Deutzia | 6-10 feet | About $18 | Attracts bees and butterflies, fragrant blossoms |
| Witch Hazel | 12-15 feet | About $25 | Bright yellow color, adds color in winter months |
| Weeping Willow | 30-40 feet | About $85 | Fast-growing, Willow Bark Tea relieves pain |
| Rhododendron | 3-20 feet | About $33 | Attracts bees, comes in a variety of colors |
| Pin Oak | 60-70 feet | About $32-70 | Easy for beginner gardeners, dense foliage |
| Mock Orange | Up to 10 feet | About $13-48 | Flowers shed a citrusy fragrance, several varieties |
| Beauty Bush | 6-10 feet | About $3 for seeds | Low maintenance, beautiful clusters of tiny flowers |
| Incrediball Blush Hydrangea | About 5 feet | About $52 | Constant bloom in spring and summer, very large flowers |
| California sweetshrub | 6-12 feet | About $3-13 | Low maintenance, smells like sweet red wine |
All of these options come with their own pros and cons, but each and everyone will give you at least enough shade to sit in the grass and enjoy an otherwise roasting summer day.
Considerations When Relying on Trees for Shade
Trees provide great shelter from the hot sun, but they also have some downsides. Do not let these discourage you from planting trees in your yard, but do keep them in mind, so you know the full picture before you decide to rely on trees to keep your backyard shady and cool on hot summer days.
Some require lots of maintenance
You need lots of space
They can be expensive
Trees take years (or even decades) to grow if you start with saplings
Luckily, as long as you keep in mind how much room you have in your backyard and plan around any power lines or obstructions in the air, you can get a lot of use out of trees. Not only do trees offer huge canopies and great shade, but you are doing the environment a favor with each tree you plant.
Trees provide oxygen, and they absorb carbon dioxide from the air, which helps with air pollution. They also provide shelter for many critters like birds and squirrels. If you are an animal lover, this should come as a great advantage.
Open an Umbrella (Or a Half Umbrella!)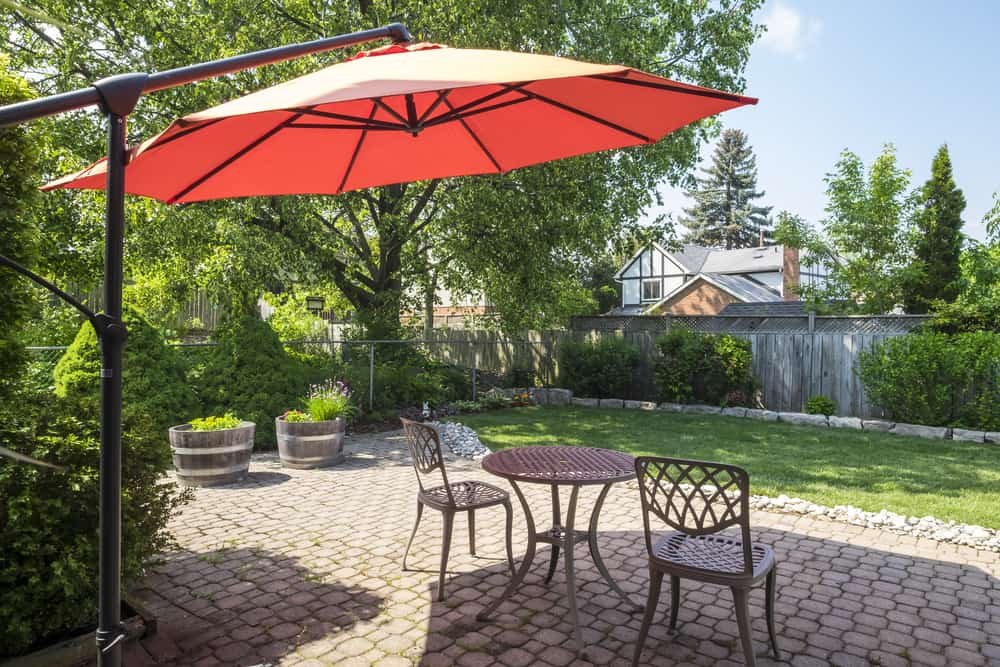 Patio umbrellas are excellent tools that allow you to find respite from the hot summer sun. These umbrellas come in all shapes and sizes and have the added benefit of customizable styles, patterns, and colors.
Umbrellas now come in half sizes as well, perfect for apartment balconies or smaller outdoor areas. Although half umbrellas only provide half the shade of full-size umbrellas, they can fit in tighter spaces. Even the littlest yard can get some nice, cool shade.
Invest in a Gazebo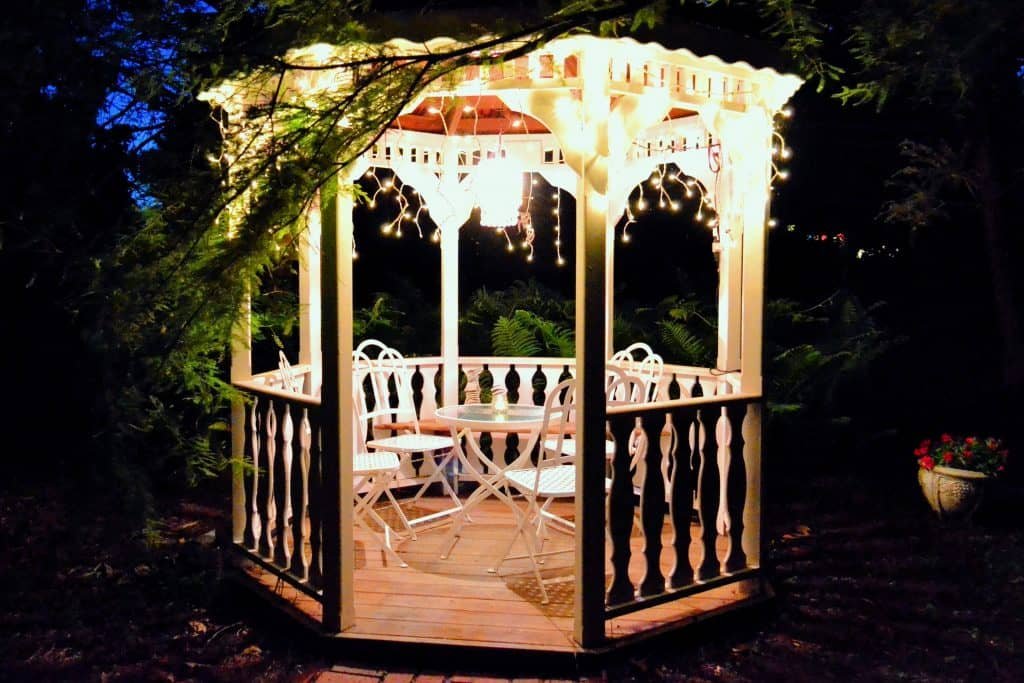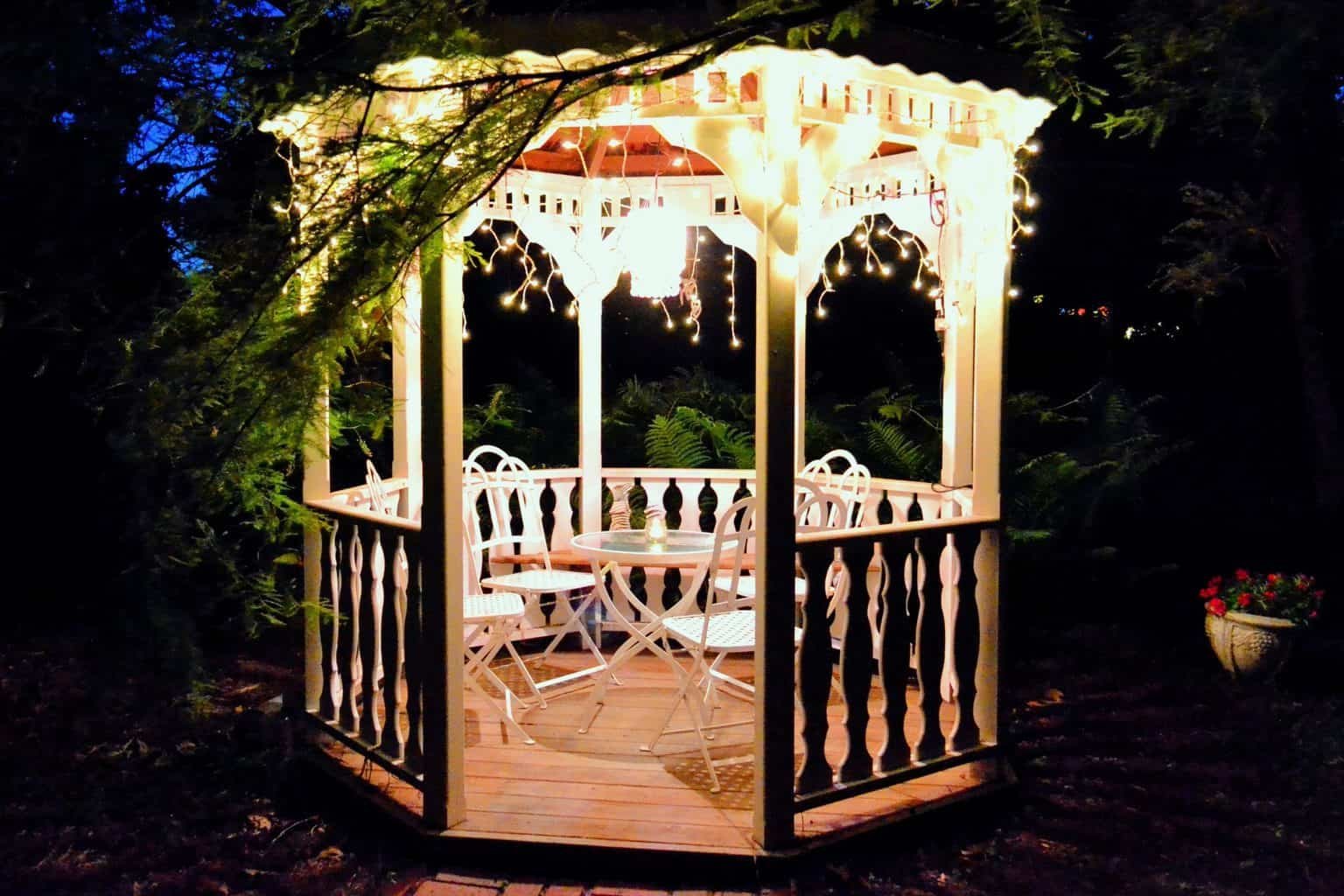 Another way to add shade to your backyard oasis is to purchase or build a gazebo. Gazebos are outdoor structures often built-in octagonal, circular, or hexagonal shapes that are used to beautify a yard or garden.
Using a gazebo as a covered shelter in your yard is a classic way to gain some shade and, when done correctly, can add a lot more. While they are expensive, they are permanent structures that offer a lot to a person's backyard.
Gazebos always feel romantic and can offer added privacy when combined with all-weather curtains or drapes. They can also be used to entertain guests for a simple afternoon tea or as an ideal spot for enjoying the surrounding views.
These beautiful garden structures are also favorites for winemakers as the latticework provides an ideal spot to weave grapevines or strawberry plants. If you have the space and the money, a gazebo will quickly become your favorite relaxation spot and the treasure of your estate.
Canopy Gazebo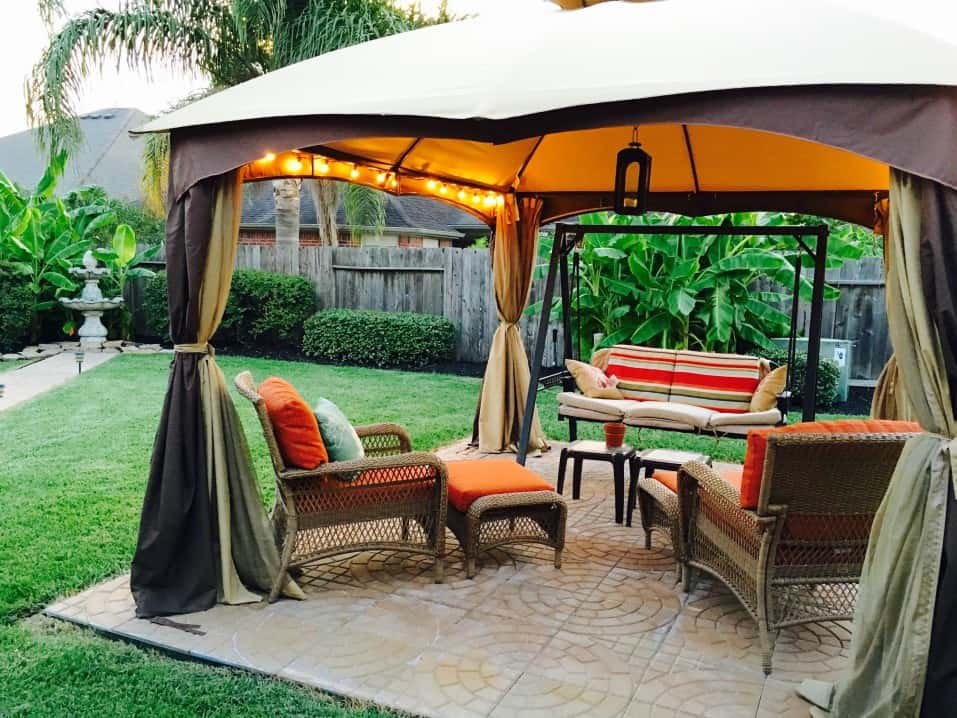 Canopy gazebos provide all the benefits of owning a gazebo at a fraction of the cost. Canopies are primarily fabric with a metal frame, so you are able to construct them when needed and then take them down once the party or outdoor activity is over. They are perfect for homeowners that live in areas that experience four seasons or long winters.
This type of gazebo is much less expensive but does not last as long as a permanent structure. Ultraviolet rays, harsh winters, and general weathering take a toll on the fabric. Unless properly taken care of, these will only last two or three years.
Put up a Pergola
A pergola adds many of the same benefits as the elegant gazebo, without the same money or space commitment. Gazebos tend to look a little silly if you do not have a grand backyard, so those with a more modest space tend to lean more toward building or purchasing a pergola that can easily attach to the back patio or porch.
Pergolas are grid-shaped rectangular structures that weave lattices of wooden cross beams and planks. These frames usually run around $260 or more, making them far more affordable than your average gazebo. Pergolas are easy to build for even the most novice of craftsmen.
While both add value to your home, pergolas tend to offer less shade and protection from the elements, while gazebos have the option to add fancy commodities like electricity and insect screens. You can get creative with your pergola to make it shadier, though, by adding fabric or shade to decrease temperate and increase style.
Many people use their pergolas for outdoor entertaining. You can add shade and flair to your pergola at once by draping some of the following items across its top beams:
Foliage
Reeds
Bamboo
Lattice
Cloth
Curtains
Install an Awning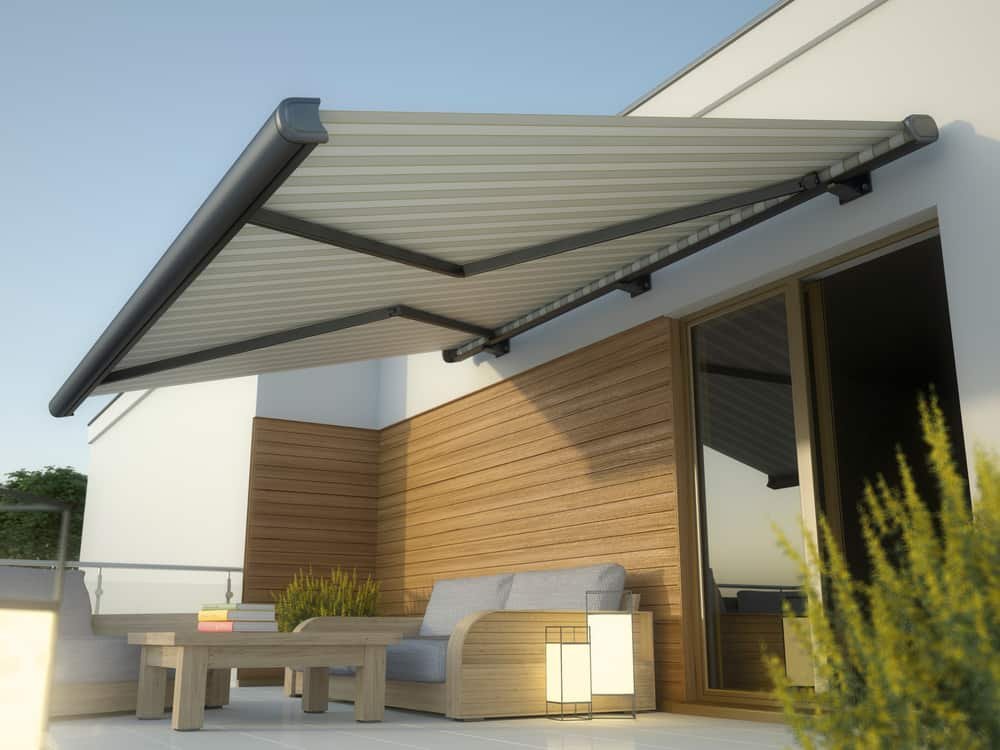 Awnings, or exterior building overhangs, are not all created equally. There are multiple styles, sizes, and factors that can make owning an awning more convenient or more complicated.
Retractable awnings can provide shade that is tailored to your specific needs without marrying you to one look for your home. Metal awnings are less expensive, but once installed, they are quite the long-term commitment.
| | |
| --- | --- |
| Retractable Awning | Metal Awning |
| Can be motorized or manual, potential to break down | Much more durable and simple, less likely to break down |
| Easy to extend to provide shade, difficult to retract close to the house after | Once installed, awning does not move |
| Run about $2000 after installation | Run about $800 after installation |
| Come in all sorts of materials, styles, and sizes | Comes in different sizes and styles |
| Customizable shade | Consistent shade |
Awnings can be excellent additions to the appearance of your home and always provide your backyard with the benefit of a little cool shade