Having recreational bonfires is an inexpensive and enjoyable way to spend an evening outdoors. It can, however, be a time-consuming chore to dig out a fire pit, maintain it, and manage the fire within it. Portable fire pits may be a better fit for your lifestyle.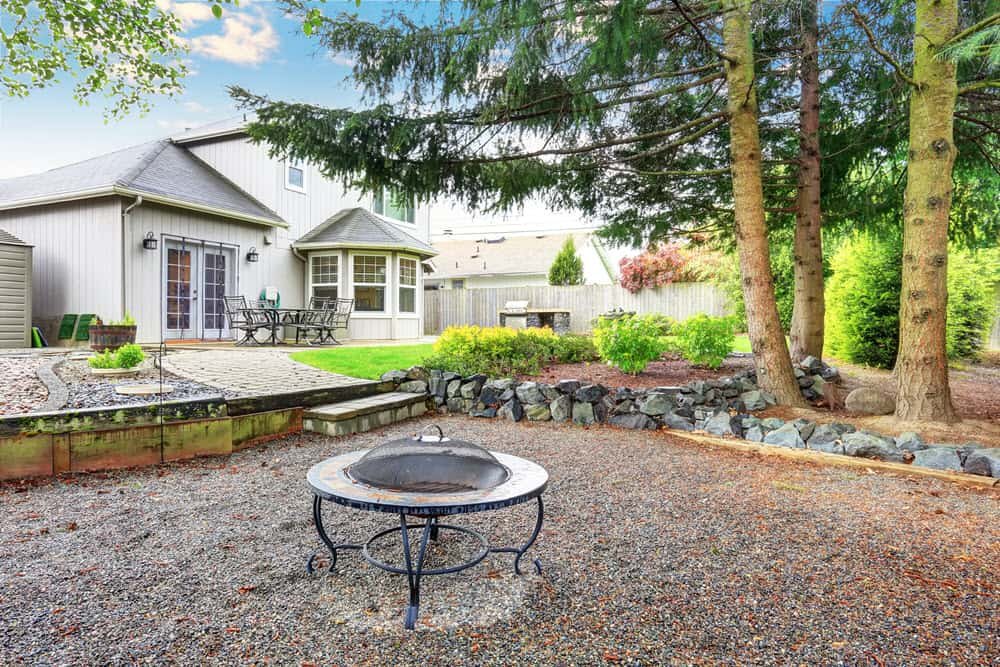 Portable fire pits solve several problems you normally have with a built-in fire pit. Portable fire pits are easier to clean, carry, and manage.
These fire pits come in many different designs. Some are more suited for camping, grilling, or recreational backyard use. When choosing a portable fire pit, you will want to identify how you will be using it the most and how important different features are to you.
This article will be your go to guide on how portable fire pits work and some of the different portable fire pits you can choose from. By the time you are done reading this guide; you will be confident about which kind of fire pit is best for you.
How Portable Fire Pits Work
Portable fire pits are fire pits you assemble and place anywhere your heart desires. When spending effort digging out a massive hole in your yard isn't reasonable a portable fire pit is the way to go.
These fire pits take the hassle out of creating a warm fiery ambiance wherever you go. These types of fire pits make the most sense considering a good portion of the year no one will be using it and it can be stored safely in your backyard in the meantime.
Portable fire pits are usually lightweight and straightforward to set up. Some are built out of heavier metal or require a bit of effort to get started. Overall, when you compare all the materials it takes to make a built-in fire pit, a portable fire pit is the better option for most people.
Gas or wood?
Most portable fire pits require dry wood and kindling to get started. Wood fire pits are a favorite among recreational bonfire enthusiasts. People favor wood over propane for many reasons including the natural ambiance wood fires creates.
To use a wood fire pit you simply throw on firewood and light it. It's safe, easy to figure out, and can warm up your backyard on chilly evenings.
Some portable fire pits require propane tanks which are much heavier than lugging around firewood. Some other models of portable propane fueled fire pits can be more lightweight for camping and hiking, but also much smaller overall.
To use a propane-fueled portable fire pit you need a propane tank. The propane tank is connected via a gas line to a burner, which is a metal tube with holes that release propane gas at regular intervals. There's a fuel valve that controls the flow of propane, an air mixer that mixes the propane with air, and an ignition switch to control lighting the pit.
Propane is smokeless, you won't need to keep shifting your position when the wind changes. Your neighbors will appreciate the lack of smoke and you can enjoy bonfires whenever you want.
To choose between these two fuel sources here are some of the main points to consider when deciding:
Wood is cheaper and more readily available than propane.
Wood is safer than propane.
Wood produces more heat.
Wood burning fire pits make for better tasting food.
Propane fire pits don't require as much mantinence.
You can cook on propane fire pits without building a fire.
Propane fire pits are easier to clean.
Propane fire pits hold their value longer.
Perfect for the Backyard
Sunnydaze Cosmic Outdoor Fire Pit – 42 Inch Large Bonfire Wood Burning Patio & Backyard Firepit for Outside with Round Spark Screen, Fireplace Poker, and Metal Grate, Celestial Design
The Sunnydaze Cosmic Outdoor Fire Pit is a large circular metal pit. It features a celestial design that looks nice and unassuming in the backyard.
The Sunnydaze cosmic pit constructed out of durable steel and enamel for outdoor use. A steel mesh backs the celestial cutouts around the bottom, and it comes with a fire screen to secure embers and ensure safety.
This pit is perfect for bonfires in the backyard with friends and family. You can also use this fire pit for grilling. It's easy set-up, sleek design, and the fact it requires little fire management makes it ideal for backyard fun.
The set-up:
Attach the 3 legs with screws to the bottom of the fire pit.
Attach the outer rim to the top of the pit using screws.
Solo Stove Bonfire Fire Pit – Large 19.5 Inch Stainless Steel Outdoor Near Smokeless Firepit | Portable Backyard Natural Wood Burning Firebowl | No Gas or Propane Required
You can use the Solo Stove on camping trips or in your backyard for a perfected bonfire experience. The Solo Stove is designed to burn slow and result in little smoke or ash.The Bonfire gets its power from wood resulting in a secondary burn that creates a flame on top of your fire as well as under it.
The Solo Stove Bonfire is made of sturdy and durable stainless steel. It is fourteen inches tall, nineteen in a half inches wide, and weigh twenty pounds. The Bonfire is rust- resistant, but not rust proof. After burning you can expect discoloration on the exterior of the stove.
Solo Stove Bonfire, unique patent pending design, allows airflow efficiency along with a minimalist design. It sold over $1.1M on Kickstarter and continues to sell to others in need of a Bonfire that is sure to impress.
How the Bonfire Works:
1. Airflow.
Cool air comes in the bottom vents and enters between the two layers of stainless steel to feed the fire. Having airflow coming in through the bottom vents allows the fire to always have plenty of oxygen.
2. Ash Pan.
The ash pan is raised to keep the embers and coals from clogging the airflow and spilling out of the stove.
3. Base Plate
The base plate allows for a continuous supply of air. The air reaches the fire while allowing the spent ash to fall into the pan below. Since more oxygen can reach the firewood it is burned more efficiently than traditional fire pits.
4. Secondary Burn
The air that enters the double wall warms up and is pushed out over the fire through the upper vents. This creates a second burn that burns off small particles of wood that would have otherwise become smoke. The upper vents create a flame pattern that displays beautifully out of the top of the stove.
Set up and Storage:
Setup is as simple as flipping the ring on top. When storing your Bonfire after you dump any remaining ash keep it in a dry location preferably in your garage. Dew can rust the Solo Stove if stored under an awning or carport.
Fuel Source:
Any firewood will burn but for the best efficiency we recommend dry hard woods. Hardwoods such as birch, maple, hickory and oak will burn longer than softwoods.
How to Use Your Bonfire:
Temporarily Remove the nested flame ring.
Use logs and kindling that easily fit into the Bonfire. Make the fire as even as possible.
Light the fire.
Place the flame ring on top of the Bonfire with the angled edge facing upward.
Add logs as needed or let bonfire burn out on it's own.
Once your fire burns out, turn it over emptying it of any remaining ash.
Place the Bonfire back into the carrying case and store it in your garage.
Heininger 5995 58,000 BTU Portable Propane Outdoor Fire Pit
The DestinationGear Portable Fire Pit is the easiest gas fire pit you can find. This portable fire pit comes with the aesthetic of wood fire pits but Doesn't require the patients and Endless amounts of firewood.
The DestinationGear Pit includes a 10-foot hose to keep your propane tank at a safe distance and decorative lava rocks that are durable and give your pit an appealing look.
Set up:
Set up for this propane fire pit is a bit more difficult than wood fire pits. You'll also want to be quite comfortable with a propane tank before you light your grill.
Step 1- Enclosed are four bags of rocks one factory-installed 10 in propane rated hose with attached regulator and 1 propane tank stabilizer ring.
Step 2- Remove plastic bags containing the lava rocks and propane stabilizer ring.
Step 3- Open the two bags containing mid-sized rocks labeled conveniently for you M and arrange them in the burner area
Step 4-Open the single bag containing larger sized rocks labeled L and arrange those on top of the medium sized rocks (M)
Step 5-There is a bag labeled "Spare Rocks" you can use as extras in you prefer or save as replacements.
Perfect for Grilling
BioLite FirePit Outdoor Smokeless Wood & Charcoal Burning FirePit and Grill
Biolite makes a fire pit that fires up rapidly at the press of a button. Biolite portable fire pit runs on electricity using a four different fan speed to control the intensity of your fire. All the features of this pit can be controlled Via the Biolite Energy App.
The most impressive feature of this pit is the 10,400 mAh rechargeable battery power pack that gives the Biolite a twenty-four-hour burn time. You can also purchase a solar-powered rechargeable carry bag separately.
The Biolite offers a 360-degree floating fire view. The FirePit's X-Ray Mesh lets you see exactly what is going on inside the pit.
You can burn charcoal or wood in the Biolite. It's a very versatile pit that can be used anywhere for grilling or just as an outdoor pit.
Assembly
The Biolite is shipped pre-assembled. It includes a bottom rack, a sliding top rack, two handles, and the power pack. It only takes four simple steps to get you Biolite fire pit fire ready.
The Biolite has four foldable legs. You'll snap each on of these into place, so your fire pit is standing up.
You'll first want to attach your power pack which snaps into the side of the Biolite. The power pack has corresponding notches to the Biolite. You'll need to make sure the notches line up and the power back snaps into place without much resistance.
Once you have the power pack connected to you Biolite fire pit you'll screw the two handles into the sides of your fire pit.
The pit comes with a bottom rack with handles and a top rack that slides across the top of the pit for grilling food. You'll place the bottom rack into the fire pit's chamber and place the top rack on it's opening.
Once your Biolite is fire ready, you can place your fire pit where ever you want. Place either wood or charcoal into the pit. You can choose to use your top rack depending on whether you are grilling or not. The Biolite is perfect for grilling and late night bonfires, with the added bonus of being lightweight enough for camping.
Perfect for Camping
UCO Flatpack Portable Stainless Steel Grill and Fire Pit
The Flatpack is constructed of stainless steel construction which provides rust and corrosion resistance. Even though made to be compact and slim the fire pit is also made to be durable and easy to maintain.
The UCO Flatpack is designed to leave little trace of burning activity. It's designed to allow airflow for a quick and hotter fire. You can use charcoal or wood in this pit.
After use simply soak in warm soapy water. Wipe off excess using a cloth and avoid the hinges. It will still discolor like most metal fire pits.
The regular size Flatpack Fire Pit has a 13 x 10-inch grilling area for cooking up to 6 servings.
Rootless Large Portable Outdoor FirePit: Collapsing Steel Mesh Fireplace – Perfect for Camping, Backyard, and Garden – Carrying Bag Included
This collapsing steel metal mesh fireplace is exceptionally lightweight. It is probably the most lightweight, portable fire pit available. It's relatively easy to set up and use. You can easily take it anywhere for a perfect fire.
Step by Step Setup
1. You'll open up your portable fire pit and take all the parts out of the carrying bag. You should now have the stand which is metal and has several legs that stick out in different directions as a base and the metal mesh net that goes over it.
2. Place the stand on the ground. Make sure the area you plan to set it up at is level, and the stand is right-side up. Lightly lay the mesh net over to see how it will sit into the stand, make sure it is right up as well.
3. You'll notice in the metal mesh net there are little eyelets in each corner. These eyelets will connect to four of the legs sticking out of the base. Connect each one of the eyelets to the base legs of the stand.
That is pretty much it as far as set up goes. The portable design makes this item very useful for camping because not only is it lightweight, but it is also is easy to set up.
The next thing to do is placing your kindling onto the net and lighting it. Once the fire gets going, you can start piling on larger pieces of wood.
Another great feature of this portable fire pit is the fact that it allows for airflow underneath. The airflow beneath makes for a fast catching and continuous burning.
You'll need to place the pieces of wood closer together than you would a regular fire since the ground is not insulating it.
Since it gets more air beneath it, it disperses the heat quite evenly. You aren't just getting all the heat from the flames in the face it also keeps your legs warm and sides.
After enjoying the warm fire, you can dump the coals off the top of the mesh net. The ashes won't leave the mesh net incredibly burned or messy. It also cools fast, and once it does, you can wipe off any leftover residue. You can't ask for a more discreet and easy to clean portable fire pit.
The Best Wood to Burn
Choosing the right type of firewood is important because you want to choose one that is optimized to burn hotter and more efficiently. You don't want firewood that keeps going out or that smokes up the entire neighborhood or campsite. Some firewoods also effect the taste of the food you grill over them.
With so many questions it's hard to decide what type of firewood you need. So, what firewood is the best for your portable fire pit? Here are the most popular woods to use when grilling:
Oak produces significant heat while also burning slow and steady. It also provides great flavor to large cuts of meat.
Hickory leaves a signature flavor in any food item that is grilled using it. Hickory burns very hot and is pretty easy to store since it doesn't retain much moisture.
Applewood has a sweet fruity flavor. It's an ideal wood to use when grilling chicken, turkey or fish.
Cherry wood is mildly fruity flavor. It works well with all meats and vegetables alike. This is a safe option to try if you aren't sure whether you will enjoy a fruity wood flavor
Maple wood has a mild sweet flavor. Maple wood is best for veggies but is also good for poultry and small game birds.
Mesquite wood is a favorite among most people. It creates a smoky flavor that works well with meats, like beef or lamb.
Fire Pit Safety
When using a portable fire pit you need to follow the same guidelines you'd follow when using a built in fire pit or a full size grill.
Many portable fire pits come with built in safety features that you should utilize but since fire can be so dangerous it might be helpful to learn more. So, how can you build fires that are safe and legal?
Follow your local news and keep an eye out for dangerous weather conditions or fire bans.
Abide by campground campfire guidelines
Keep a hose or bucket of water by you in case of sparks catching.
Watch out for children and animals that may run into or knock over fire pits and consider getting a fire pit ring
Keep your fire pit at least 25 feet from any homes, vehicles, decks, or sheds.
Use clean dry wood to avoid excessive smoke.
Benefits of a Portable Fire Pit
There are many benefits to purchasing a portable fire pit. Whether you need a fire pit to grill or just a beautiful bonfire, a portable fire pit will suit your needs and offer you features you didn't even know existed.
There are a lot of options when it comes to portable fire pits. You can choose between a gas fueled or Wood Fueled fire pit. There is even one electric fan powered fire pit that allow you to control the intensity of your fire via smartphone app.
The pros to using a portable fire pit are:
Many models to choose from
Can allow you to cook a meal from anywhere
Less hassle
Easy to transport
The cons to using a portable fire pit are:
May not cook enough food fast enough
May not throw off enough heat on chilly nights
You will also have the ability to pack up the lighter weight models and carry them to your favorite campsite or place a gas fire pit in your backyard as a temporary finishing touch. Regardless of where you want to go there is a portable fire pit that is made to go there. Use this guide to find yours today but remember to be safe!