Patios certainly see much wear and tear from car oils, human traffic, moss, and other natural buildups. Unfortunately, as opposed to a blacktop, concrete patios show all wear and tear very clearly on the surface, resulting in an extremely dirty, stained, and unappealing patio. Fortunately, there are countless products and DIY remedies to help you easily clean a concrete patio.
Read on to learn how to clean your concrete patio using the best cleaning agents and easiest method. The cleaning agents mentioned here range from inexpensive DIY products you most likely have at home to pricier brand cleaning products. Luckily, this process is simple and only requires the most basic of tools.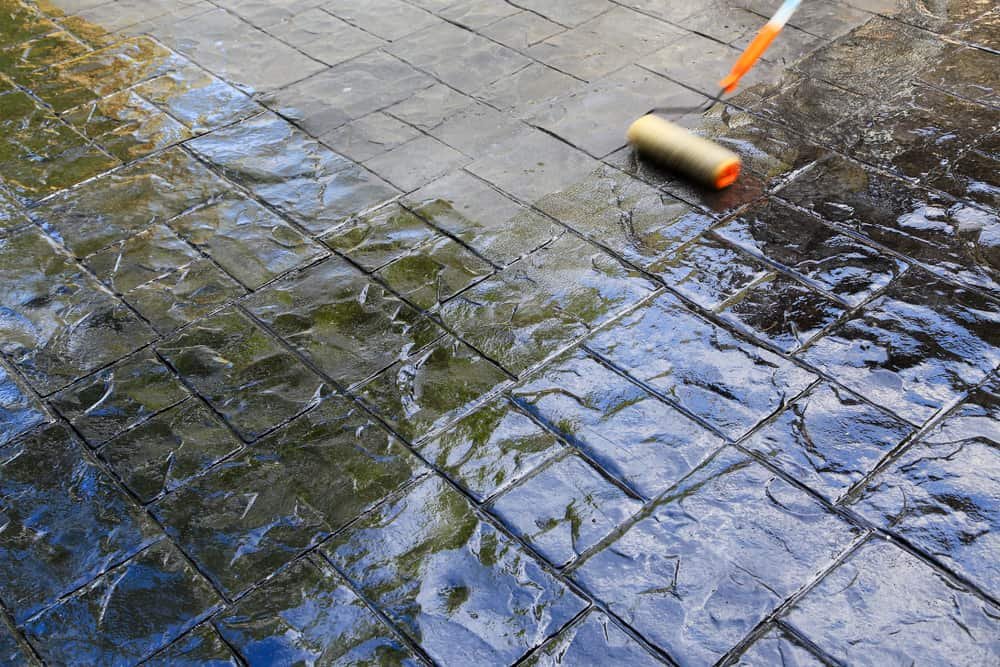 Get Your Cleaning Equipment Ready
Concrete is an exceptionally porous material. So, when you have a concrete patio, it is much easier for the surface to soak up car oils, gasoline, organic matter, and other elements that could easily dirty and stain the surface. To combat these tough stains, we're going to need some tough tools.
Stiff-bristled Scrub Brush
The first piece of equipment you're going to need is a quality scrubbing brush. Unless you plan to rent a high-powered pressure washer, you're going to need to put some elbow grease into scrubbing out those tough concrete stains.
For this task, you'll want a long-handled, stiff-bristled scrub brush to help you really dig into all the pores and crevices in your patio.
If you're looking for a quality but affordable scrub brush, try MEIBEI's 54-inch brush for a quick and easy clean.
Garden Hose and Nozzle
The second piece(s) of equipment you should have for this task are a typical garden hose and a hose nozzle. You're going to need a lot of water to cleanse your patio throughout this cleaning process, and the easiest way to do this is with a simple garden hose.
However, the process will go much faster if you supplement this hose with a nozzle.
If you want a versatile nozzle, choose a patterned garden hose nozzle that allows you to switch between various modes for different types of water flow. These patterns can be as light as mist mode or as powerful as the jet mode. For this project, we recommend Melnor's metal, 7-patterned nozzle.
Alternatively, if you want a high-powered nozzle that will blast all that dirt and grime out of your patio as quickly as possible, you'll want a high-pressure hose nozzle.
These nozzles can fit onto any standard hose and are exceptional for heavy-duty tasks where you need a truly powerful stream. Our top recommended choice for this product is MAXFLO's brass nozzle.
Bucket or Pump Sprayer
The last piece of equipment you'll want for this task is a bucket or pump sprayer. These basic tools can help tremendously with applying or washing away your cleaning agent.
Again, since concrete is a porous material, you'll need large quantities of your cleaning agent to soak into your patio for an effective clean. The best way to apply this is either mixing it in a basic bucket you might use to wash your car or a nifty pump sprayer.
Choose Your Cleaning Agent
Even more important than your cleaning equipment is your cleaning agent. There is a wide range of cleaning agents you could use on a concrete patio. Some can be acquired from esteemed companies, such as Rust-Oleum, or you can use DIY concoctions you can create from simple products found in any household.
Listed below are our top recommendations for a cleaning agent for this task. Don't worry; this guide will still apply to any solution you choose from this list, which means you can invest in some of the pricier but potentially more effective products, or you could opt for an inexpensive DIY solution.
Best Cleaning Agents to Clean a Concrete Patio
DIY white vinegar blend (mix a non-toxic, environmentally friendly white vinegar with equal parts water)
DIY baking soda blend (mix ½ baking soda and 1/8 cup liquid dish detergent with 1 gallon of water)
Basic liquid laundry detergent (mix one detergent cup with one gallon of water)
Clorox Toilet Bowl Cleaner with bleach (best for spot stains, not the entire patio)
Clear Your Patio of Any Objects or Debris
Before you start scrubbing away at the patio, you'll want to remove any unnecessary obstacles or debris from the surface. You could lightly sweep the patio using your scrub brush, or you could use a leaf blower if you have this equipment on hand to blow away any dirt, leaves, or other natural debris.
If you have any furniture, equipment, or toys on the patio, it is best to remove them now, so they don't inhibit the cleaning process.
Protect Yourself and Your Yard
It is likely that your patio is bordered by your yard. If this is the case, you'll want to take precautions to protect your yard from excess flooding and chemical damage.
Although some of the cleaning agent list options are environmentally friendly, most consist of bleach or other harsh chemicals that shouldn't seep into the soil of your lawn.
You can create a barrier between your lawn and your patio using towels and blankets, or you can lay down some plastic sheeting. Ultimately, we want the run-off water from this cleaning process to go down a gutter, not in the lawn.
In addition to protecting your lawn, we recommend taking precautions to protect yourself. Again, some of the mentioned cleaning agents consist of harsh and potentially hazardous chemicals.
Wear protective goggles to cover your eyes while you clean the patio and cover your hands with gloves. Not only will the gloves protect your hands from harsh chemicals, but they can also protect your skin from blistering during the scrubbing process.
Mix and Apply Your Cleaning Agent
Prepare your cleaning agent according to the measurements we have provided. If you have opted for the Rust-Oleum Cleaner and Degreaser, mix this according to the directions on the packaging.
If your goal is to remove spot stains with the Clorox toilet bowl cleaner, coat the stain directly in the cleaner for this step. Alternatively, you can also opt to apply the laundry detergent directly rather than diluting it in water if you prefer.
Once your cleaning agent is ready, fill it into your bucket or pump sprayer and heavily dowse your concrete patio in the mixture. Be realistic with your application. It is unlikely you will scrub a giant patio in one session, so be sure to apply in sections as you clean.
Since concrete is such a porous material, this might take significant amounts of your cleaning agent, so keep this in mind when you're choosing your cleaning agent, particularly if you need the most cost-effective choice.
Be sure that the concrete has completely absorbed the cleaning agent, and there is still a significant layer of liquid laying on top of the surface.
Lightly Scrub the Cleaning Agent Into the Concrete Then Wait
You'll want to ensure the cleaning agent is properly dispersed throughout the patio section you are cleaning and has seeped deeply into the material. The best way to do this is to lightly spread and scrub the cleaning agent into the concrete using your stiff-bristled brush.
This isn't the time for you to try to scrub out any stains or mildew. Make sure you're just giving the surface a light scrub, then wait 15-30 minutes for the cleaning agent to start working on the concrete.
While you're waiting, keep an eye on the section that is soaking. You don't want the concrete to dry completely while the cleaning agent is working its magic. So, if you notice the patio is starting to dry, reapply and lightly scrub a little more cleaning agent into the concrete until the designated waiting time is over.
Scrub Like You Mean It
The time has come. This is the moment where you need to give that concrete patio all you've got to remove those pesky stains and that nasty mildew. Using your stiff-bristled brush, give the soaked patio a quality scrub.
Depending on the cleaning agent you chose, you might notice some will require a little more elbow grease than others. Typically, the Rust-Oleum Cleaner and Degreaser doesn't require as much scrubbing and repetitions of this process as the laundry detergent option. However, since laundry detergent is easily affordable and found in almost any home, it is entirely realistic to choose this option over a $20 cleaner.
Giving the patio a quality scrub here is important, but don't wear yourself out. Scrub the designated section for about 5 minutes, then move on.
Rinse the Cleaning Agent from the Patio
After scrubbing the patio, rinse it completely using your garden hose and nozzle attachment of choice. Again, remember to try to get as much of the chemically infused liquid down a drain or gutter system and away from your lawn or gardens.
If you notice a section that is still covered in mildew or a heavy stain on the concrete, using a high-pressure setting on your nozzle here might help loosen this material further or completely clear it away.
Let it Dry and Assess the Results
Now that everything has been soaked, scrubbed, and rinsed, it's time to reap the benefits and see the results of your hard work. Although you might be able to tell that some sections of your patio are cleaner already, you won't be able to fully realize the difference your efforts have made until the concrete has dried completely.
On a hot sunny day, your patio will probably be dry within 15-30 minutes. So, until then, sit back, relax, and enjoy the show of concrete drying.
Repeat the Process Where Necessary
Once the concrete is dry, you'll be able to truly see how clean your patio is now. With any luck, there will be a significant improvement, and you can either store all your materials away or move on to the next section.
However, some tough sections of your patio might require multiple applications of the cleaning agent and significant scrubbing. If this is the case, repeat this process necessary on your patio to remove as much mildew or staining as possible.
Ultimately, we recommend you don't repeat this process more than three times with these cleaning agents. If the section isn't up to par after a third attempt of the process, you'll likely either need to rent a high-powered pressure washer or face the fact that the discoloration is just a permanent part of your patio now.  We also have articles about how you can clean patio pavers as well as how to clean brick patio, so be sure to check those out.