Looking for an easy way to set up a garden in your backyard? If done right, you'll have delicious fruits and veggies ready in two to three months.
In this article, you'll learn how to build a raised garden bed and we'll walk you through step by step so you can get it up and running quickly.
For this project, we use 4 – 1″ X 6″ 12 foot long Cypress boards. You can use anything like Redwood, Cypress or cedar for yours depending on the area that you are in and what types of woods are available in your area.
You definitely want to stay away from any of the pressure treated simply because that can leach into your garden.
The first step in the process is you want to clear out an area where you're going to put your garden.
You see we moved a lot of dirt and removed any of the weeds and everything that you see here.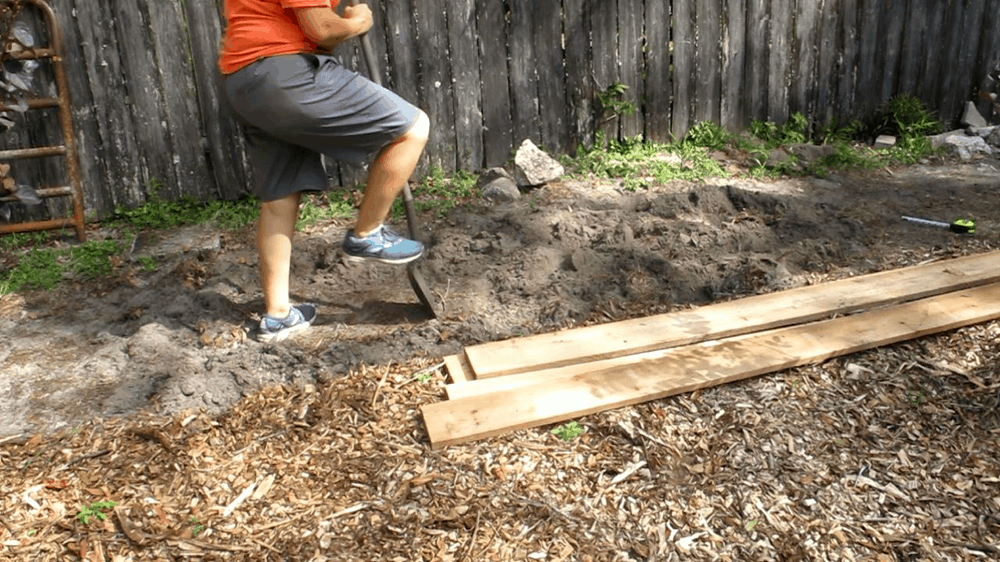 In order to connect the boards, you'll want to have square ends.
Best way to make a square cut with a circular saw is with a square tool. So just line it up, hold up.
We're just gonna take a little bit off, line it up and you hold it if you can get both sides great, but if not, does hold it tight. Now it squared up. So we're making a four by eight garden bed.
I've got 4 12 foot boards. So we're gonna have four long sides, four short sides. We'll have eight feet and four feet boards.
Rough Cut lumber also usually, if they say it's 12 feet, it's usually over than that. Here after I cut that off, we're still looking at 12 and one inches. So I'm gonna mark 12 my pencil.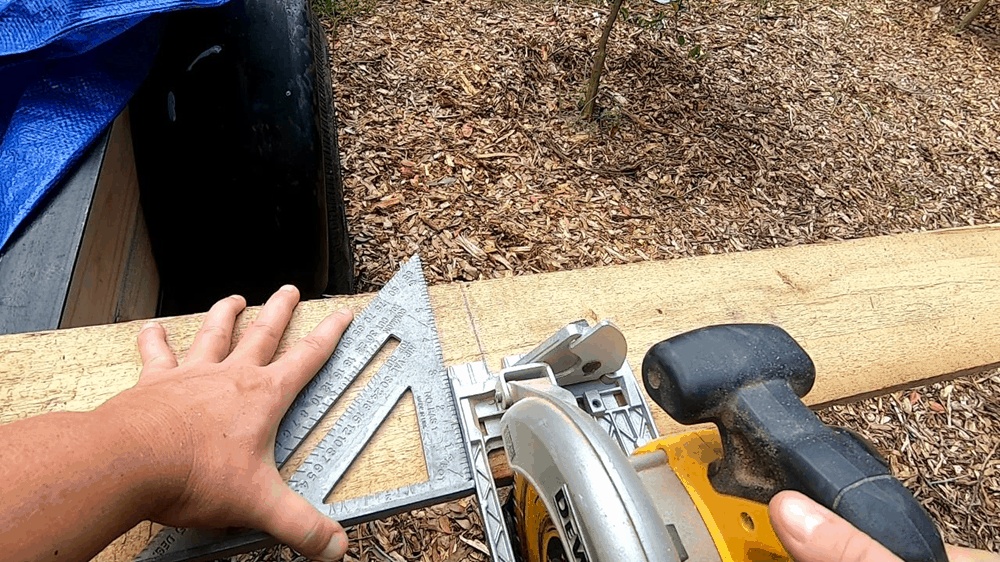 Now I'm gonna extend that line so I can kind of see it when I'm cutting it. I'm still gonna guide it with my soul, just to kind of keep a straight edge.
Now we're gonna mark the eight feet That's gonna be our cut. So if I do that, it's going to be an eighth of an inch short on my four, which is fine because I bet they'll be a little bit more than four by eight.
Cut all your boards and get them ready to put together.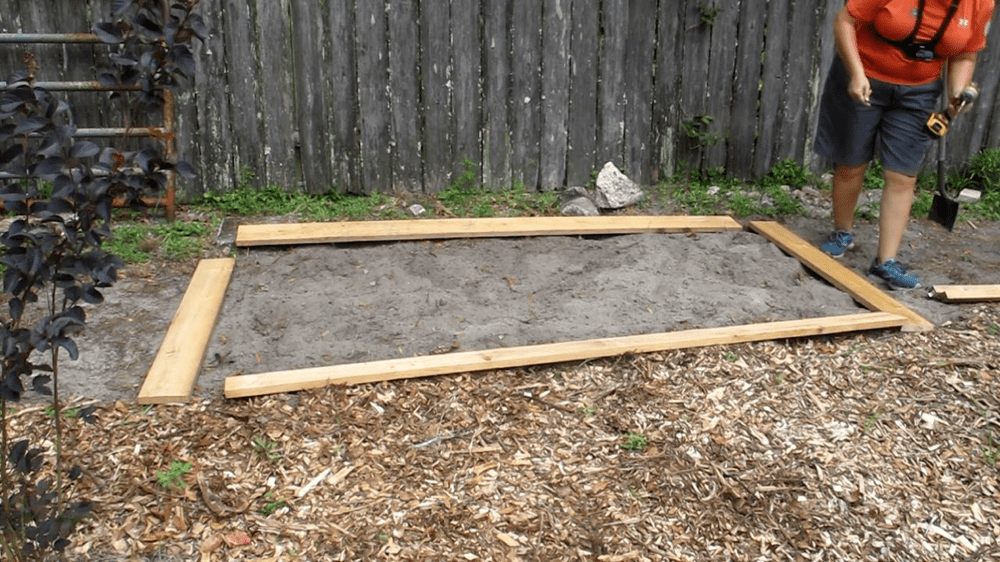 Next, we're ready to make the first box.
We're gonna use the structural screws. Because these will give extra strength. We used 5/16″, which is a little more than needed probably, but they won't come apart.
You tell my structural screws have a way bigger star bit more grip. This is for the regular screws that I have. So we're gonna put two per side And we're just going to have the short boards.
So just kind of sit it up if you can. Same with this, just trying to get it close. I had to move some dirt out of the way. Alright, so you just kind of want to get them together.
We're gonna start screw on you supposedly do not need to pre drill with these. Check both of these sides.
Alright, so we need to lift this side up. See that if I lift the level up on this side it goes up. So we're gonna move some dirt. I'm just covering up some holes, like even obviously, it doesn't really matter that much.
Next, we'll want to make sure everything is level level that's where we're gonna keep it.
You can build the box next to the first one and then we're gonna put it on top.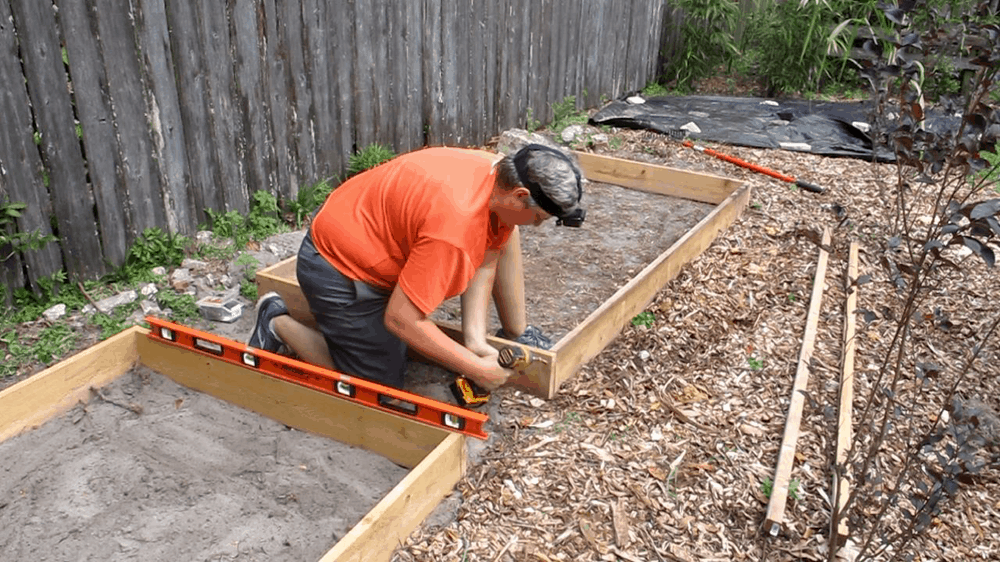 And then we're going to add six post. It's gonna keep these all together nice and flat. So when you put your post in, so we're just above just under 12 inches.
I like to put my posts probably about an inch or so below the top, and I want it kind of in there really sturdy.
After ground is fairly level, all of these will be the same. If they're not level, which I've had on slopes, you're gonna have to make your boards different lengths to make your garden bed level.
And we're just gonna cut these boards with my miter saw, sorry, circular saw when these are just two by twos I guess So these we're not going to use the small screws with the smaller bits.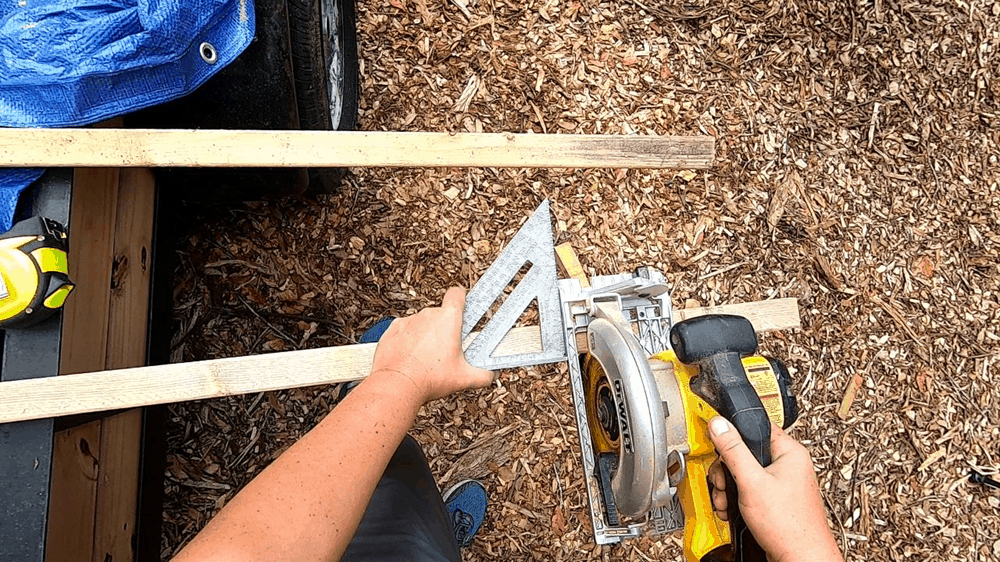 Now we're just putting two per. So these are two and a half inch deck screws.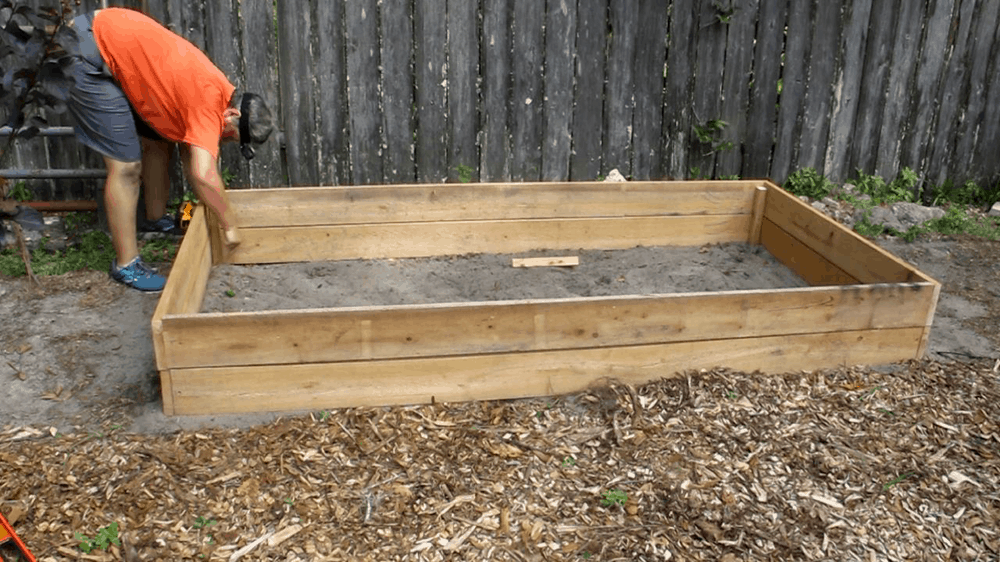 How Much Soil to Add
Okay, now that we've built everything, it's time to add the soil for planting. you first want to calculate how much soil you actually need and you can find soil calculators everywhere.
In fact, we have a link in our description below where you can go to our calculator and calculate it but simply put in your length by feet, your width by 50 And then the height by inches.
And for us we came out to needing about 1.19 cubic yards. Since it's such a large volume of dirt we went to our local lumberyard that sells garden soil. From there you can do the same just look up locally lumber yard or even topsoil.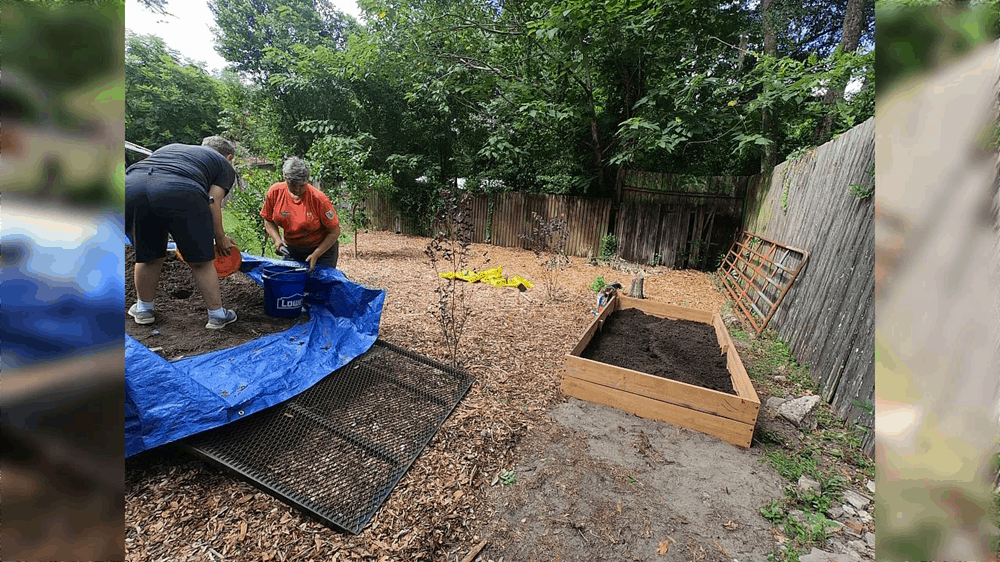 You can also get the dirt like Home Depot or Lowe's, it'll just be a little bit higher price, but they can deliver it in our be more in volume instead of little bags.
The other thing we did get is we also got three bags of black cow manure and potting soil. And then one bag of jungle growth just for our plants. And as you can see here, we're filling it up and then we realized that doing it bucket by bucket works really well.
And unfortunately you don't see me a whole lot on the side but I'm the one filling up those buckets and Gina is the one that's empty. Um, so just so you know, but you'll want to fill it up and get it up to the height that you need it and spread
Time to Add Plants
Get it out a little bit. And once you do all of that, then the next step is to actually add the plants that you want to grow for your garden.
Okay, now it's time to plant so here are all the plants that we're planting here it's the end of March.
So in Florida, we're able to plant things like zucchini squash, we are trying some potatoes and some onions to see if it's not too late. We also have several varieties of tomatoes, some cucumbers we're trying, we're trying a plant also have some oregano.
And you also see in here we have some drip irrigation. We also bought more jungle grow just because from putting it together and then actually planting six months has gone by and so we wanted to make sure that the soil is nice and nutrient rich, so we bought some more soil, depending on what kind of plants you have.
A lot of them will tell you how to plant them. But by and large, you usually have a grid style where you can do one per six inches or one per 12 inches. And some plants even allow you to do two per 12 inch grid. So you just want to plan it out.
As you see we are putting all of these together in a system to make sure that they'll look right. And then just putting them in according to the directions on the little label.
And now it's you know, in about two to three months, just how well it's doing. I've taken a couple of pictures for the last two weeks that we've had it and it's looking really good.
We've also added netting, you'll want to make sure that you put netting around it to keep any birds or any critters out of it.
For instance, our adopted backyard chicken has decided that she likes it so that was one of the reasons why we put it up sooner than later. So let us know in the comments below. What are your favorite items to grow in your backyard and thanks for watching.