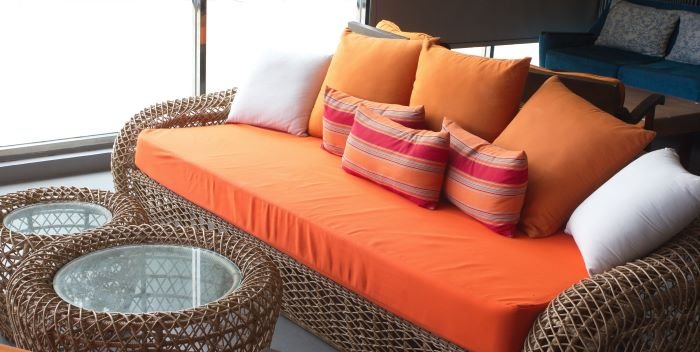 When it comes to outdoor living and design, not many brands can compare to Sunbrella, except for Outdura. Outdura and Sunbrella have very similar models and fabrics available for both indoor and outdoor use.
Choosing between the two can be difficult due to their similarities, however, an in-depth comparison between the two may help you make a better decision. It's important to understand each product's intended uses and which product may work best for you.
Whether you are interested in producing commercial products or something for your home, you may end up purchasing from either one of these quality fabric providers.
Your outdoor living space can add value to your home and home away from home. By adding personal touches and design elements to your outdoor living space you can easily make your backyard or patio area an oasis.
It can be a daunting idea to put nice furniture outdoor for relaxation if you are afraid the elements will ruin it. With materials from either Sunbrella or Outdura, you can prevent furniture damage and decay. If you are a designer, you can easily create your own cushion guard designs or hire a professional to do so with this high-quality material.
Sunbrella and Outdura fabrics can be used in marine canopies, and other protective cloth tools, such as window shade treatments, and umbrellas. The way in which you can use these materials is numerous.
Depending on how you intend to use them and what kind of material you are searching for, either Outdura or Sunbrella will work better for you.
Sunbrella
Sunbrella is a brand that offers performance fabrics. These fabrics have a variety of different applications and can be used in a variety of ways. This fabric is durable and even comes with a warranty.
Sunbrella fabrics have been known to be used as umbrellas for the beach, like canopies, as canopies for boats, as an outdoor, awning fabric, indoor cushion fabric, and much more.
Some of the fabrics offered by Sunbrella are waterproof and can protect your outdoor living space furniture by preventing mold and mildew growth. Sunbrella has great fabric that is useful for outdoor projects.
Types of Fabric
Sunbrella offers a large range of fabrics. Sunbrella's outdoor fabric is high quality and lasts for a long time. This fabric can be used for several purposes and offers total moisture protection.
The rain and sun can prevent an outdoor living space from being comfortable or even possible, depending on the area you live in. Protection from the sun and rain is important, especially in areas where precipitation or sunny days are common.
You deserve protection from the sun and dangerous UV rays. By protecting your outdoor living spaces with Sunbrella material you can also prevent rain from ruining a relaxing moment outdoors. Sunbrella outdoor fabrics repel rain and moisture.
If you use the fabric as a cushion protector then your cushions won't get wet and start to grow mold or mildew. This will also prevent the growth of bacteria and other dangerous microbes.
You can also use this fabric as an awning or umbrella for your outdoor living space in order to protect you and your furniture from the sun and rain.
Sunbrella also offers a 5-year warranty on outdoor fabrics. Sunbrella also offers 30 plus options for customization, some of which are solution-acrylic dyed fabrics.
These materials are fade-resistant and easy to clean and wipe off. Sunbrella refers to this fabric as rain. Its intended purpose is to be used outdoors as furniture protection, shade, and more.
Outdura
The Outdura fabrics are very similar to Sunbrella fabrics with slight variations. You can use Outdura fabrics in the same type of applications you can use Sunbrella fabrics in.
Outdura fabrics also offer a variety of different fabrics. They offer solid colors, patterns, and textured fabric. Outdura fabrics can be used indoors and outdoors. The Outdoor fabrics are water-resistant and fade resistant.
All fabrics offered by Outdura are solution-dyed acrylic fabrics which helps these fabrics keep their color over the years. This will help things such as sun bleaching to have little effect on these fabrics.
Outdura fabrics are perfect for outdoor living spaces and can be used to protect your outdoor furniture and cushions.
Similar to Sunbrella, Outdura also offers a 5-year warranty from the date of the original purpose. It is also just as easy to clean. So, you may be wondering which is better.
Outdura Vs Sunbrella
Both Outdura and Sunbrella offer Solution-dyed acrylic fabrics. Acrylic dyed fabrics are only produced by a few manufacturers in the world. Both of these brands source their fabrics from one or two of the very few producers of these types of fabrics available.
Both Sunbrella and Outdura are leading brands in this injury, however, it seems that Sunbrella has surpassed Outdura in popularity.
You can find Sunbrella fabrics in the store and used in different designs already made. Many of Outdura's products are kept in a North Carolina location and are available in many yardages.
Since the actual materials come from either the same or a similar source the quality is nearly identical. Once the materials are procured, each company will need to finish the fabric by weaving it together.
This is where the differences come into play. Sunbrella and Outdura have different densities. Sunbrella has reduced its density over time.
It seems that Sunbrella's density has gone down due to the numerous reports of the fabric becoming stretched over time, as compared to Outdura, which offers denser fabric.
Due to the lack of solution-dyed acrylic fabric, the quality of color and fade resistance is the same, due to each company sourcing their materials from the same manufacturers at times.
The Sunbrella and Outdura are not made in the same place, however. Some of Sunbrella's products remade in the U.S and some are imported from overseas, while Outdura is all made in the U.S. It seems that Outdura may also be less costly per yard than Sunbrella fabrics are.
Bottom Line
Sunbrella and Outdura products are undoubtedly similar. They each have different designs, but ultimately, the materials used to make these outdoor fabrics come from either the same source or similar source.
Since there are only two producers of this type of material used to make the solution-dyed fabric, each company uses either one or two of them as a source. Therefore, the quality is almost identical. The craftsmanship and price are what sets these companies apart.
When it comes to choosing between either the Sunbrella fabric or Outdura fabric, there is one clear winner. Although the competition is close.
Outdura fabrics are the better choice due to their quality, price, and origin. Sunbrella fabrics may be more popular, however, Outdura is a fearsome competitor that is coming up in the rank of outdoor living fabric providers.
So, in the case of Outdura vs Sunbrella, Outdura wins.  
We also compare Sunbrella fabric to Perennials fabric, and the brand cushionguard, so you can determine what brand is best for you. You also maybe interested in our outdoor table placemats article, that sure to bring you patio table all together.