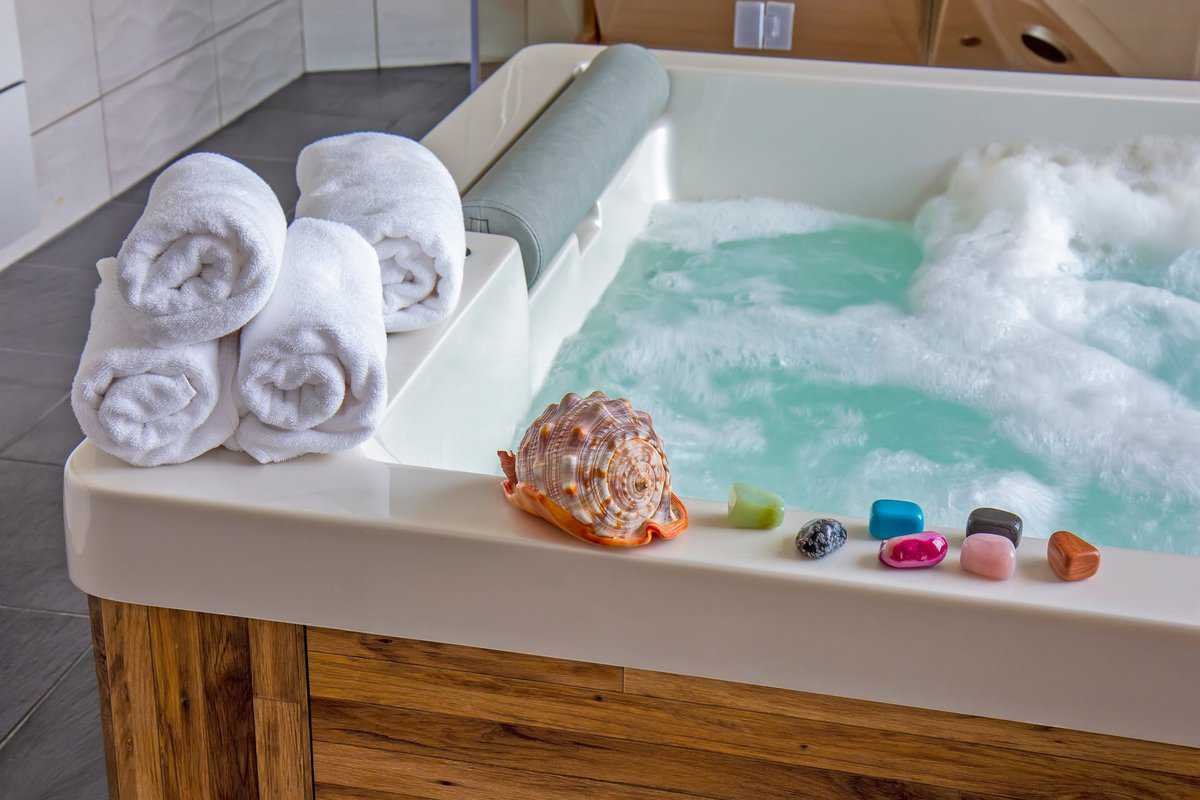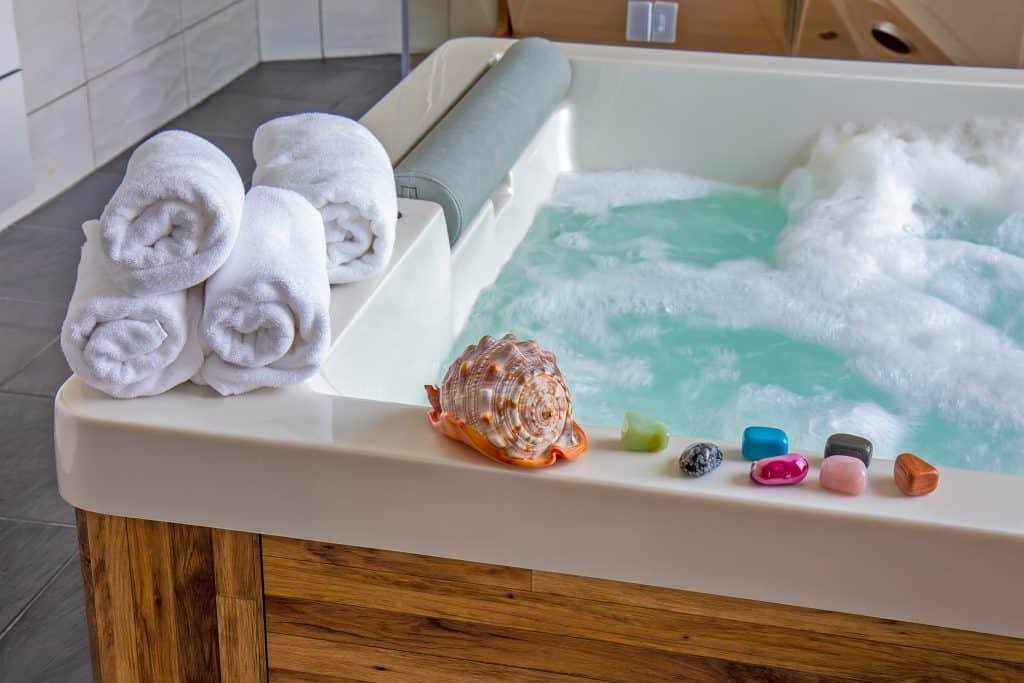 There's nothing worse than stepping out of a steamy hot tub and being instantly covered in goosebumps from the chilled air only to wrap yourself in a cold towel. Stave-off the chill by enveloping yourself in a delightfully warm towel stored in your very own outdoor towel warmer that pairs perfectly with any hot tub.
Outdoor towel warmers for hot tubs can range from mounted racks to heated baskets to luxury cabinets. Although these investments are far from cheap, they will undoubtedly ensure your soothing hot tub experience continues even after you exit the tub.
Towel warming products can range from $60-$300, so be sure to choose the perfect outdoor towel warmer that suits your needs. If you're searching for the perfect outdoor towel warmer to accompany your hot tub, read on for our top suggestions.
Generally, towel warmer baskets are suitable for 1-2 individuals, racks are best for a small group of 4-6, and cabinets will accommodate a significant number of individuals from 7-60 towel users.
Note: We have searched high and low for any "outdoor rated" towel warmer and haven't found anything specifically stating that it is outdoor rated. Most of our towel warmers are portable which you can take inside after use. The ones that aren't easily portable should only be used under a patio cover that doesn't get wet from rain.
Best Towel Warmer Baskets
Towel warmer baskets are best for heating a smaller number of towels until you're ready to use them. If one or two individuals typically use the hot tub, a basket towel warmer is the optimum choice.
These products also tend to save power. Since the towels in a towel warmer basket aren't exposed to the open air, it is easier for the product to heat and maintain the perfect temperature compared to the constantly exposed racks.
Sale
Zadro TWB Towel Warmer, Large | 20L | 12" Dia. x...
ULTRA LARGE CAPACITY: The ultra-large insulated plastic bucket design accommodates up to two 40" x 70" oversized bath towels, robes, throw blanket, PJ's and more
4 TIMER SETTINGS: Always have warm towels ready by using the built-in timer to heat your towels for 15, 30, 45 or 60 minutes before automatically shutting off
BUCKET DESIGN: No more cold spots; evenly heats the entire towel inside and out
If you're looking for a larger bucket style towel warmer that can hold 2-3 larger towels, this is the best choice for you. This is the largest choice from Zadro and it perfect for warming more than just towels.
This towel warmer basket is 12x12x21.5 for a small footprint and only 8 lbs which makes it perfect for portability. The 4 different settings allows your towels to stay warm for your desired time and the auto shut off feature saves power and ensures maximum safety.
This design also keeps your towels dry and prevents any musky odor from accumulating which happens frequently here in Florida.
While taking care of an elderly family member, we have used this towel warmer to heat up pajamas, socks and towels after showers as well as throw blankets as the weather turned cold. This product has been well worth the price for it's usefulness in our home.
Sale
Keenray Towel Warmer, Luxury Towel Warmer Bucket,...
Extra Large Capacity - Ultra large Bucket towel warmers for bathroom, accommodates up to two 40" X 70" oversized bath towels, bathrobes, blankets, PJ's and more. Dimensions: 13" (L) x 13" (W) x 19"...
Quickly Heating up - Offers rapid heat up in just 1 minute and reaches high temperature in just 6 minutes. This Luxury Bucket Towel Warmer is single button control, up to 60 minutes heating time....
Heat Evenly - This bath towel warmer will heat towels all the way through! No cold spot anymore. Enter a whole new world when you step out of the shower and turn your bathroom into a spa-like...
Similar to the Zadro, this towel warmer has an adjustable timer that allows you to program the warmer at 15-minute intervals until it automatically shuts off up to 60 minutes.
This is perfect for you to set at any point of your hot tubbing experience and allows ease of mind that the machine will shut itself off after your designated time. The product also comes with safety indicator lights and stabilizing feet for the utmost safety and stability.
As a bonus, it also has aromatherapy discs to use in the essential oil reservoir that will make you feel and smell like you're in a luxury spa.
Top Towel Warmer Racks
If your hot tub is under a covered patio or you have a covered patio nearby, you might want to install a heated towel rack. Despite being exposed to the cold air, these racks will keep any hanging towels toasty warm until you're ready to step out of the hot tub.
Additionally, the racks also ensure easy accessibility since you can snag a towel right off the rack rather than fumbling with a container handle to grab one from inside a cabinet or basket. These are perfect no matter how long you stay in your hot tub.
This curvaceous towel warmer will heat your towels to a cozy 110-122°F in just 30 minutes. Thanks to its 105-watt power, you can flip the towel warmer on as you're about to dip into the hot tub, and your towel will reach optimum temperatures far before you're ready to step out.
The lightweight, freestanding structure also allows you to take it anywhere you want without worrying about screws or cumbersome weight.
HEATGENE Towel Warmer Wall Mount Electric...
【LARGE 12-BAR CURVED DESIGN】: This oversized HEATGENE towel warmer is perfect for family use. This sleek and functional towel warmer fits any decor. Its curved design is convenient for hanging...
【TWO WAYS OF WIRING AND EASY INSTALLATION 】: This towel warmer can either be hardwired or plugged into a wall socket (standard electrical outlet at rated voltage of AC 120V/60Hz). All necessary...
【FAST HEATING& OVERHEAT PROTECTION】Multi-layer stainless steel composite structure, rapid heating, rated power 140W(2 amp), only 15 minutes, it can be heated to 110 °F, 30 minutes to reach the...
Great for hot tubs located directly adjacent to a covered patio wall, this wall-mounted towel warmer has a sleek, modern appeal thanks to its stainless-steel bars that allow even heat distribution and an easy clean. It can be plugged in or hardwired for ultimate customization.
The 10 bars allow you to heat multiple towels with ease. You can even throw a bathrobe or two on as well. The warmer's temperature reaches degrees ranging from 122-140°F with a design that is easy to install and helps eliminate potential floor obstruction.
Unbeatable Towel Warmer Cabinets
For those of you striving for a truly luxurious towel warmer that can hold twice, or even three times the towel capacity of racks and baskets, then you're going to want a towel warmer cabinet.
These products are staples of spas, massage parlors, and high-class hotels, but now you can have your own sitting elegantly next to your hot tub. Some of these products are even built will sterilizers to ensure your towels are clean and hygienic while they stay warm.
Sale
ForPro Professional Collection Premium Hot Towel...
Hot Towel Warmer: Our towel warmer heats to 158-176°F in about thirty minutes, no thermostat needed. For best results: Wet towels with warm water and wring out excess water before putting into...
Spa Towel Warmer: Holds 24 facial-sized towels (recommend ForPro 100% Cotton Washcloths).
Insulated Towel Warmer: Our towel warmers feature well insulated cabinets that stay cool even if turned on all day. Can also be used for hot packs, neck warmers and massage stones (lay on towel).
The medium-sized towel warmer is an exceptional option if you're looking for a towel warmer cabinet that holds more than six large-sized towels.
Depending on your preference, this towel warmer cabinet can either keep your towels dry and warm or moist and steamy at 160°F. The internal shelving allows a capacity of 24 average-sized towels, and the aluminum interior ensures this unit is rust-proof and long-lasting.
West Ivory Hot Towel Warmer and UV Sterilization...
Features: Unit is designed with a sealed tight door enclosure to keep towels warm.
20-60 towels at once (depending on towel size) with consistent high temperature heats up to 175 degrees F° with a removable towel rack
High quality full aluminum interior prevents external moisture from entering the heating unit allowing maximum insulation
Having a warm and comforting towel ready for you as you exit the hot tub is nice, but you also want to be sure it's hygienic, especially if you are heating face towels you prefer to keep moist.
This cabinet allows you to turn the heating unit or sterilizer unit on separately or both simultaneously. This feature is especially comforting for guests using one of the 20-60 towels stored within the cabinet.
The cabinet holds a temperature of 175°F and is made from a sleek black minimalist design that compliments any hot tub and fits easily onto any ledge or shelf. The door is built with a "safety seal" design to prevent air leakage and maintain a hygienic interior.
Also, this unit has a unique feature that functions as a safety precaution. The "triggered door system" feature will turn the cabinet off temporarily whenever the door is opened and restart when it is closed.
Final Thoughts
Basking in a hot tub can be a fantastic way to relieve stress, entertain friends, or bond with family members. Ensure this relaxing experience continues by swaddling yourself and your fellow hot tubbers in a delightfully warm towel, compliments of your outdoor towel warmer.
Whether you want to invest in an outdoor towel warmer in the form of a rack, basket, or cabinet, the products listed here are guaranteed to provide perfectly heated towels accompanied by unique product features such as sterilizers, auto-shut offs, and portable designs that will leave you wondering how you ever stepped out of a hot tub without one.
Be sure to checkout our list of best inflatable hot tubs, as well as finding out what the perfect hot tub temperature is!