Looking for dog fence ideas for your backyard? Sometimes you just want an area for your dogs to run free, but not take over your backyard. In this article, we share our favorite dog fence ideas to keep your pups safe.
These will also let them have their own space and most of them can still see you. With great designs and easy access, your dogs will love their area.
1. Wood and Metal Dog Fence
If you want to have a uniform fence with the rest of your backyard, then you can pick this wooden fence with metal accents for your backyard.
We like this one because of how unique it looks. And with the metal in the middle, it removes any see through areas in case your pup gets nosey and might be a barker.
This fence has a barn door closure, as seen from the picture. The metal is also more durable that just wood boards.
If you prefer a fence that you can see your pup, then keep reading.
2. Chain Link and Wood Posts
This cheap fence idea keeps your dogs safely in their space, but lets you see where they are.
The wooden fence posts and chain link fencing keeps everything in site, so you won't miss anything when watching your pups.
Our first house, we built a fence similar to this. It was one of our first DIY projects and it really was easy to do. And the gate was framed out similarly to the rest of the fence.
All that to say if you're wondering how to build your own fence and you're newer to the DIY scent, then this might the the perfect project to do this weekend.
3. Lattice And Picture Frame Fence
The latticework adds a little variation to your fence, but lets you still see what's going on with your beloved pets.
The picture framing adds stability to your fence so you know it will stay put while your dogs are running around.
This type of fencing will take a little longer to put together since you need to secure the lattice to the frame all along the fencing.
But it should require very little maintenance once it's all set up.
I'm not a big fan of lattice work, but many people enjoy it because you can paint it any color and it provides a little different look for your backyard.
A great alternative would be the same picture frame posts with metal wire. You'll see several examples of that out there.
4. Recycled Pallet Dog Fence
These are great fence ideas, especially if you have a lot of pallets that you don't know what to do with them.
You'll want to make sure that the pallets that you have are able to be reused safely and that they don't leach any harmful chemicals into your yard.
People love this concept because there are so many different designs you can do with the recycled pallets.
And, as you can see from the picture, you'll also want to paint them since most of the pallets will be different colors. Painting the fence will help make it look better.
Another idea with the pallets if you can add container plants to the tops of the pallet fence where the gap is. Anything from potted vines or herbs would be great here.
5. No Dig Dog Fence
If your pup is a digger, then you might be looking for ways to keep them from digging under your fence.
There are easy to install ideas that don't harm your pups and keeps your backyard fence line hole free. We show 3 different ways to how to stop your dog from digging your fence.
With these types of fences, you install chicken wire or something similar for one to two feet along the fence line. The idea is that if they try to start digging, they'll feel the wire.
Feeling the wire will make them want to stop immediately. Ideally anyway.
6. Horizontal Cable Dog Fence
The horizontal fence looks great. I wonder if the cables let the dogs lift themselves upon them, but it looks great.
It also gives your backyard a different look and allows for higher visibility.
This gives your backyard a modern look that will go great with any other modern lines you have.
7. Arch Gate Dog Fence
The arch gate fence gives your gate a stylish look.
It's also a little higher so any of the dogs who try to jump up might have a harder time getting to the top of this fence.
Like this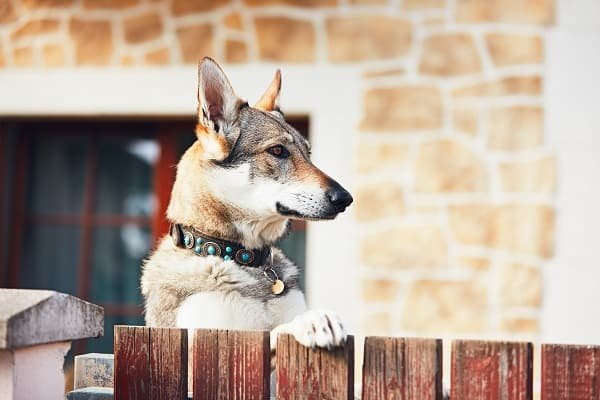 The rest of the fence has a great structure with wire around the posts.
8. Post Cap Dog Fence
Post cap dog fence is a great solution and the cap is usually angled on top of the fence post.
This helps keep the top of the posts dry, which will reduce the potential from the post tops from rotting.
9. Portable Dog Fence
Sometimes you just need a temporary fence in an area. With portable dog fences, you can contain your pup when company comes over.
Many RV'ers use portable dog fences when they're traveling.
If you're doing other backyard landscaping projects and need to let your dogs outside without letting them get in the way. The portable dog fence is a great solution for you.
10. Lighted Post Cap Dog Fence
A different takes on the post cap fence, the lighted post cap adds more light. You can take your dogs outside in the evening and you can still see what's going on with them.
The great thing about these post caps is you can choose between solar post caps so you don't to run wires. You can also choose to install electric lighted post caps.
The added cost might keep some people from doing this for their backyard.
Conclusion
We hope this article helped you look at the different dog fence ideas out there to see which one might work best for your backyard. You may also want to take a look at wood fence ideas if you don't already have a backyard fence to put up.
If you liked this article, then please subscribe to our YouTube Channel for Backyard video tutorials. You can also find us on Facebook.