A hot tub is something to be enjoyed during all times of the year. Even when it rains. Don't be discouraged when you notice it's starting to rain. You can still enjoy the inviting warmth of your hot tub, I promise you!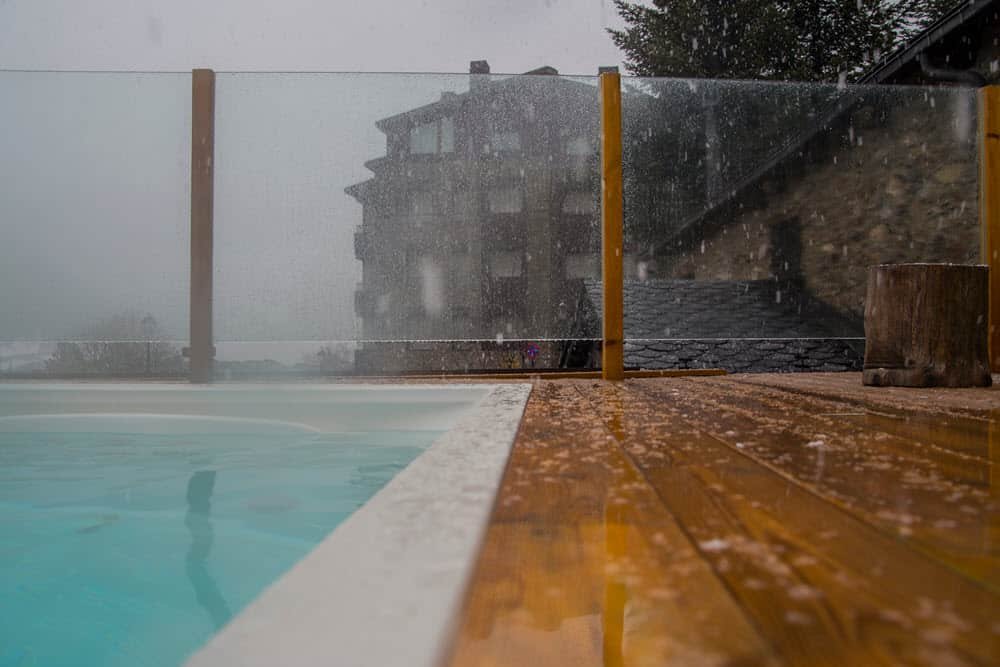 How can you enjoy your hot tub in the rain?
Warm your bathrobe and towels before going in! 
Make sure you wear slippers. 
Use an umbrella or wear a hat in the hot tub 
Drink something warm. 
Make sure to moisturize your skin. 
Turn your hot tub into a therapy pool.
Enjoy the relaxing sounds of raindrops around you!
Be mindful of the weather.
Invite friends or family. 
Cover up your hot tub when you're done.
Hot tubs should be enjoyed, rain or shine! Not only can it be a fun experience, but a relaxing one too. It's ok if you don't have your hot tub under a gazebo.
You might even be able to convince some family or friends to join you. You may find that you even enjoy your hot tub more in the rain! 
Warm-Up Before Going In
This tip will have you going from a boring old soak in the hot tub, to an enjoyable and relaxing experience both in and out of the hot tub. A few minutes before going into your hot tub, stick your bathrobe and towel into your dryer. It'll keep you warm and cozy as you walk out outside to your hot tub. You may even forget it was raining!
This tip will likely keep your robe and towel warm for after you get out of the hot tub. Typically you only want to stay for 10-15 minute soaks, but we all know we don't always follow that rule of thumb. In those cases that you should keep both items in a dry and warm place. Or ask your sweet family member to bring them out to you when you're done!
More Grip, No Slip!
One of the unfortunate facts about rain is that it will make things wet. Your deck and path to your hot tub will most likely be slippery. The last thing you want is a twisted ankle or scrape on your way to your relaxing soak. A simple solution is to wear slippers on your way out the door. Just be sure to keep them in a dry place so they help you get back inside!
Slippers should also help keep your feet dry and warm. Similar to the warmed towel and robe, slippers will help keep your feet warm, too. Make sure the slippers have grips to keep you from slipping on the wet deck.
Yes, wear them. It might sound like an unnecessary step on your way out the door, but it can be the difference between whether you have a good time or a bad time on your way to the hot tub.
Shield Yourself From The Rain
Some people may like the feel of rain on their skin while they soak, while others may not. One way isn't better than another. If you are the latter type of person, bring something out to shield you from the rain. A simple umbrella to hold in your hand while soaking can keep the rain at bay.
If the sound of having to carry something while your in the hot tub isn't your thing, you have options! You can invest in an outdoor umbrella that will go over your hot tub to protect you. Or you can wear a large hat that will cover your face from the rain. A hat will protect your head from heat loss, too.
Check it out at this link by Olympic Hot Tub to look into an outdoor hot tub umbrella.
Drink Something Warm
Warm water has healing properties, and you can heal both inside and out in a hot tub. Bring out a warm drink when you go to your hot tub, it will make your experience that much more relaxing. Hot chocolate or tea are great options to try!
Your hot drink will help you relax even further in your hot tub from the first sip. Use stainless steel cups to keep your drink warmer for longer. It is also safer than using glass cups, since those can break or shatter in the hot tub. That will end your relaxing experience quicker than you want it to!
Cold drinks won't provide the same amount of comfort from your hot tub. It'll be too much of a shock compared to the warm temperatures of the water. If you choose hot chocolate to sip on, feel free to add a little extra spice. Some Bailey's can give that extra kick to take the edge off from the day.
Once sitting into your hot tub and enjoying your beverage, make sure to share pictures or posts of your experience to make all your followers jealous! They'll all be trying to invite themselves over to your house!
Moisturize!
Put on moisturizer meant for cold weather if you are going to soak during chiller weather. It's important to protect any of your exposed skin outside of the hot tub water. The chilled temperature can dry out your skin even if you are only out for a short time.
After putting on your moisturizer, make sure to wash your hands. You don't want any of it to get in the hot tub. It can mix poorly with the chemicals in the hot tub. That will force you to balance the chemicals out and take away vital soaking time.
You can use a moisturizer that skiers or mountain climbers commonly use to protect your skin. If you don't have any on hand, Vaseline is a good substitute. If you don't have that, either, you should probably make a quick store trip before taking that dip!
Check out this moisturizer by the Spa Depot which will help keep your skin soft and smooth!
Instant Therapy Pool
Another great tip to help relax you while you're in your hot tub is using therapy crystals. It creates a soothing aroma that will help you find that inner peace you've been craving all week. There are a variety of scents to choose from depending on how you're feeling and personal preference. You're just a smell away from true euphoria.
Check out more therapy crystals or liquids you can add to your hot tub, courtesy of Spa Depot.
Another option you can do is add LED light systems to your hot tub. These can create a relaxing and entertaining light show during your evening soak. It can also amplify the raindrops that enter your hot tub with the various colors.
Hot Springs.com offers various systems that you can add to your hot tub. Check them out here! Their definitions are as follows:
LUMINESCENCE®

Add ambiance to your nightly soak with the Highlife® Collection's Luminescence lighting system. With four zones, you can individually control the color and brightness of the water.
RAIO®

"Illuminate your Limelight® Collection hot tub with up to 39 points of light accenting the hot tub interior and the Vidro® waterfall. Raio's six color options can be set to high, medium or low intensity, and you can choose to showcase one color or set the system to loop through them all."
HOT SPOT®

"Add an enchanting glow to your spa water with 10 multi-colored LED points of light featured on the Hot Spot Tempo®, Rhythm®, and Relay®models. Six lights reflect above the water line, while four lights in the footwell illuminate the spa's interior. With six jewel-bright colors and a three-step dimmer, you can choose a single color or watch them revolve."
SPLENDORS®

"The optional Splendors LED lighting system for Hot Spot SX and TX models provide multi-colored dimmable lighting, so you can customize your spa experience to be intimate and fun. SX and TX models come standard with a blue LED spa light."
Enjoy The Rain!
The first and most important step in preparing to enjoy anything outside in the rain is to enjoy the rain! Whether water is wet or not, you will get wet while in the hot tub. So, what's the harm in a little rain? It won't kill you, and can actually add to your soothing hot tub experience. You might actually be more excited about soaking in the rain than you would be about going for a dip on a sunny day!
The rain can also add a soothing sound to your hot tub experience. The raindrops can create a musical sound as it falls into the hot tub water. Its patterned fall can even be hypnotizing to watch as it falls.
If the rain isn't for you, you can always wear a rain hat or hold an umbrella over your head while you soak to protect you.
Stay Safe
Everyone should enjoy a magical soak day in the rain every now and then, make sure you stay safe. You should always get out of the hot tub when you hear thunder or see lightning. A rainy hot tub soak isn't worth your life. Wait for the storm to pass, or try again on another rainy day!
Watch your step as you walk around your hot tub on a rainy day. Your patio or deck will be slippery from the rain, and can be a fall hazard. A way to prevent the floor around your hot tub from getting wet is to build a gazebo around it. You can use a hot tub gazebo that covers you and your hot tub to keep the rain out.
Also, be sure to check the chemicals and temperature in your hot tub often. You don't want to soak in a bacteria-filled or a too hot soak. Bacteria can lead to infections, which is the opposite of a relaxing time. If the tub is too hot, you'll boil rather than soak. Either option are not the way to spend an enjoyable evening.
Socialize!
Make an event out of a rainy day hot tub soak. Invite your friends or family with warm drinks and a good time. They might be surprised by how much they enjoy it! You'll have all the memories to look back on too.
Your hot tub is only so big.
Don't try to squeeze people into it like sardines! Set a limit for how many people or children can be in the hot tub at one time. Make sure your guests stick to this rule. Both for their safety as well as your hot tub's safety.
You can also have people get in and out of the hot tub in small groups. Once Group A is done, Group B can get into the hot tub! This will help keep the numbers down as well as be fair to your guests who want a chance to get into the hot tub.
You also may have guests who come not expecting to swim, but decide that they want to go for a dip. Don't fret! Just stock up on spare swimsuits, or have spare towels and robes ready for them! Then they can throw their wet clothes in your dryer and relax in some heated robes and towels. No need to exclude them from the fun!
Chances are no one is going to spend the entire time in the hot tub at your party. Knowing that it makes sense to have other things to do when guests aren't having a soak.
Here are a few ideas that work well:
Have cards and board games available for guests.
Provide light snacks.
Give manicures or pedicures to each other.
Put on a classic movie for periodic enjoyment throughout the night.
Make sure your hot tub is clean and maintained well before your guests arrive. It wouldn't be much of a hot tub party if the hot tub was dirty.
Everyone loves background music while they're soaking in a hot tub.
Liven up the mood with some energetic beats, or relax to soft tunes. You can bring out your own CDs or create a playlist for your friends. Maybe even create a shared playlist on Spotify amongst your group so everyone can hear their favorite songs. Just make sure whatever you use to play your music is covered from the rain!
If you are providing alcohol to your party guests, make sure they swim in your hot tub first before they drink. The mixture of drinks with hot water can cause your guests to get drunk quicker than if they drank outside of the hot tub. It's a safer way to go about it, and will also keep any unnecessary drink spills into your hot tub water.
Lastly, make sure your guests are safe! Provide extra slippers and warmed robes and towels they can use when they get out of the hot tub. If you hear any thunder or see lightning, end the party! You don't want to put yourself or others at risk.
Protect The Hot Tub
A spa cover, cover lifter, and umbrella will protect your hot tub year-round. A top-quality spa will come with a cover that should be used whenever the hot tub isn't.
Your cover will make or break the care of your hot tub. You'll want to invest in a durable and weather-resistant cover. Material such as heavy-duty vinyl can work well. The casing also needs to be tear-resistant so debris can't get in. But make sure it has a little give so it can take the hits when it hails. Finally, the insulation should be dense to trap the spa's heat.
A good spa cover will be heavy and difficult to move, but don't be deterred to use it! When a hot tub is left uncovered, heat can escape and the sun can fade the shell. A way to help move that heavy cover is to use a hot tub cover lifter.
A cover lifter will help you as you lift, fold, or slide the cover off your spa. They may not be the most eye catching piece of equipment to have on your hot tub. But you get a longer lifespan for your hot tub. There are also some covers that hide the metal piping within the cover, so all you see is the top rather than the unsightly metal pieces.
Hot tub covers protect your soaking space.
To add another layer of protection, invest in a hot tub umbrella. It is hot tub sized umbrella that shades you while you are in the hot tub. It can protect you from the rain as well as the sun's rays. It also protects the shell of the hot tub from the elements, both when you're using it and when you're not.
When investing in a hot tub, make sure to find one that is high quality and durable. It will cost more upfront, but it will be worth it in the end when you get to enjoy it for years to come. You should treat the weather-resistance accessories in the same way. Invest in high-quality materials so that you can enjoy your hot tub in any kind of weather.
To Summarize
Going for a rainy soak in your hot tub can be a relaxing experience. It doesn't have to put a damper on your hot tub life. Especially if the hot tub has helped you sleep better or relax your muscles and mind. You don't even have to cancel plans with your friends or family if it rains! Instead, it can turn into an impromptu rainy day hot tub party!
Be sure to remember these tips when you use your hot tub in the rain. It can be a great experience, but these tips can make it even better. Safer for you and your guests, as well. So, don't let a rainy day ruin your next hot tub soaking experience!