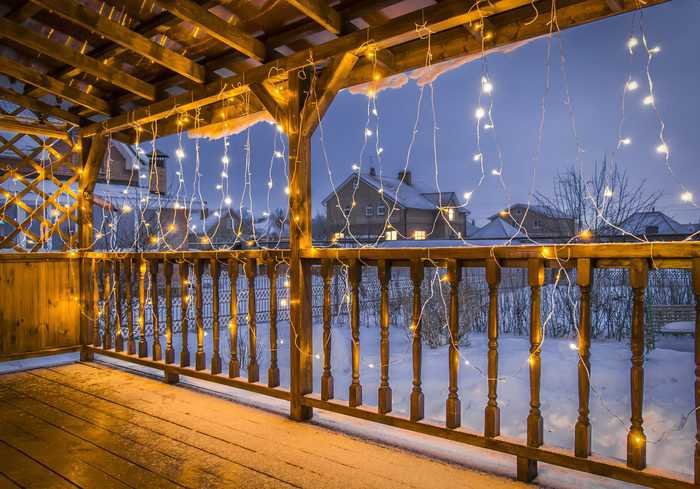 If you are going to hang some outdoor lights, but don't have nails handy, then you might think the entire plan goes out the window.
Outdoor lights can be hung in several ways without nails. Some of these ways include:
Using outdoor plants as hangers
Using adhesive hooks
Using the deck railing.
To make sure your outdoor lights look good, you'll need to understand how to use your backyard to its fullest capability. We've shown you how we hang our lights in our backyard without trees. And today, we'll break down the different ways to light up your backyard without nails and the best outdoor lights to hang up.
Using Your Backyard
One of the best ways to hang outdoor lights is by using the trees and plants in your backyard. For trees, you'll need to measure the length of the string lights that you have and measure the length of the trees.
If the length of your lights is longer than the distance between the two trees, then you are good to go. Please don't drill holes in your trees. The safer way to hang the lights is to loosely wrap them around branches and the trunk. You may have to loosen the lights further if the tree is younger and still growing.
Go from tree to tree and or large shrubs and keep stringing lights. Once that's done, you can plug the lights in to see how everything looks and makes adjustments. Soon your backyard will light up, and you'll be able to have an illuminated backyard party.
For other plants, you can place the lights on top of shrubs or bushes and spread them out so they won't clump. Connect the bushes with a string of lights, and you'll have another easy light source that doesn't require a hammer.
Looping the Lights Around a Deck
If you have an outdoor deck space in your backyard, it can be another great space to hang lights, especially if the deck is where the gathering happens! Take the lights and loop them around and through the railing balusters of the deck.
Or you can use a staple gun to affix them under the railing top rail. Just be careful not to shoot the staple in the wire as that could lead to a fire hazard. An alternative is to screw in small cable clamps for a more permanent installation.
Once the lights have been secured, add the lightbulbs and make sure you've left enough cord to reach the extension outlet. Then you've got a lighted deck that will add to your backyard ambiance.
Using Adhesive Light Clips
If you can't repurpose your backyard to hang the lights, then the next best option is to go with adhesive clips. They can be bought at any hardware store and allow you to hang lights without leaving nail holes in your walls. 
The hooks work like sticky notes, where you peel off the back of the hook and stick it to the wall. You can hang lights from them for the duration of your backyard party. When it's done, then just pull the hooks off the wall with no damage.
The adhesive hooks are very durable and can stay up on the wall as long as you need them to. This makes them ideal for more permanent outdoor light structures or hanging lights that might be a bit heavier.
What Outdoor Lights Are the Best?
There are several types of lightbulbs you can use for your outdoor gatherings. While it might seem overwhelming at first, there are a few things you can do to narrow the selection down. Then, you'll get the perfect lighting for your next backyard gathering!
First, take a look at the size of the lightbulbs. For most backyard parties, especially those at night, size matters. You don't want your lightbulbs to turn night into day, but you also don't want them to be too small. A good medium-sized lightbulb can often do the trick for most scenarios.
Here are some other things to consider when picking lightbulbs:
How many lightbulbs you will need
Where they will be hung in your yard
The mood you are trying to set
The purpose of the lights
If you are having a romantic dinner for two, then a few smaller lights placed around the table can help. If you are having a huge dinner party, then you'll need bigger bulbs spread out over a wider area.
Take A Look at The Color
For most get-togethers, a normal white light will do just fine. But if a holiday, festive occasion, or birthday is coming up, you might want to get some colored lights. Again, the size and brightness of the lights will play a factor in which ones you buy.
If you are buying colored lights for other reasons, then you'll want to make sure that they work with the ambiance you are trying to set. Typically, white lights work just fine, while other colored lights can give the backyard a different tone.
Make Sure the Lights Are Energy Efficient
If you are having a lot of gatherings in the backyard, or keep the backyard lights on to illuminate the area, then you'll want to make sure the lights are working for you. Using LED lights or other energy-efficient bulbs can save you both money and power in the long run.
Additionally, most LED lights are durable enough to withstand significant use and the elements. Plus, the brightness level remains the same as non-LED lights. For lights that are going to last for a long time, make sure to use some LEDs.
How Often Should You Change Outdoor Lights?
It depends on how often you use the lights, but eventually, some bulbs will spark and burn out. Depending on the bulbs you are using, the lights could burn out after a few weeks or a few months.
It's important to always check the lights as you are hanging them. Once the lights are plugged in, you'll be able to see where any gaps are. Replace those lights with a new bulb, and you'll soon be back to full brightness. Occasionally, you might have to replace a full string of lights, so be aware of that.
Proper Maintenance for Outdoor Lights
To prevent changing the lightbulbs frequently, there are a few ways to keep your lights in proper working order. Keep these tips in mind if you are going to be hanging and removing lights regularly.
Always make sure to properly store the lights in a dry environment.
Wind up the cables and make sure to be careful with the bulbs so they won't break.
Then make sure to store the lights in a place that keeps the bulbs steady.
Additionally, whenever you take out the lights, make sure to give them a quick wipe down to improve their brightness.
Conclusion
Hanging outdoor lights without nails can force you to think outside the box, but it isn't that hard. How you hang your lights depends on several factors, but it can be done no matter what your yard looks like.
You'll be able to get the ambiance needed for whatever outdoor mood you are trying to set. You just need to have the right lights and make sure to hang them effectively. Once that's done, you can throw your next backyard gathering in the evening and know that everything will still be bright!
When it comes times for the holidays be sure to check out our top outdoor Christmas lights article, as well as making your own outdoor Christmas tree with lights!