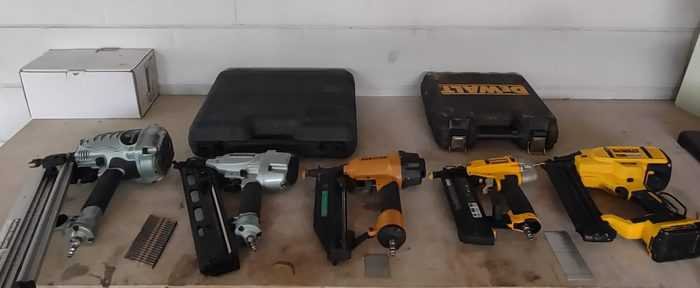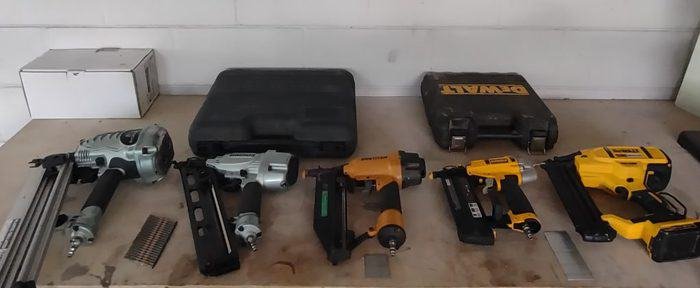 Why should a DIYer purchase a nail gun?
A nail gun (or a nailer) is a hand tool used to drive nails into wood or any other suitable material.
Using nailers is a less labor-intensive method of carrying out DIY projects around the house and backyard.
As you start out doing projects around the house, you'll eventually find that having the right tool makes the project so much easier.
Many DIYers will start to tackle small interior trim projects around the inside and outside of their houses.
Projects such as craftsman window and door trim, tall baseboards, or even quarter round molding for new floating floors add value to your home.
But, only if they are done well, which is possible if using a nail gun to not mar the wood face.
We will explore the different type of nail guns that would be useful for DIYers use. All types of nailers that I have personally used for indoor and outdoor projects and what type of projects they are best suited.
We've picked eight of what we feel to be the best nailing tools out there for home projects. We've reviewed each one of them to highlight their strengths and weakness, and help you make a guided decision on the right partner for your next project.
Compressed Air vs Battery
There are two different types of nail guns that we will cover in our review. One that uses compressed air to fire nails and one that uses battery power to fire nails.
The air nailer needs a compressor plugged into an electric outlet and a hose to connect the two. The pros of a compressed air nail gun that the guns are generally cheaper and lighter in weight than the battery operated guns.
That said the initial setup of compressor, hose and gun is just about the same price as one cordless nailer.
The biggest con of a compressed air nailer is having to lug almost 50 lbs. of a compressor around even if you only a few nails to shoot. Going up and down stairs with a compressor can wear you out quickly.
A cordless battery operated nailer simply uses the gun to shoot nails without any compressor or hose.
To get this convenience you will pay much more than the combined air compressor and nail gun kit. The nail gun is also twice as heavy with a battery so shooting crown molding over your head can get very tiresome.
It's best to know how you will use the nailer to know which type will work best for you.
If you have other uses for the compressor such as airing up tires, using it with tools for your car, etc. then that would be a great way to start out using a nail gun.
Types of Nailers
There are quite a few types of nailers but we're only going to describe the ones most used around the house that a DIY would be interested in purchasing.
Brad Nailer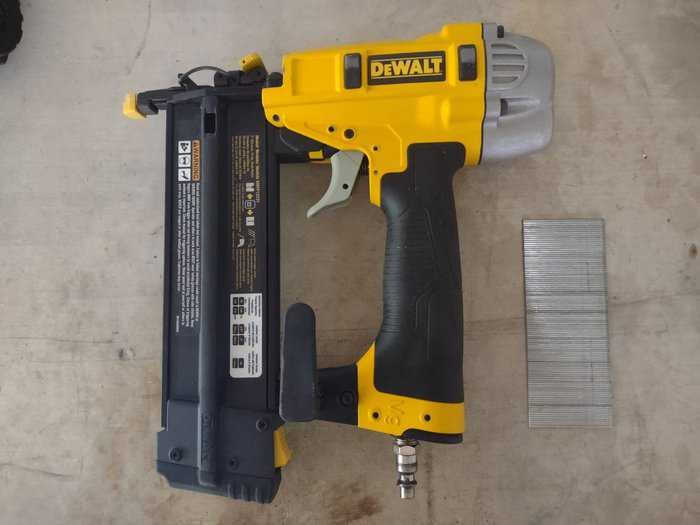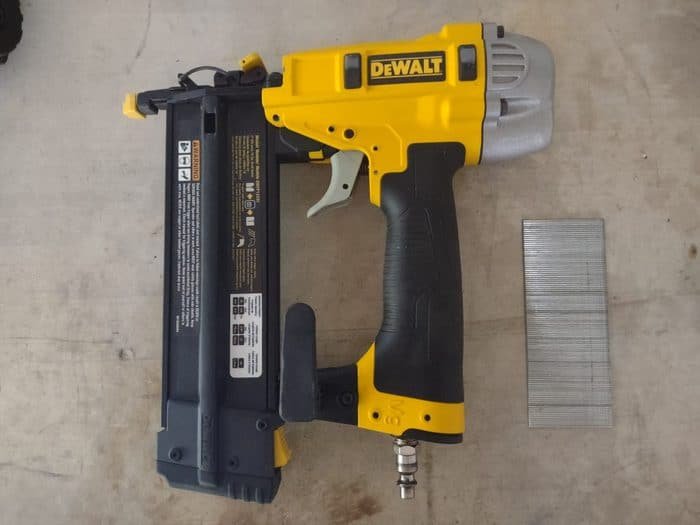 A brad nailer is useful for using on smaller trim projects such as quarter round molding, chair molding, cabinet molding and some smaller baseboards and window trim.
The nail used is smaller and thinner, typically 18 gauge with the head barely visible in the wood. These nails are meant to support anything heavy or big.
Finish Nailer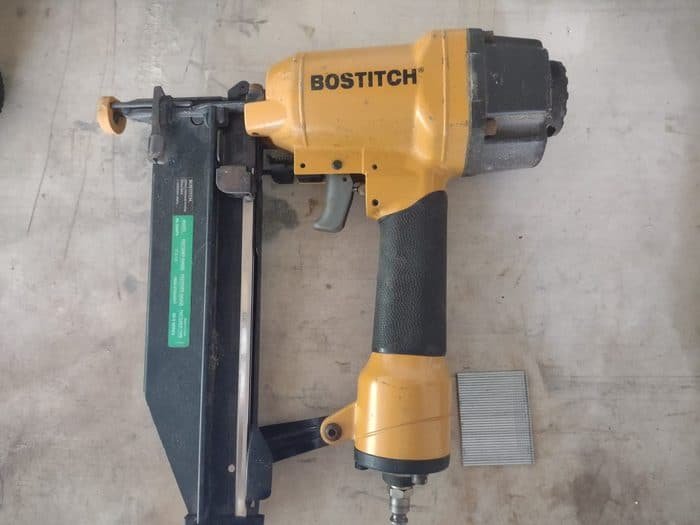 A finish nailer uses a nail slightly larger than a brad nail. 15 or 16 gauge nail is used for projects such as large profile interior door and window trim, tall baseboards, crown molding on ceilings, and even installing pre-hung interior doors.
Finish nailers have a straight or angled magazine holder and dictates the type of nails used. Angled finish nailers allow you to get in corners easier than a straight finish nailer.
Framing Nailer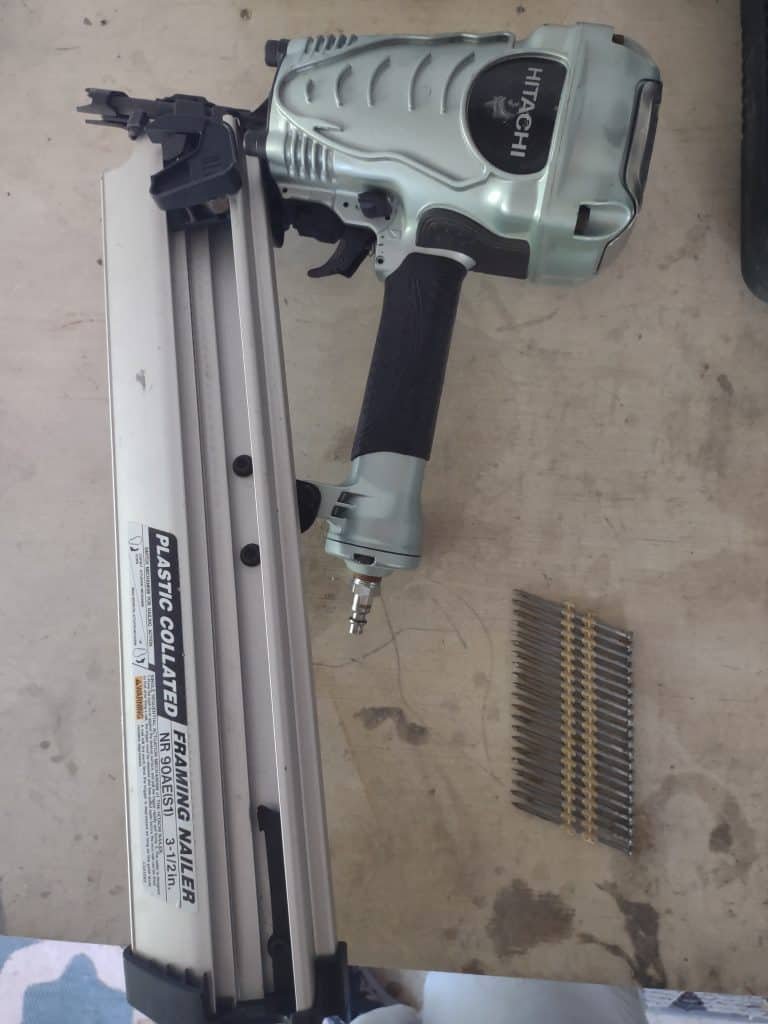 A framing nailer is used for larger projects that need to support a lot of weight. Installing a fence, deck framing, backyard shed framing, outdoor kitchen frame, to name a few.
Unlike the brad or finish nailer, framing nails are not described by the number gauge. Framing nails are described by the actual diameter of the nail in inches .113″ to .131″. and most are 2 3/8 to 3 1/2 inches.
Framing nailers come in several different degree angles and you can only use the same angled nails. Most common is 21 degree and 30 degree framing nailers.
The 21 degree nailers use full round head nails while most 30 degree nailers use clipped head nails.
Most building codes require a full round head nail for any type of framing that supports a lot of weight. The biggest downfall of the 21 degree nailer is that it can't hold as many nails as the clipped head nailer so you'll be refilling it more often.
Coil Nailer
Coil nailers describe the type of magazine that holds the nails. Nails that are coiled around each other in a circle, rather than stick magazine nailers as above.
The 2 biggest benefits of a coil nailer is that it can hold a lot more nails than a stick magazine and can shoot shorter nails.
If you're putting up wood pickets on a fence rail, you need a 2 inch nail or less.
Some coil nailers can only shoot specific types of nails which is why they are considered roofing or siding coil nailers while coil framing nailers are more versatile.
Our Picks for Best DIY Nailers
Combo Nailer Set
If you've just bought a new home and already have a long honey do list, then the Bostitch Combo Nailer set will be your best bet for handling a wide variety of projects.
Bostitch has been one of the best pneumatic nailers for a long time. They produce a reliable product which is why this complete set of compressor and 3 nail guns is a great deal at a lower price than one cordless nail gun.
This set includes an oil free 6 gallon compressor, 18 gauge brad nailer, 16 gauge finish nailer and a crown stapler and air hose. This set includes everything you need for multiple DIY projects around the house.
The 2.7 lb. SB-1850BN 18 gauge brad nailer and 4 lb. SB-1664FN 16 gauge finish nailer are lightweight, use a no-mar tip, and has a tool-free adjustable exhaust to keep air from blowing in your face while using the nailers.
The dial-a-depth tool on both nailers enables quick setting of fasteners to convenient depths for accurate countersinking.
As with any of the pneumatic compressed air nailers featured in this article, it is always important to oil the nailer before each use to keep it running properly.
Too many times I hear people having problems with nailers jamming and not working only to realize they didn't keep it properly oiled. 2-3 drops of oil each time you use the gun will keep it running smoothly.
The 6 gallon compressor is rated at a max 150 psi and weighs 29 lbs. making it easy to carry around. It has two connectors allowing up to two different nailers to operate at the same time.
If you plan on using a framer nailer with this compressor, I would probably limit it to just one nailer as the compressor motor could run continuously burning it up.
I bought a Bostitch combo set in 2006 when we bought our third house and decided to tackle some DIY projects.
I installed baseboard, quarter-round, door trim, made several pieces of outdoor furniture, added a framing nailer and built a fence and new deck. It has been great purchase and I highly recommend it.
Cordless Brad Nailer
The DeWalt brand is well regarded in the construction business. Go to any job site and you'll find many DeWalt tools being used.
This cordless brad nailer excellent for small projects that you don't want to break out the air compressor and lug around.
The nail gun's handle is contoured for a firm grip, and its cordless build makes it portable and easy to use anywhere.
The nail gun runs on DeWalt's 20V battery platform which is one of the best in the industry. The kit comes with a charger, 2 amp battery and carrying bag.
This nailer eliminates the need for compressors, hoses or costly gas cartridges. The gun's magazine loads via the bottom-load system, and you can equip up to 100 nails at a go.
Additional features of this product include a no-mar pad, LED lights, 2 mode firing selector, a belt/rafter hook, and a tool-free jam clearance and depth adjustment.
It also has a low-nail lockout to prevent you from marring your work piece with extra holes.
I use this nailer all the time around the house. I already had several DeWalt 20V battery tools and bought the tool only version of this nailer for when I didn't want to drag the compressor out.
I use this tool even on larger projects more than I use the corded version brad nailer I have since it's so easy to use.
Finish Nailer
Sometimes you need just a bit more holding power than a 16 GA finish nailer. I use my 15 GA nailer for installing pre-hung interior doors and exterior trim. Also when you're nailing into 2×4 studs or certain hardwoods, a 15 GA nailer will drive all the way through where a 16 GA may not.
The Metabo 15 GA nailer is only 4.2 lbs. and drives nails from 1.25 inches to 2.5 inches long. This nailer has tool-less way to clear jams and to adjust nail depth as well as 2 nailing modes, sequential or bump. The Metabo brand is very reliable at great price points.
Framing Nailer
The Metabo (formerly Hitachi) framing nailer is perfect for your bigger project list. Once you get used to your brad nailer and finish nailer, a framing nailer is a natural progression. It allows you to build more substantial projects around the house.
The Metabo framing nailer is lightweight at only 7.5 lbs. and uses 21 degree plastic collated nails. It will fire nails from 2 inches all the way to 3.5 inches long. It's angled design let you toenail in the tightest corner. It has a tool-less depth adjustment to drive the nails to whichever depth you need.
Hitachi brand nailers have been around for a long time, I bought my first one nearly 15 years ago and it still runs like a champ. I have built many fences (mine and friends), framed several decks, built work tables and a lean to shed just to name some of the projects I've used my Hitachi nailer. The Metabo nailer will be a great addition to your DIY tool chest.
Coil Nailer
This nailer is probably a stretch for a DIYer, but if you move a lot and/or have friends that you're always helping then this nailer is worth the splurge. It's able to hold way more nails making your projects go by a lot faster. It drives nails ranging from 1.25 to 2.5 inches. It has a tool-free depth adjustment and no mar tip.
Frequently Asked Questions
Should I buy a brad nailer or a finish nailer?
The choice between a brad nailer and a finish nailer depends entirely on the DIY project you intend carrying out with your tool and the nail gauge. For smaller holes and DIY projects that require delicacy, a brad nailer would do just fine, like chair rail or small crown molding.
The finish nailer is intended to handle tougher tasks, like installing baseboard or door trim. Brad nailers work best with 18 gauge nails, while the finishing nail gun is best suited for the bigger 15 or 16 gauge nails.
Can a finish nailer use brad nails?
The simple answer to this is No. Brad nails are made from thin 18-gauge wire, and would not fit in the hole of the finishing nail gun. Also, trying to fit in brad nails in a finish nailer could lead to damage of the equipment.
Do brad nails have heads?
​Yes, brad nails have heads. However, this head is typically smaller than usual, and is only slightly larger in diameter than the body of the nail itself.
How long of nail gun nails should I use?
For a successful woodworking operation, you should use a brad nail that is at least, three times longer than the thickness of the material you're working on. This is to ensure the nail will securely fasten such material.
Can you use a hammer with nail gun nails?
You can use a hammer to drive in some of the larger gauge nails, mainly framing nails. However, this requires extreme accuracy, patience, and using just the right amount of force. More times than not, any brad or finish nails end up bending when hammered.
Will nail gun nails rust?
As with every piece of metal out there, galvanized nails will eventually rust, when constantly exposed to harsh weather conditions. To prevent rust, use nails made from type 304 stainless steel in your construction.
Conclusion
There you have it! A brief description the the different type of nail guns that a DIYer might expect to use and the ones we consider to be the best for your DIY projects.
This is by no means a comprehensive list of nailers as most DIYers need just a few different nail guns for most projects around the house and backyard. If you stick with the tried and true brands, such as Bostitch, DeWalt and Metabo, you'll find a nailer at a reasonable price that will last a long time.