Many people enjoy spending quality time outdoors but don't want to leave the confines of their own property. With that said, if you enjoy home improvement projects and have the space, you may want to consider setting up a gazebo in your backyard.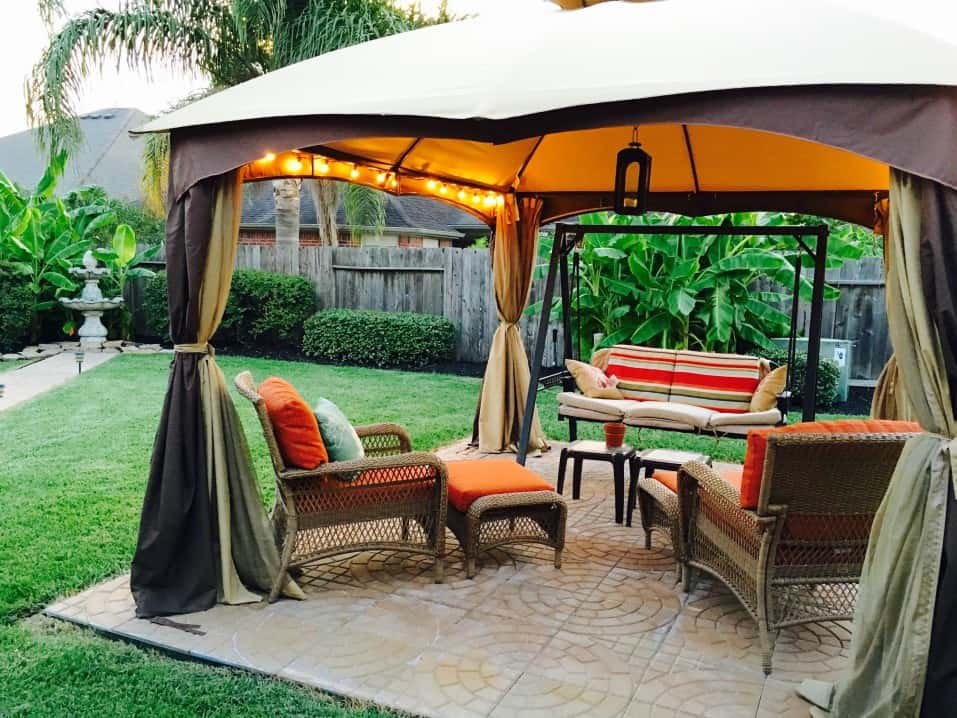 There are many different types of structures that can be referred to as a gazebo, with some being more decorative than functional in protecting people from nature's elements.
For the purposes of this article, however, we will focus on setting up a pop-up gazebo, which can be quickly erected in the backyard to add functionality to the area. You can always visit our article were we go over what exact a gazebo is, and the benefits of investing in one.
Setting Up a Pop-Up Gazebo
As its name implies, a pop-up gazebo—sometimes referred to as a gazebo tent—is a structure that can be erected and taken down as necessary. It is exceptionally useful for outdoor dining, as it shades the picnic table from direct sunlight.
Pop-Up Gazebos now come in many different configurations from very portable to more permanent versions that will enhance your backyard patio. While some still have a cloth roof, the more permanent ones have metal roofs for a more robust build.
Here are the steps to setup a pop-up gazebo with a cloth roof:
Find Friends to Help Set Up
Okay, maybe this is not exactly a step, but setting up a gazebo will be infinitely easier with more hands on deck. Ideally, you will have four people helping (one for each leg of the structure). However, the job is definitely manageable with at least two people; it is highly unlikely that you would be able to set up a normal-size gazebo by yourself.
It is also beneficial to have a tall person or some kind of functional stick for poking, as some areas of the frame and canopy can require a little extra coaxing to snap taut into place.
Pick a Spot for Your Gazebo
When selecting a set-up location, the most critical factor is making sure that it is on firm, level ground; this does not mean that a gazebo cannot be set up on a hill or slight incline—it just means that the ground surface must be level. Positioning one of the legs in a hole or rut will make the structure unstable and create difficulty when trying to anchor it in place.
Also, keep the following in mind when choosing a spot for your gazebo:
Look around and see if there are any wet patches or areas that are too soft to hold an anchor stake snugly.
Make sure that the chosen area is large enough to house the gazebo once fully unfolded.
If the gazebo will be up for any period, do not put it on any grass that you may be concerned about, as the lessened sunlight and likely increased foot traffic could make an unsightly patch in your backyard.
Open the Canopy
Some gazebos come with the canopy pre-attached to the frame, which makes setting up as simple as finding a spot, opening the frame, and anchoring it to the ground. However, these gazebos are not as popular because any damage to the canopy effectively ruins the entire structure.
Therefore, as excessive sun, high winds, or blunt forces can cause canopy damage, it is more common to see gazebos with separate canopies and frames. This allows users to switch out a damaged canopy while keeping the frame.
If your gazebo is new or has been sitting in storage for a long time, unfold the canopy and allow it to warm in the sun; this will make it more flexible and easy to work with when it comes time to attach it to the frame.
Just be sure that you do not leave dark canopies warming in the sun too long, as they can become too hot to work with. You can always learn how to properly fit your canopy to your gazebo in our other article.
Get the Frame to Stand
Once the canopy is warmed up and ready to be worked with, it is time to get the frame ready for it. Open the frame wide enough to stand on its own, even with the canopy draped over it; this will likely be a spot when the frame is about halfway open.
Introduce the Canopy
With the help of a friend, pass the canopy over the top of the partially-opened frame. Try to get the canopy corners as well-aligned with each of the four legs as possible before opening the frame completely.
Lock the Canopy into Place
Holding one leg of the frame in place, pull the frame completely open. (This is where it is easier to have more people helping, as the frame's joints can lock and be challenging to open if not properly aligned.)
If you are working with only two people and have this issue, try gently shaking the frame to free it from its bind, or try holding a different leg in place and opening it.
Once the frame is opened to its full dimensions, lock the canopy to the frame. Some gazebos use nuts and bolts, Velcro, snaps, or zips to attach these components. Whatever the case, make sure that the canopy is connected at all four corners before proceeding.
Lock the Frame
At this point, your gazebo will look a bit like a spider with four legs, as the canopy will be sagging with various joints prodding up beneath.
The canopy should fit snug over the frame, so have somebody get underneath and push the slider up; this works a lot like opening an umbrella, with the slider creating an apex over which the canopy fits snugly when locked in place. (This is where having a tall helper is useful, as it can sometimes be challenging to get the slider to lock at the top.)
Pull Down the Canopy
By now, the gazebo is almost set up, but there are a few other things you will want to do:
Pull down the canopy at all four corners to make sure it is as snug as possible.
Lock all four cross struts into place as an added stability feature if that comes with your particular model.
Check that there are no slack points in the canopy or any damage with which to be concerned.
Anchor the Gazebo
Finally, using a mallet, drive the anchoring stakes through the legs' holes; this prevents the gazebo from blowing away or shifting while in use.
Other Types of Gazebos
While the pop-up gazebo is the most common and convenient type of gazebo, some backyards feature more permanent gazebos. These structures are more decorative and can match well with specific themes. Some of the other gazebo types include:
Pergola: This is a framework commonly used to support climbing plants, giving your backyard a garden-like feel. Pergolas typically feature lattice roofs (roofs that do not have 100% coverage). While many pergolas require professional installation, some DIY pergolas can be erected in a few hours.
Pavilion: This is a lot like a permanent version of a pop-up gazebo. It consists of four columns of wood, brick, or concrete and features a more functional roof than decorative. It is used as a place to enjoy outdoor events.
Pagoda: These Japanese-style gazebos are used for backyard ornamentation while also providing functionality. These gazebos usually have multi-layered roofs and intricate, lacy woodwork on the sides.
Conclusion
While there are many different types of gazebos, most feature an open-sided construction that provides shelter from the sun and other outdoor elements. The pop-up gazebo is the most common, economical, and functional of all the gazebo types.
By enlisting the help of a friend or two and following the steps in this article, you can easily set-up a gazebo of your own for a day of outdoor entertainment and relaxation. If you're interested in more projects, be sure to check out our article were we go over how you can make a canopy cover!