Do you have an old gazebo taking up space in your backyard or in your garage that you have no use for anymore? Gazebos are great for lawn parties, picnicking, tailgating, beach days, and so much more! With the right canopy, your gazebo will be great for any outdoor activity.
To get the right fit on your canopy, you must get precise measurements of your gazebo and select a good quality canopy that is highly recommended by other customers.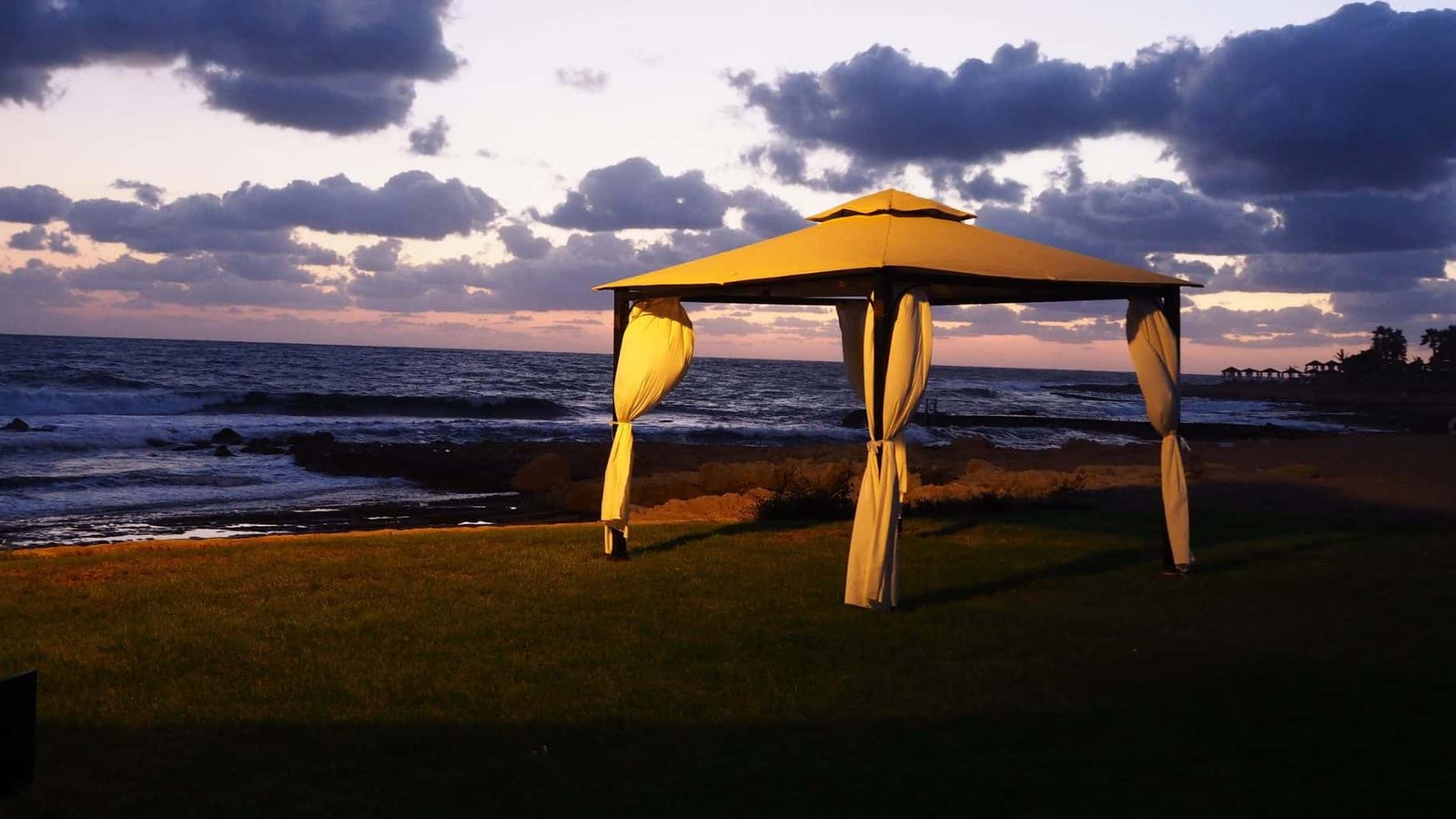 If your gazebo did not come with a canopy, or if your current canopy is worse for wear, finding the right fitting canopy for your Gazebo can be a challenge. But we've created a foolproof system to find the right canopy for you.
Selecting the Right Canopy for You
You have tons of options when it comes to choosing your next canopy. If your gazebo came with a canopy that no longer suits your needs, you can replace it or choose a new one.
Canopies Come in Many Different Sizes and Shapes
If, after compiling your measurements, you realize the gazebo makes a perfect square, then finding a canopy is much easier. Simply search online and in stores for square canopies.
Square canopies can come in a range of sizes. Common sized canopies on the market typically are 8' x 8', 10' x 10', and 16' x 16'.
If your canopy is not a perfectly proportioned square, there are still options out there for you and your gazebo. For example, other standard sized canopies typically come in measurements of 10' x 12'.
Many companies nowadays offer a range of canopy sizes and shapes. You can find way more than just square and rectangular canopies; you can even find round or hexagon-shaped canopies!
There are also many canopies with unique colors and patterns. Canopies can include designs of flowers, lattice, and leaves. This ability to customize your canopy for different events and styles makes it seem like you can transport your living room to anywhere out in the outdoors!
It is also crucial to keep in mind that most canopy seller's measurements are sized up. Be sure to thoroughly read through the canopy product description.
Some sites and sellers even come with suggestions on canopy measurements for your specific gazebo.
Finding the Right Canopy Material
Canopies can be made of a wide range of materials. You want to be sure not only that your canopy looks good but is also durable and suitable for your gazebo.
If your gazebo is a bit larger and has sturdy, strong poles, it could easily handle a heavier canopy. If your gazebo seems to have less sturdy poles, try testing out lighter canopies.
Some canopies also offer added benefits to using your gazebo. You can find canopies from Garden Winds that offer water-resistant and UV treated material.
Canopy weights and materials can typically be found on their product descriptions, which are discoverable online and in stores.
Look for Your Old Canopy's Product Number to Purchase Again
If you were happy with your old canopy, you can also try searching for your old canopy's product number. Product numbers, also known as the product's serial number, can be assigned by either the manufacturer or seller of your canopy.
This number is sometimes found on the tag or on the netting set of the canopy. With this identification number, you can search for a replacement canopy of the same product easily.
You may also try and look for your gazebo's product number. Most of the time, identification numbers are printed into the poles of the gazebo. Take a close look at your gazebo to see if it has one. Be sure to check underneath its parts and in its corners!
If you are unable to find an exact canopy to fit your canopy, it is recommended to either size up to the closest size available. If they do not provide you with suggestions, try contacting the company's customer service for their expert advice.
If the next size up is unavailable, or if it is not close enough to your gazebo's length and width, you have the option to purchase a custom made canopy. Websites such as eCanopy offer a range of customizable canopy sizes and prints.
What Kind of Gazebo do I Have?
In order to get the right canopy for your gazebo, make sure you know what type of gazebo you have first. Gazebos typically are single-layered or double-layered.
A gazebo with a single-layered frame has a triangular, pyramid-like shape. A double-layered gazebo frame has another top layer structure that often comes with another covering with a canopy. If you have the latter, you will need to search for two separate canopy pieces.
Your gazebo may have different designs of attaching the canopy to the gazebo frame. Some canopies attach to the gazebo by an intersection of poles with compartments, where the canopy's corners hook on to poles that go past the length of the poles or overall structure of the gazebo.
Other canopies are simply attached over the frame of the gazebo. And some even have holes in the gazebo frame where the canopy corners can be hooked in to.
Gazebo frames are also important to consider since not all gazebos are made equal. Some are made for different purposes than others.
For example, some gazebos have structures or shelves that can display works of art, plants, and many more objects.
It is important to take note of your gazebo's unique characteristics to make sure you know what canopy to purchase.
Getting the Correct Measurements
Depending on where and how recently you purchased your gazebo, it's canopy measurement requirements may be listed in the gazebo's product description.
If you are unable to find this online or from the store you purchased the gazebo, you can simply get the gazebo's measurements using a tape measure.
To get measurements of your gazebo's future canopy, you must first get another person to assist you. This is not a one-man-job! It can be pretty difficult to measure a large object such as a gazebo on your own.
Measure the distance between each of the gazebo's outside corners, giving you four separate measurements. Unless you know for sure your gazebo is a perfect square; you should measure the length of each side.
Be sure to measure the openings of the gazebo from the front to the back. Then move on to the other sides. Measuring like this will give you the measurements for your gazebo's length and width.
If your gazebo has a second layer on top, measure the corners of that layer separate from the bottom measurements.
Take your time while measuring your gazebo. You don't want to come home with the wrong sized canopy!
Double-checking your measurements is a sure-fire way to ensure you're getting the right canopy for your needs.
Where Can I Get Canopy Recommendations?
If you do not know any other canopy owners or the company's you're looking through, do not provide reviews on their canopies; try searching the internet for reviews.
Canopies available for purchase on Amazon frequently offer reviews on their products. Read through as many as you can.
Steer clear from canopy products that have bad reviews and low ratings. Be sure to look for customer comments on the canopy's measurements, quality, shipping, and much more. Their recommendations can be beneficial to your search!
You may also search for your next canopy in person at stores such as Walmart, Target, and Home Depot. Be sure to ask one or more of their sales associates about which canopy they recommend most to customers.
Conclusion
If you have an old gazebo lying around, don't let it go to waste! Used canopies are not likely to make a good profit. So why not put it to use with a brand new canopy cover for your gazebo so you and your family and friends can enjoy it once again? Once you start using your new gazebo make sure you know how to secure a gazebo from wind.
Gazebo provide a decent amount of shade, but if you're wanting a little bit more shade in you backyard, be sure to checkout our list of best backyard shade ideas, as well as our list of shade sail ideas.
It is well worth it to consider purchasing a new canopy. A replacement canopy can ensure that your gazebo is put to good use for your enjoyment!