At the mention of climbing plants, minds turn to quaint English gardens full of bright roses clambering over a brick wall or picket fence. There's just something quintessentially charming about a garden filled with greenery and color at eye level. But how can gardeners support a climbing plant on a fence in the yard?
You can support a climbing plant on a fence by attaching a trellis to the fence. Trellises come in all shapes and sizes and will give your plant something to grow on and around. You can use a simple system of hooks and wires directly on the fence or build or buy a more involved structure.
If you want the cozy cottage feel in your garden, consider adding a climbing plant or two along your fence line. Climbers need support as they gain height, and a fence is a great way to provide that. Read on for inspiration on how to support climbing plants on a fence in practical and creative ways.
Build a Trellis to Support Climbing Plants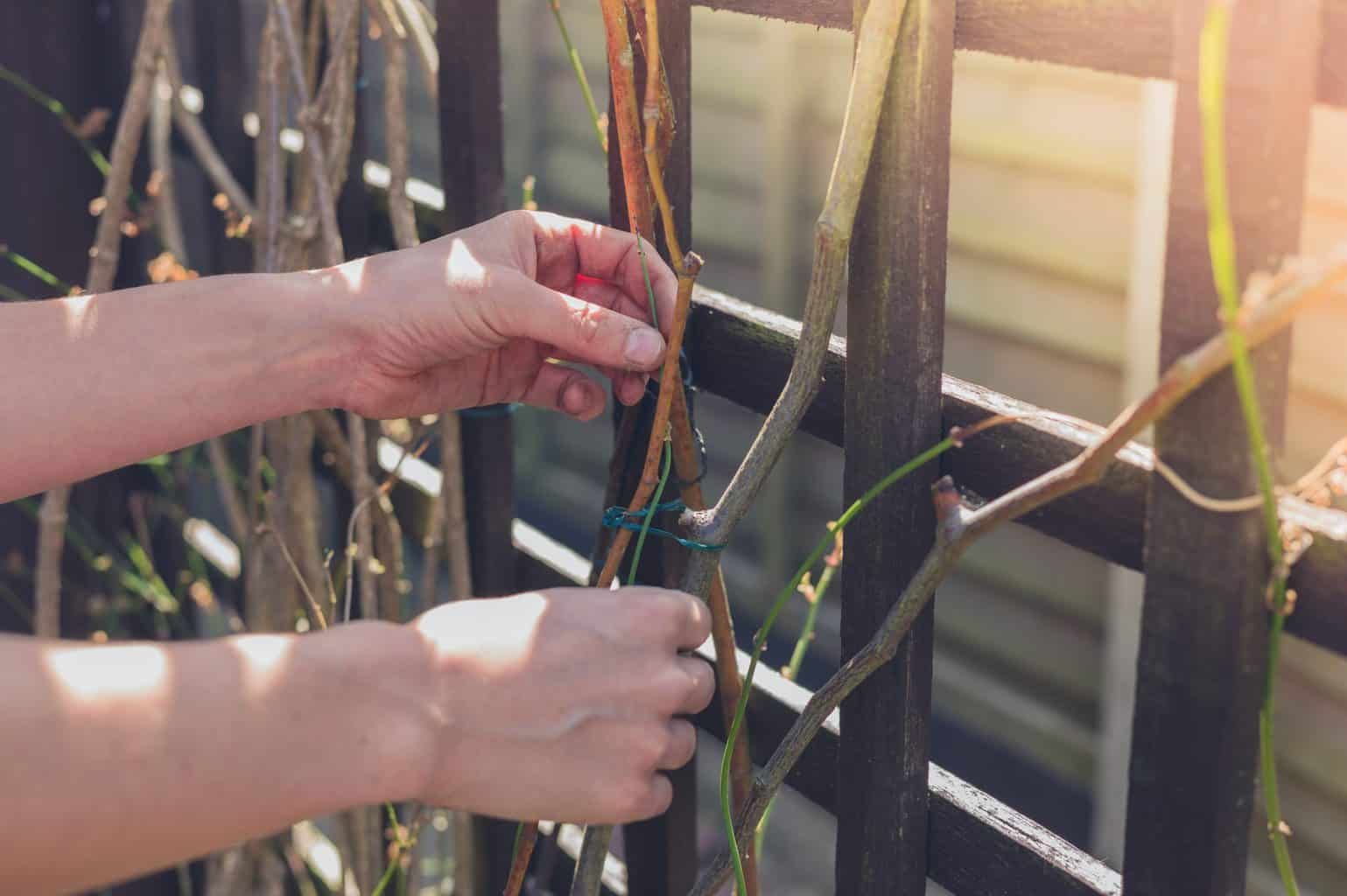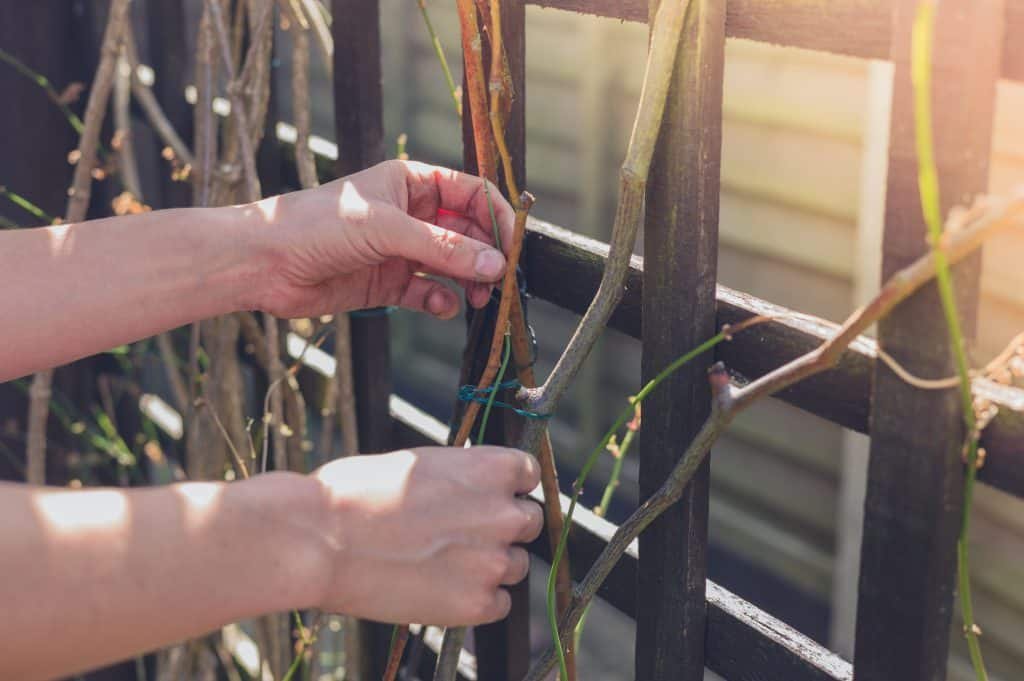 A trellis is something that supports climbing plants. Let's take a look at a few trellis ideas that range from super simple to those with a bit more pizazz. You can attach any of these to an existing fence and train your climber to grow there.
Depending on how simple or sophisticated you want your trellis to be, it can be crafted from just about anything, attached in any pattern or design you want, framed or not.
Whether your trellis is framed depends on these factors:
Design and desired appearance
Materials
Required sturdiness
The following are several trellis ideas you could incorporate with your fence:
Hook and Wire Grid
The simplest and least expensive way to support climbing plants on a fence is to install screw hooks and wires directly onto your fence. You may have the supplies you need already lying around the garage.
You can create a support system for any climbing vegetable or showy plant in just a few simple steps:
Determine the width of the area you want the plant to cover.
Establish the perimeter of your grid by installing screw hooks or heavy-duty staples into the fence on either side of the desired area. Be sure there is about a 2-inch gap between the hooks and the fence.
Starting about 12-18 inches above the ground, thread your wire in any pattern you wish – uniform squares, zigzag, or random. For the uber-creative, try adding hooks in shapes like a heart or a cross to give the garden extra flair.
Within your pattern, make sure the gap between wires is just large enough so that your plant can reach the next wire as it grows.
If the grid area is relatively large, add additional screw hooks at closer intervals for extra support.
Tip: Wires should be fairly tight across the grid, so they provide enough structure to hold the plants as they grow and stretch across the grid.
Framed Grid
Some climbing plants become heavy as they grow taller; they need a sturdier framework to support that extra weight. If the fence bears all the weight, it can be pulled down by a heavy climber.
For heavier plants, consider building a framed grid out of lumber or even smaller tree branches.
There are several options for bridging the space across the frame and giving your plant something to hold on to.
Hooks and wires: Attach similarly as the unframed hook and wire grid
Netting: Stretch plastic or mesh netting across the frame
Lattice: Attach purchased garden lattice or create your own lattice with thin strips of wood, bamboo, or small tree branches
Chicken wire: Use chicken wire to add open-weave support
Design and assemble your framed grid nearby, and then just securely attach the entire framework to the fence as one piece. It's a little tricker, but you can also attach the frame as four individual pieces and then add the interior support system.
Repurposed Materials
Using repurposed items in your trellis design is a great way to get that "been there for years" feel that evokes visions of those cozy English gardens.
Really, the sky and your imagination are the limit when it comes to trellis ideas made from non-traditional items.
Here are a few ideas to get your creative juices flowing:
Garden gates: Hang an old garden gate or two on your fence for a rustic look.
Old wire fencing: You know that flimsy garden fencing folks used to stick in the ground around a flower bed? Give it new life when you attach it to your fence as a trellis.
Headboard or footboard: Metal or wood, you can use these old bed parts to guide your climbing plant upwards.
Crib rails or mattress springs: With the grid already part of the object, these cast-off beddings can be hung on your fence as the perfect trellis.
Window frames: With the glass out, old window frames make a picturesque trellis on your fence.
Grates from old grills or ovens: Hang several grates in any pattern for a weather-resistant and lightweight trellis.
Wire tomato cages: Speaking from personal experience, this is a great way to use an old tomato cage. Just flatten it out and attach it to the fence. It's already got grids and that used rustic look.
Bicycle wheels: Want to get away from the square trellis look? Go round and hang several bicycle wheels on your fence.
One final possibility for a unique support system on your fence is to hang old yard or farm tools in any desired arrangement or shape. Think an old plow, rakes, a ladder—even hand tools like hammers or pliers. Run wire between the objects and, voila: You have a one-of-a-kind trellis on your fence.
Purchase a Readymade Support System
If you're not the DIY type or just don't have the time to build your own trellis, no worries. There are plenty of options on the market that offer good support and are aesthetically pleasing too.
If you like the simplicity of the hook and wire pattern, there are espalier trellis kits available that come complete with instructions and materials for installing on your fence.
For a natural look, use prefab wooden lattice systems designed to attach to a fence or wall. Many of these models will expand to the size you need to support your plant on the fence.
Other possibilities include metal or composite flat trellises that can be mounted to any vertical surface. These come in virtually any size and shape and are made of rust-proof metal or maintenance-free vinyl.
Adding a Climbing Plant to Your Fence
Once you've attached the new support system to your fence, it's time to get the climbing plant installed. To give your plant the best chance at reaching and climbing the trellis, you should put it in the ground about 12-18 inches away from the fence.
This will allow plenty of room for the rain to reach the root system and for the roots to spread without bumping up against the solid fence.
As your climber grows, use garden twine to gently tie its tendrils and branches to your support system. With a little pruning, you can keep it growing up your fence in the desired shape for years to come. Fun fact, some plants actually can grow well in coffee, which we have more information here!
Final Thoughts
Good fences make good neighbors, as the saying goes. Using a system on your fence to support a climbing plant will keep the fence in good shape and give it a pleasing appearance. That should make you and the neighbors happy!
With all the trellis options available, whether DIY or ready-to-purchase, you'll have no trouble training up your plant in the way it should go.